1. Spurs' Depth Shows Up On Court, Not Podium
SAN ANTONIO -- The San Antonio Spurs have podium games in the metaphorical sense only. Different teams have different procedures, and with the Spurs, the interview room is the domain of Tony Parker, Manu Ginobili or Tim Duncan. Even on a day like Sunday, when Kawhi Leonard and Matt Bonner and made four 3-pointers apiece and Danny Green made six of nine shots, they were only available in the locker room.
The Spurs have become so interchangeable on the court -- probably better equipped to survive off-games by their stars than any other team. They closed out the Golden State Warriors when Tony Parker shot three for 16. And they put up 105 points on the Memphis Grizzlies for a 21-point victory in Game 1 of the Western Conference finals Sunday even though Duncan and Ginobili provided only 13 percent of the scoring.
The Grizzlies were able to turn away Kevin Durant when he tried to beat them single-handedly without his injured sidekick Russell Westbrook, but it left them ill-prepared for the Spurs.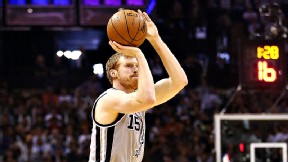 Ronald Martinez/Getty ImagesMatt Bonner hit four of the Spurs' 14 3-pointers in their Game 1 win.
"It's a huge adjustment," Grizzlies point guard Mike Conley said. "You're not going to play many teams like the Spurs who don't just have one guy who can hurt but more like 12 guys that can hurt you."
It was jarring to see the Spurs move so easily against a Memphis team known for its security-detail defense. Parker went wherever he wanted and had 20 points and nine assists. But the key for the Spurs was their production from an array of sources. While Zach Randolph's inability to score for the Grizzlies in the first 39½ minutes of the game stood out like a running gag in a movie, you hardly noticed that Duncan had only two field goals himself during that time.
You only see an established pecking order afterward, when it's time to deal with the media. Bonner's 12-point game drew a larger-than-normal crowd this occasion -- at least until Spurs publicist Tom James announced Duncan was talking on the other side of the room.
"Well, there goes everybody," Bonner said.
He looked down.
"Are you sticking with me?" he asked.
Of course I was. Why would I leave Bonner to go talk to Duncan after Bonner had scored twice as many points as him? The Grizzlies kept leaving Bonner (and Leonard and Green) to pay attention to the Spurs' stars, and it got them in all kinds of trouble: The Spurs took advantage of the open looks to cash in 14 of 29 3-pointers in the opener of the Western Conference finals.
Bonner's always a bigger threat than Duncan when it comes to talking, anyway. In the first round, for example, he enlightened reporters about the use of coconut water in the Pacific theater during World War II. Those who left Bonner on Sunday missed his explanation of how he overcomes his inconsistent playing opportunities. Bonner had more shots and almost as much playing time in this game as he did in the final four games of the conference semifinals combined, the type of uneven-minutes role that he has learned to prepare for. He'll vary his practice habits, sometimes sitting down for a while before he steps on the court or shooting cold without getting any practice jumpers.
"I just try to simulate the -- I don't want to make up a word that doesn't exist -- arrhythmic nature of my playing time and shots," Bonner said. "Just really try to hone in that, I guess."
The gathering in front of Green's locker was even smaller despite a journey to such a productive role in a playoff game that was even more improbable.
Green's initial contact with the Spurs was thanks to a stint in Cleveland with the Cavaliers under Danny Ferry. When Ferry lost his job as Cleveland's general manager in 2010 and returned to the Spurs organization that had given him his post-playing start, he recommended they bring in Green. They signed him on Nov. 17, 2010, and waived him on Nov. 23, 2010. They couldn't stand him. The Spurs didn't like his attitude and didn't think he'd fit in with their team-oriented culture.
Then, Green did something that didn't fit in with our unapologetic, text-message culture. He asked for a second chance -- on a voicemail message he left for Gregg Popovich.
Green says he told him, "I'll do whatever you need me to do. Rebound, defense, towel boy, water boy … whatever you need me to do, I'm going to do that."
Popovich took it to heart. He brought back Green that March and signed him through the end of the 2010-11 season. By the next season, Green started more than half of the 66 games in the lockout-shortened schedule.
"Pop's a really good dude, and he gave me a second chance and I appreciate that," Green said. "The whole way along he's been pushing me and teaching me to be better, and I've grown within the system."
Green's numbers fell off across the board in the playoffs last season, but this spring he keeps getting better as the Spurs go deeper into the postseason. He went from averaging seven points per game in the first round against the Lakers to 12 points per game in the second round against the Warriors, as big a round-to-round jump as could be found in these playoffs. He started off the conference finals with 16 points, making half of his six 3-pointers in Game 1. He is excelling at fitting in, which is a valued commodity on the Spurs.
"Not everybody can be the superstar," Green said. "Every team is made up of role players. Regardless of if you start or not -- bench or not -- you have a role if you're not one of those main guys."
It helps when the superstars don't mope if they aren't solely responsible for the victory.
"We're going to try to win this thing as a team," Duncan said. "That's the way we've done it all year long. We have to find production from all kinds of different directions."
For Popovich, the side benefit of resting his main players throughout the season is getting his secondary players more experience.
"We've played our bench all year long, and I think they've probably gained a little bit of confidence through that," he said.
Green is a starter, but he plays a bench-player type role. At the moment, the Spurs are up 1-0, taking the first step closer to the NBA Finals, thanks to guys who don't even get to step to the podium.
Dimes past: May 1 | 2 | 3 | 4 | 5 | 6 | 7 | 8 | 10 | 11 | 12 | 13 | 14 | 15 | 16 | 18
ESPN Senior Writer
ESPN.com senior writer since 2007
Around The Horn panelist
Formerly at Los Angeles Times
2. Around The Association
| | | | | |
| --- | --- | --- | --- | --- |
| Memphis Grizzlies | 83 | FINAL | 105 | San Antonio Spurs |
---
MVP: Tony Parker. The Spurs' offensive catalyst repeatedly got in the lane and found shooters lined up on the perimeter. Parker finished with 20 points on 9-of-14 shooting and nine assists as the Spurs hit a franchise playoff record 14 3-pointers.
LVP: Zach Randolph. Z-Bo shot 1-for-8 from the floor for just two points and never made his presence felt in this game. Matt Bonner, Tiago Splitter and Boris Diaw battled Randolph for position all game long and usually won.
X factor: Tony Allen's erratic defense. Allen finished fifth in defensive player of the year award voting but continually lost shooters on the perimeter in Game 1, often leading to open 3s. He was also unable to lock down Parker when he was matched up on him.
3. Sunday's Best
Spurs from deep:
San Antonio poured in a franchise postseason record 14 3-pointers in its Game 1 rout of Memphis, with Kawhi Leonard, Matt Bonner and Danny Green accounting for 11. The Grizzlies won't be around much longer if the Spurs can keep it up from behind the arc.
4. Sunday's Worst
Randolph
Zach Randolph, Grizzlies: Z-Bo had a Game 1 to forget in San Antonio -- missing his first seven shots of the game to finish 1-for-8 with two points -- with Randolph's only points coming as a putback during "extended garbage time."
6. Tweet Of The Night
Spurs throw a perfect game, Z-Bo with the golden sombrero.

— Tom Haberstroh (@tomhaberstroh) May 19, 2013
7. Quote Of The Night
"I can promise you this: Nobody's happy in our locker room, because we were up 2-0 (in the West finals) last year and we lost. It's just one game. It means nothing. We still have a long way to go."
-- Tony Parker, on the Spurs' mindset heading into Tuesday's Game 2 against the Grizzlies.
8. It's OK To Look Now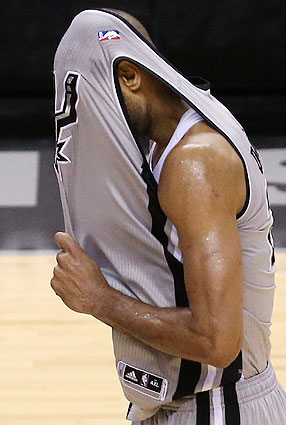 Stephen Dunn/Getty ImagesTim Duncan and the Spurs will have their sights on a 2-0 lead Tuesday in San Antonio.
9. Stat Check
Should the Grizzlies bounce back from this loss, they'd join a small list. Just four teams in NBA history lost Game 1 of a Conference Finals series by 22 or more points and went on to win the series.