1. Spurs Step Cautiously Into Familiar Lead
SAN ANTONIO -- They'll take it. They'll deal with every single annoying reference to last year. The San Antonio Spurs will happily stomach three days' worth of reminders about how the 2-0 lead they've narrowly seized in these Western Conference finals is as far as they got in 2012's Western Conference finals.
You put up with what you have to in exchange for three precious nights off this deep into the playoffs.
Especially when 2-0, after a near collapse in this game of Uglyball, so easily could have been 1-1.
"It's huge," Tim Duncan said late, late Tuesday, after his Spurs escaped with a 93-89 overtime triumph over the stubborn Memphis Grizzlies to move within two more wins of a long-awaited return to the NBA Finals.
"It's huge," Duncan repeated in reference to the forthcoming break before Saturday night's Game 3 in Memphis.
"We need it."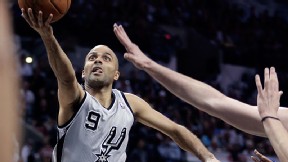 AP Photo/Eric GayTony Parker's 18 assists were a big reason the Spurs went up 2-0 on the Grizzlies.
The weariness in Duncan's voice and face, after his decisive six points in the extra period, couldn't have been clearer. Trying to read into the state of Tony Parker, meanwhile, wasn't even necessary, because Parker came right out and said that the Spurs' steep dive from the comfort of an 18-point lead late in the third quarter straight into the cauldron of an OT nailbiter had as much to do with fatigue as the Grizzlies' refusal to fold. Or the foul trouble that plagued Duncan throughout the second half and opened things up at the rim for the previously frustrated visitors.
"I think we just got tired," Parker said.
"He was unbelievable," Duncan added in the wake of Parker's playoff career-high 18 assists, "and I know he's exhausted."
The Spurs have to hope that a second-half energy drain is what truly got them unhinged. With Parker driving and kicking to devastating effect -- "He's a Hall of Fame guard, people," Grizz coach Lionel Hollins said admiringly -- they seemed headed for another lopsided victory to go with their Game 1 rout. Even after Duncan stunningly got hit with three fouls in a 30-second span early in the third quarter, San Antonio led by a comfy 72-54 with 2:58 to go in the third, shredding Memphis with a seemingly endless stream of backdoor cuts until the Grizzlies, without warning, turned the game grimy and legitimately appeared to find something.
A lineup shift in support of the Zach Randolph-Marc Gasol-Mike Conley trio -- with more minutes for the offensive-minded Jerryd Bayless and Quincy Pondexter ahead of Tony Allen and Tayshaun Prince -- along with some ramped-up ball pressure suddenly combined to give the Grizzlies some unexpected hope to take back home.
Yet Duncan, now in his sixth attempt to get back to the big stage of the Finals for the first time since that 2007 sweep of a kid from Ohio named LeBron James, is convinced that the Spurs are about to be "refreshed" by some friendly scheduling.
"Coming off the last series [against Golden State], how physical this series [with Memphis] is ... we need this time and we'll use it wisely," Duncan said.
And if that means fielding three straight days of questions from media pests about how they went up 2-zip on the young Oklahoma City Thunder to stretch their winning streak to a whopping 20 games in a row -- and then crashed to four straight devastating defeats -- they'll cope.
Parker insisted, after dragging to a 6-for-20 finish from the field, that the Spurs won't dwell on the inevitable 2-0 lead comparisons because, to this day, he says he "still can't explain" San Antonio's failure to finish OKC off from such a commanding position.
"It's just the beauty of sport," Parker said. "Sometimes you just can't explain stuff."
No, you can't. Not when NBA history says teams that take a 2-0 lead in a best-of-seven series go on to win the series 93.7 percent of the time, only for the Spurs to fail in that position last June ... and for the Grizzlies to subject the Los Angeles Clippers to the same fate in the first round of this postseason.
Yet Parker also contends that the younger likes of Kawhi Leonard and Danny Green are different players now because of what they went through against the Thunder.
"We can see the benefit this year," Parker said. "They're playing a lot better and with a lot more confidence.
"[But] I think everybody understands that we haven't done anything yet. We just protected our home court. It's still going to be a long way [to the Finals]. We're playing a very good team. They're very good at home, so it's going to be tough to get one over there."
The Spurs only got this one, frankly, because Memphis missed its final 14 shots of the first half after Conley (18 points) picked up his third foul and because the still-struggling Randolph needed 18 shots to manufacture 15 points along with his 18 rebounds. The hosts actually went a whopping eight-plus minutes of their own in the fourth quarter without a single bucket but were ultimately indebted as well to Duncan's still-massive presence underneath.
How massive? The Grizzlies shot 4-for-24 from five feet and in when Duncan was on the floor, according to ESPN Stats & Information. When Duncan was on the bench? Try 9-for-14.
Timmy also happens to be only the second player in history, along with Robert Parish, to be averaging better than 17 points and nine rebounds at the age of 37 or older.
The rest of the Spurs have noticed too, Parker and Manu Ginobili especially. They know it's been a long, long time since that sweep of LeBron's Cavs ... and how desperate Duncan is to make sure that his crack at ring No. 5 isn't fumbled away again.
"You're up 2-0 and you don't want to let these opportunities get away," Ginobili said.
Said Parker: "I hope we'll handle it better this time."
Dimes past: May 1 | 2 | 3 | 4 | 5 | 6 | 7 | 8 | 10 | 11 | 12 | 13 | 14 | 15 | 16 | 18 | 19
ESPN Senior Writer
• Senior NBA writer for ESPN.com
• Began covering the NBA in 1993-94
• Also covered soccer, tennis and the Olympics
2. Around The Association
| | | | | |
| --- | --- | --- | --- | --- |
| Memphis Grizzlies | 89 | FINAL | 93 | San Antonio Spurs |
---
MVP: Tony Parker. The Spurs point guard ran himself ragged piloting the San Antonio offense, looking totally gassed by the time overtime concluded. Parker handed out a playoff career-high 18 assists and scored 15 points.
X factor: Second-chance points. The Grizzlies grabbed 19 offensive rebounds against the Spurs in Game 2 but scored only eight second-chance points on 2-for-16 shooting. San Antonio's interior D was largely to blame, as the Spurs blocked 12 shots on the night.
That was ... eerily similar to Game 2 of last year's Western Conference finals: The Spurs held a large second-half lead, only to watch it evaporate and hold on for a narrow victory. Something similar happened last season when the Spurs took a 2-0 lead on the Thunder, losing the next four games and the series.
3. Tuesday's Best
One lucky son:
Might want to have Nick Gilbert join you in Vegas when he's old enough. The Cleveland Cavaliers, represented by owner Dan Gilbert's 16-year-old son, won the lottery for the second time in three years, giving them the No. 1 pick for the June 27 draft. In 2011, the Cavs used the pick to take eventual rookie of the year Kyrie Irving. Will Nerlens Noel be putting on a clinic in Cleveland someday?
4. Tuesday's Worst
The possessed possession: The Grizzlies missed six shots on their next-to-last possession of the first half. Tony Allen had a shot blocked, then missed a putback and a tip attempt before Zach Randolph missed two putback tries -- one of them blocked by Tim Duncan. Tony Wroten then missed the final follow shot.
6. Tweet Of The Night
Don't let the quiet confidence fool you, Duncan knows he's great.

— Jamal Crawford (@JCrossover) May 21, 2013
7. Quote Of The Night
"Do the Knicks, right now, as they're constituted right now, have a great player with Carmelo? I'm not going to answer that. I'm just going to say that. I believe that he's good enough to win an NBA championship, but he needs another guy with him. Hopefully he'll get that opportunity with him some day."
-- Syracuse coach Jim Boeheim, defending former Orange star Carmelo Anthony after the Knicks were eliminated.
8. Tough To Bear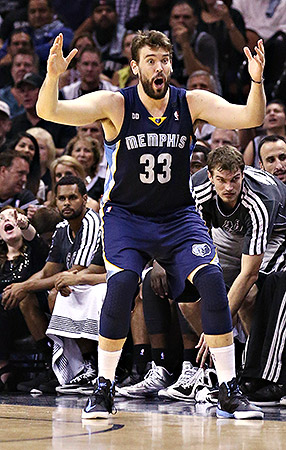 Stephen Dunn/Getty ImagesAfter a dismal first half, Marc Gasol and the Grizzlies almost pulled off a major surprise comeback in Game 2.
9. Stat Check
Tony Parker scored 15 points and handed out 18 assists in the Spurs' Game 2 victory over the Grizzlies. Parker is the second player in Spurs history to have that many points and assists in a playoff game. Johnny Moore did it twice: Game 2 versus the Nuggets in 1983 (26 points, 20 assists) and Game 1 versus the Lakers in 1983 (25 points, 18 assists).