1. Pacers Look Ready To Assume Leading Role
MIAMI -- They know they're supposed to maintain composure, to fight the urge to let basic human nature take over. But the Indiana Pacers can't help themselves. They believe they're going to beat the Miami Heat in the Eastern Conference finals.
They believed they should've beaten the Heat last season, when they lost a 2-1 series lead in the Eastern Conference semifinals. They believed it this season, when they crushed the Heat in the first two regular-season meetings. They believed it when they let Game 1 of their second chance slip through their fingers. And they sure did believe it Friday night, when they evened the series and took home-court advantage with a brazen 97-93 Game 2 win.
Maybe it's premature, maybe it's foolhardy, maybe it's dangerous. But there's something to be said about confidence, and these Pacers own barrels of it.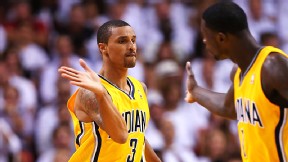 Mike Ehrmann/Getty ImagesGeorge Hill and Lance Stephenson can celebrate heading back to Indy with a tied series.
"We're not going to back down," Roy Hibbert declared. "They could be the champs, but we're coming for them."
"Take nothing away from their Big Three, what they have going," Paul George said. "But we'll take a big five any day. That's what we have."
The Heat are 46-4 since Feb. 1, a number that is just staggering and might not even be getting enough attention because they went to the back burner a bit when their 27-game win streak ended. They were the heavy favorites to win the series. LeBron James might just be hitting the apex of his career -- at least it sure looked that way for a magical few minutes in the second half Friday night, when he appeared to be defying all sorts of natural laws.
But that's not how the Pacers look at things. They haven't since the day a young and unproven coach named Frank Vogel took over the team 28 months ago. From the first day he was on the job -- a job most figured he wouldn't even keep -- Vogel oozed confidence to his team.
The Pacers were 10 games under .500 midway through the 2010-11 season, but Vogel said they'd make the playoffs (they did). Then, they were going to upset the No. 1 Chicago Bulls in the playoffs (they didn't, but the first three games were decided by a total of 15 points).
After years of being beaten down by the gruff and rigid coaching of Jim O'Brien, Vogel's demeanor was like applying salve to a burn. Some once-beaten-down players, especially Hibbert, started feeling better about themselves. Some underused young players, like George and Lance Stephenson, started to get some more opportunities.
The situation now is vastly different, of course. The Pacers need three wins to reach the Finals and could get three more home games to do it in. But the mood is just the same: Fostered by Vogel's endlessly positive and reassuring attitude, these Pacers see the world differently than many others do.
They don't see the Heat as being 46-4; they say they're actually 46-5, and two of the losses are to them. They don't see James as unstoppable; they see him as a player they can overcome with teamwork. They are not intimidated by the team that whipped them out of the playoffs last season; they are emboldened as they head home, where they are 6-0 in the postseason and 2-0 this season against the Heat.
"A lot of us feel we should be up 2-0," Hibbert said. "They're at the top. Like I said, we're coming for them."
He repeated it to make sure everyone got it. It was not a slip of the tongue. They don't care if it turns into billboard material. This is how the Pacers operate, and it's hard to blame them. They have steadily improved over these past three seasons doing it this way. They're willing to go down this way if it happens.
But this is who the Pacers are, and the nation, which appears to be rather interested in this matchup if you believe the television ratings, is going to see it over the next 10 days as this series heads toward a climax.
"This whole team is showing great desire and great heart and great belief," Vogel said. "They believe we can win the series and they're giving it all their might, all their might. And they're playing with confidence, and they're rising to the challenge."
Basketball history says it's one heck of a challenge. Balanced teams don't often beat the greatest player in the game, and the Pacers are facing a monster in James right now. Players like James tilt the game in their team's favor. It can sometimes feel like playing 5-on-6 because it's unfair what his talent can overcome and deliver.
Yet right now, the Pacers look over the struggling Ray Allen and Shane Battier and at least somewhat limited Dwyane Wade and they feel like they have a window. The Heat are a juggernaut, and they have the faculties to not just slam it shut, but to inflict psychological damage in doing so. That's what happened last season when the Pacers went up 2-1 and let themselves think they might have the Heat, only to get blitzed. But you'll never convince the Pacers of that.
"All of us are enjoying the stage. It's not a stage we're used to being on," George said. "But we're relishing the moment."
There's an inherent value in that. After they lost Game 1, the Pacers' locker room was dour, to say the least. George Hill was so gutted by his terrible performance that he sat at his locker in his uniform for at least 30 minutes without saying a word. Hibbert looked at a box score between his feet and cursed at it before crumpling it up. George couldn't sleep thinking about how he let James beat him for the winning basket and couldn't stand watching "SportsCenter" any longer, so he started watching highlights of the Jodi Arias trial at 3 a.m.
By Thursday afternoon, though, the Pacers were over it. That's all they know. Vogel walked into practice smiling and dealt with questions about his Game 2 coaching strategy to take Hibbert off the floor for 20 long minutes.
"I'm really going to fire everyone up next game," Vogel joked to one reporter. "I'm not even going to start Roy."
Hill had 18 points, including four free throws in the final 48 seconds to clinch the game. Hibbert played one of the best games of his career with 29 points and 10 rebounds. George had 22 points, a dunk over Chris Andersen that didn't just silence the arena but just about shut down all the South Beach clubs, and some great defense on James at the game's end.
When the Heat had the ball twice in the last 45 seconds with a chance to tie or go ahead, the Pacers were free of the burden of doubt. They just don't do doubt.
"I'm just thinking to myself, 'Make LeBron shoot over you,'" George said. "I knew it was going to him again."
It did, twice. And twice the Pacers figured out a way to stop him. More specifically, George stayed in front of James and David West's underappreciated, but still very real, 7-foot-4 wingspan sent the Pacers to Indianapolis riding high.
Or at least it sent them home riding high sooner. Even if they were down 2-0, these Pacers are just cockeyed enough to believe they were in the driver's seat anyway.
"We're young guys," Hibbert said. "But we know what we're doing."
Dimes past: May 3 | 4 | 5 | 6 | 7 | 8 | 10 | 11 | 12 | 13 | 14 | 15 | 16 | 18 | 19 | 21 | 22
ESPN Senior Writer
ESPN.com NBA writer since 2010
Covered Cleveland Cavs for seven years
Author of two books
2. Around The Association
| | | | | |
| --- | --- | --- | --- | --- |
| Indiana Pacers | 97 | FINAL | 93 | Miami Heat |
---
MVP: Game 1 was defined by what happened when Roy Hibbert was off the floor. Game 2 was determined by what happened when he was on it. The center scored a playoff career high with 29 points on just 15 shots, added 10 boards, and by sheer virtue of his presence, cooled the Heat's high-flying offense.
Defining moment: LeBron James, who was otherwise otherworldly -- scoring a 2013 playoff-high 36 with a panoply of ludicrously entertaining plays -- turned the ball over twice in the waning seconds, quite literally handing the Pacers the game and the series tie.
That was ... a classic: LeBron and incipient superstar Paul George trading buckets and glares. Hibbert dominating the interior on both ends. Blink and you'll miss those lead changes. Game 2 was a gem. Sunday can't come soon enough.
3. Friday's Best
hibbert
Roy Hibbert, Pacers:
He was in there at the end this time. Hibbert went for 29 points and 10 rebounds as the Pacers evened the series in Miami. Also of note: He sank 9 of 10 free throws.
4. Friday's Worst
Wade
D-Wade elbow to Born Ready's dome: Lance Stephenson caught a WWE-style elbow from Dwyane Wade. No foul called, but what was that all about? Interesting to see what kind of punishment might be levied when the tape is reviewed.
6. Tweet Of The Night
This is the 1st time in LeBron James' career that he had 2 turnovers in the final minute of a playoff game.

— ESPN Stats & Info (@ESPNStatsInfo) May 24, 2013
7. Quote Of The Night
"It's only like one other person that's more scarier than that, and that's God."
-- Pacers guard George Hill, on guarding LeBron with the game on the line.
8. Nowhere To Hide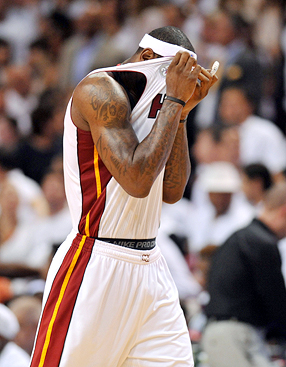 Steve Mitchell/USA TODAY SportsLeBron James committed two turnovers in the final minute of a playoff game for the first time in his career Friday.
9. Stat Check
Each member of Indiana's starting five reached double digits in points in the Pacers' 97-93 victory. The Pacers' starting lineup contributed 94.8 percent of Indiana's scoring (92 of the 97 points). That's the second-highest percentage of points scored by a team's starters in a playoff game this season. On April 20, the Celtics' starters scored 94.9 percent (74 of 78) of the team's points in a loss to the Knicks.