1. Tim Duncan, Steady And Brilliant As He Goes
MEMPHIS -- Now more than ever, Tim Duncan is forcing us to rely on the visual, rather than auditory, to pursue insight from the slightest cues.
Saturday night was the first playoff game for Duncan, the first one he played since the news broke that he is going through a divorce. The divorce case is a rare moment that Duncan's private life has been pried open, even if the legal terminology can't provide a hint of the emotional toll.
Would Duncan be forthcoming about it? Yeah, right. He won't even give the story behind his pregame ritual of taking the ball and rubbing it while he spreads out his elbows. Divorce is definitely off limits.
No insight from the rest of the Spurs, either. Not even so much as chatter about "distractions" or "what Tim is going through." Yes, the organization is going to bend to his whims. The fact that he sat in front of a small media crowd in the Spurs' locker room after Game 3 of the Western Conference finals and didn't head to the interview room podium even though he clearly was the star of the night is just the latest example of Duncan getting what he wants.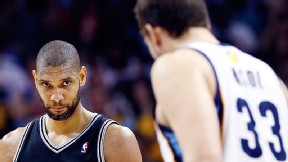 Kevin C. Cox/Getty ImagesAnother game, another big performance in overtime for Tim Duncan.
These are small measures of payback from an organization that he's meant everything to, and done everything for, including playing this season for a $9.6 million salary that's way below market value. Duncan isn't just the oldest member of the first team All-NBA squad that was announced last week, he's also the cheapest, coming in at just more than half of what LeBron James, Kevin Durant and Chris Paul are making and about one third of Kobe Bryant's salary.
Not only has Duncan earned the right of privacy from the Spurs, he's earned it from the rest of us. He doesn't post pictures of his home and family all over Instagram, only to ask that his "wishes be respected" when things go south. He doesn't sit on talk-show couches or get mic'd up for satellite remote interviews. He has been as consistent with his demeanor off the court as he's been on the court.
In retrospect, there have been slight signs that things were amiss, such as when he wandered in a hallway before an earlier game at the AT&T Center, holding his car keys aloft, not sure what to do with them. He looked befuddled in the locker room after the game, not sure where the keys were. He never had to worry about these things when his wife was dropping him off at the arena.
Now that this playoff series had shifted to Memphis' FedEx Forum and his divorce had seeped onto TMZ's website, would he provide greater evidence of strain? It might have seemed that way when two of his initial touches resulted in a missed shot and a turnover, making him as culpable as anyone in the Spurs' eight-turnover, 21 percent-shooting mess of a first quarter.
But after 17 seasons, we should know what Tim Duncan's about: the end result. And man, the results he got in the end. After the Spurs swiped the Grizzlies' style (Duncan even borrowed one of their pet words: "grind") to claw back from an 18-point deficit, he dominated in overtime. He scored seven points, set a mean pick to free Tony Parker for a jumper and dropped a no-look pass to Tiago Splitter for a basket. It all led the way to a 104-93 Spurs victory that put them in firm control of this series at three games to zero.
When the final buzzer sounded, Tracy McGrady wrapped Duncan in a bear hug from behind. Then, Duncan went down the line and high fived his teammates like a winning pitcher walking off the mound following a complete game. He patted Manu Ginobili on the head, then hugged Parker at the end of the line.
Duncan finished with 24 points, 10 rebounds, five assists and two blocked shots. And, most notably, he was able to elevate his play from the sluggish beginning to the standards to which he holds himself.
"I thought I was a lot more hesitant throughout the game, for whatever reason," Duncan said, providing as much of an opening as he ever will for the amateur psychologists to jump in.
"In overtime, I just got it and shot it, got it and made my move. Just kind of went and see what happened."
His play sounded much nobler when coach Gregg Popovich described it.
"He feels a responsibility to carry us in those kinds of times," Popovich said. "And he did it again tonight."
It came one game after his six points in overtime in the Spurs' Game 2 victory. It came at the point at which his career is supposed to be winding down, not providing sustained excellence.
"Am I surprised at what I'm able to do?" Duncan said. "I'm just here to play, man. I'm not worried about how old I am or whatever."
At age 37, he's moving up the lists, inscribing his name onto more pages of the record books. He moved past Jerry West into sixth place on the all-time playoff scoring list. He tied Wilt Chamberlain for the fourth-most playoff games with at least 20 points and 10 rebounds (94).
And those don't matter as much to him as the drive for a fifth championship.
"I really want to get this one," he said. "Get back to the Finals. I want to win another championship. It's been a long time."
Six years. And yet he's doing things we can't even recall before. After one Spurs turnover, he turned and hustled back when Quincy Pondexter was headed for a breakaway and forcing Pondexter to alter his shot and miss. It looked downright youthful.
"Did I look fast or just young?" Duncan asked. "I looked fast?"
He was also credited with two fast-break baskets this game.
Young, I told him.
"Fast," he insisted.
There are auditory cues after all. Not about his emotion, but one feeling he has deep inside: pride. It's there. He still believes he can be one of the great players, can lead a team to a championship, is still sharp enough, in good enough shape, even fast enough to do it.
His might be the most difficult mind to enter in the NBA. We now know what resides in one corner of it. He has blocked the rest of it off to us -- and quite possibly to himself, if that's what it takes to accomplish his goal.
Dimes past: May 5 | 6 | 7 | 8 | 10 | 11 | 12 | 13 | 14 | 15 | 16 | 18 | 19 | 21 | 22 | 24
ESPN Senior Writer
ESPN.com senior writer since 2007
Around The Horn panelist
Formerly at Los Angeles Times
2. Around The Association
| | | | | |
| --- | --- | --- | --- | --- |
| San Antonio Spurs | 104 | FINAL | 93 | Memphis Grizzlies |
---
MVP: Tim Duncan. The Big Fundamental played 44 minutes for the Spurs and put up 24 points, 10 rebounds, five assists and two blocked shots. He's 37 years old, the oldest player in the series by a couple of years, and still putting up playoff double-doubles.
X factor: Turnovers. Gregg Popovich's word of choice on the night was the key for both teams. San Antonio turned the ball over eight times in the first quarter, then gave it away just nine times over the next three periods and overtime as the Spurs offense improved.
That was … the nail in the coffin for Memphis: The Grizzlies couldn't have hoped for a better start, forcing eight turnovers in the first quarter and jumping out to a 16-point lead. Memphis gave San Antonio its best shot of the series, and the Spurs still squeaked out a road win.
3. Saturday's Best
duncan
Tim Duncan, Spurs:
Old Man Riverwalk went for 24 points, 10 rebounds and five assists as the Spurs moved within one win of the NBA Finals with a 104-93 win over the Memphis Grizzlies. Duncan scored seven of his points in OT.
4. Saturday's Worst
Griz forgetting it's-not-a-sprint dept. After getting out to a 29-13 start in the first quarter and forcing all manner of Spurs' miscues, Memphis nearly coughed up the entire lead by halftime, carrying a four-point margin into intermission.
6. Tweet Of The Night
The @memgrizz deserved more tonight. It was special to be at the Forum tonight for me. @MarcGasol had another great game.

— Pau Gasol (@paugasol) May 25, 2013
7. Quote Of The Night
"I really want to get this one. Get back to the Finals. I want to win another championship. It's been a long time."
-- Tim Duncan, taking aim at the Spurs' first title since 2007.
9. Stat Check
The Spurs trailed by 16 points at the end of first quarter (29-13). It's the third-largest end-of-first-quarter deficit overcome by a team in a conference finals win dating back to when conferences were established in 1970-71.