1. Heat Will Gladly Let You Take The First Swing
INDIANAPOLIS -- As children, the members of the Miami Heat clearly were the type that had to be scolded before they'd clean their room.
The core of this group is now in its 11th playoff series together, and its personality has started to become predictable. Nothing convinces the Heat they can't be beat until they get beat. But then look out.
Sunday they re-seized control of the Eastern Conference finals with a forceful 114-96 Game 3 win over the Indiana Pacers.
It was a reminder of two staggering statistics that are part of the reason the Heat have been titlists and title favorites for a while now. They haven't lost two consecutive games in 4½ months, since the second week of January, to be precise. And since their 2011 Finals failure, they are 13-0 when falling behind in a series.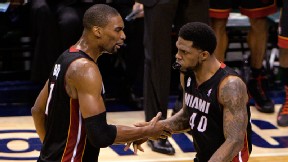 Jamie Rhodes/USA TODAY SportsChris Bosh and Udonis Haslem helped the Heat move ahead 2-1 against the Pacers.
They weren't behind in this series to the Pacers, but the premise is the same. Starting way back when they began this journey at 9-8 to start the 2010-11 season, the Heat struggle to find total motivation until they've had some dirt kicked on their boots.
Considering its talent and the injury-ravaged state of the league this season, this Heat team legitimately had the wherewithal to challenge the Chicago Bulls' single-season record of 72 wins. But they were 23-11 in mid-January and still very much coasting until they got embarrassed by starting 1-3 on a Western road trip, which caused them to get serious. They finished the season 43-5.
They lost Game 1 in the previous round to the Bulls. They won the next four games by a combined 73 points.
After the Pacers took Game 2 from the Heat in thrilling fashion after barely losing Game 1, they came to their comfortable home thinking they might have gotten just a tad bit of leverage. No, the Pacers actually had just done the worst thing they could've. They'd won.
The Heat dropped a 70-point first half on them Sunday in a 24-minute stretch during which they made 17 baskets within 10 feet of the rim, shot 63 percent in total and committed exactly one turnover. In their first home game against the New York Knicks in the previous round, the Pacers, the league's top-ranked defensive team during the regular season, gave up 71 points in 48 minutes.
"Losses have an amazing property for us," Heat resident philosopher Shane Battier said. "It cleans the wax out of our ears."
Last season, the Heat became the first team in history to come from behind to win three series on their way to the title. The undisputed best game in LeBron James' career, his incredible 45-point whitewashing of the Boston Celtics in Game 6 of the 2012 conference finals, came only when the Heat faced elimination for the first time.
It appears to be one giant passive-aggressive complex. The Heat just love it when they are doubted and enjoy the satisfaction of beating critics back into the shadows. But they also seem to only do so after having invited it in the first place.
That, or perhaps a hint of masochism -- they like to touch the stove just to see how hot it might be.
"I want to say 'No, that's not true,' but yeah," Chris Bosh, who had 15 points in Game 3, said. "Sometimes, you have to know that you can get beat. We never want to lose in a series or lose home-court advantage, but, sometimes, that's what we need."
MORE ON ESPN.COM
• Wallace: Role players rise up
• Haberstroh: Grading Heat's win
• Stats & Info: Haslem knocks em down

It's not all attitude. There's more to it than that. Heat coach Erik Spoelstra has routinely shown that he can execute effective adjustments with some film and practice time. He outmaneuvered several opposing coaches with midseries tweaks.
The biggest of which in Game 3 came as the Heat appeared to target Pacers defensive wizard Paul George by making him deal with James in the post.
In the last round, George was fantastic in dealing with Carmelo Anthony, but Anthony did find some success muscling the lighter George inside. James took George down a few pegs with a series of unrelenting post moves, featuring a sequence of left-handed hook shots.
The Heat also played with a renewed offensive focus. After turning the ball over 36 times in the first two games, they set a franchise record with just five in Game 3. This was not expected in an environment in which the Pacers have been dominant in the postseason and left Miami feeling very strongly about their chances.
It's not the most sound way to do business. The Heat would be better served by not having to get pushed first. It's a dangerous habit, all can agree.
But it also appears to be a luxury this group both can afford and enjoys.
"We love the fact that they took home-court [advantage] away from us," James, who had 22 points, said. "We're a team that just bounces back from adversity. I think we know what we're made of."
Dimes past: May 5 | 6 | 7 | 8 | 10 | 11 | 12 | 13 | 14 | 15 | 16 | 18 | 19 | 21 | 22 | 24 | 25
ESPN Senior Writer
ESPN.com NBA writer since 2010
Covered Cleveland Cavs for seven years
Author of two books
2. Around The Association
| | | | | |
| --- | --- | --- | --- | --- |
| Miami Heat | 114 | FINAL | 96 | Indiana Pacers |
---
MVP: LeBron James. He blended facilitating with attacking perfectly early then dominated in the post once the flow of the game was established. He was a savant on the block, leaving Paul George helpless.
X factor: Udonis Haslem. He was getting open looks, and he made eight of nine shots. With all of Miami's great spacing, Indiana has to cede something. Haslem made them pay.
LVP: Paul George. It's a little unfair to single him out for being unable to stop James (who can?), but he got manhandled. Worse still, George added next to nothing (3-of-10 shooting) to make up for it.
3. Sunday's Best
haslem
Udonis Haslem, Heat:
Went 8-for-9 from the field in the Heat's 114-96 win. His aim helped Miami shoot 54.5 percent against a team that finished the regular season with the NBA's best defensive field goal percentage.
4. Sunday's Worst
Pacers defense: After the high drama and fun of the first two games, this one was a one-sided affair. The Heat set a playoff franchise record with 70 first-half points, which was the highest total the Pacers have allowed in any half this season. The Elias Sports Bureau notes that it was the first time the Pacers allowed 70 points in any playoff half since yielding 71 to the Boston Celtics in 1992.
6. Tweet Of The Night
Champs made adjustments.. Our turn! A joy to play this game.. #Game4 #PacerNation

— Paul George (@Paul_George24) May 25, 2013
7. Quote Of The Night
" I think we have to do a better job of helping Paul [George] out. LeBron can't get five or six dribbles to get a post move. … We have to make adjustments. He's obviously a low-post threat, but we have to make adjustments."
-- Roy Hibbert, on LeBron hurting Indy in the post.
8. Post Punishment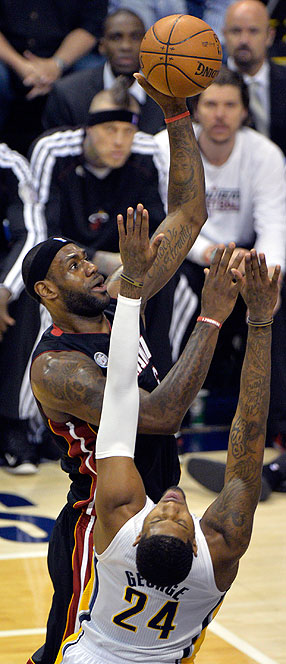 Jamie Rhodes/USA TODAY SportsFacing no double-team defense, LeBron James found success in the post against Paul George.
9. Stat Check
Andersen
Chris Andersen went 4-for-4 from the field in Miami's Game 3 victory at Indiana. Andersen has made all 15 of his field goal attempts over his past four games, having made two in the second-round series finale against the Bulls, seven in the series opener against the Pacers and two in Game 2 on Friday night. Andersen is the first player in NBA history to make at least two field goals without a miss in each of four consecutive playoff games.