1. These Spurs Never Lost Their Finals Touch
MEMPHIS, Tenn. -- It's not just that the San Antonio Spurs won the Western Conference, it's that the Spurs Way won the Western Conference.
That's the real triumph. Not San Antonio 93, Memphis 86, or a four-game sweep of the Grizzlies in the Western Conference finals. And it's not even that it's the 98th playoff game won by the trio of Tim Duncan, Tony Parker and Manu Ginobili, plus coach Gregg Popovich. It's the fact that they've had the opportunity to be together long enough to win that many games, in a league in which change always lurks on the other side of a four-game losing streak.
"It's rare what we have," an appreciative Duncan said. "I know it. I know it's rare what we have. Rare for the confidence that they have in Pop and the front office, rare for us playing together for so long. There's a lot of rare air here. And it's fun to be a part of it, honestly. It's an honor to be a part of it."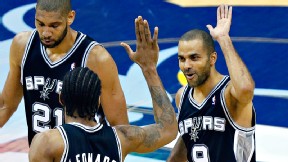 AP Photo/Rogelio V. SolisHeading back to the Finals for the first time since 2007 is cause for celebration.
There's luck involved, of course, from the bounces of the pingpong balls that delivered Duncan in the 1997 draft lottery to the injury avoidance it requires to make five trips to the NBA Finals. There was the eye for finding talent with late-round draft picks and the basketball acumen to develop prospects.
Above all of it is an organizational philosophy, one that hasn't wavered, not even in the face of superstar arms races or number-crunching analysts. The word Popovich likes to use for in-series adjustments is "tweaks," and the same could be said of the Spurs' approach to their roster. They've rotated foreign centers (Rasho Nesterovic, Fabricio Oberto and now Tiago Splitter), found Kawhi Leonard to become a modern Bruce Bowen on the wing, brought in former All-Stars for one last ride to glory (Glenn Robinson, Michael Finley and Tracy McGrady).
But they never changed their core. It's not that Duncan didn't have chances to leave or that the Spurs never considered replacing Parker or that Popovich doesn't look like he wants to air-drop Ginobili on a deserted island at least three times a game. It's that they always came around to the belief that what they have is what works best.
"I think a lot of people think the grass is greener on the other side," Popovich said, "and if we change this coach or trade these guys, it's all going to be nirvana after that. I think if you stay the course and you've got leaders who are quality character people, you follow them as long as you can. I've been hanging on Timmy's coattails a long time."
That's funny, because Duncan said he was riding Parker's coattails, saying, "He's the reason we're here."
(Parker can't account for the entire season on his own, but his 37 points, six assists and four rebounds in Game 4 surely are the reason this series ended Monday night.)
The Spurs talk about coattails so much you forget no one actually wears coattails anymore. The Spurs just beat everyone in the West while clad in obsolete clothing. Afterward they finally had a chance to update their wardrobes, with Duncan pulling on a gray T-shirt with "Best of the West" written above the Spurs logo right before he addressed the media.
"I guess it's in style to wear these," Duncan said.
Except the Spurs have never been trend-setters. Oh, they might have set the template for small-market teams such as the Oklahoma City Thunder, but the Spurs never made a move as criticized as the Thunder's trade of James Harden before the season.
Lately it was the Grizzlies who were subject to questioning about a major midseason trade. And before we spend too much time wondering "what if" about Rudy Gay, ask yourself whether his 42 percent shooting in seven career playoff games (including 21 percent on 3-pointers) would have helped against this Spurs defense.
All you needed to know about how much the Spurs were in the Grizzlies' heads came in one possession, when Marc Gasol passed up an open jumper and gave the ball to Zach Randolph, who also passed on an open jumper. All series, the Grizzlies kept looking for better shots that weren't there. The Spurs held them to 38 percent shooting in the conference finals, and Memphis never found a way to free Randolph, never sprung Mike Conley, never scored more than 86 points in regulation in any of the four games.
Even after Randolph had a miserable series, scoring a total of 44 points on 16-for-53 shooting, he had nothing but respect for the man who contributed to so much of his frustration -- Duncan -- and admiration for how Duncan still gets it done at age 37.
"It motivates me," Randolph said. "Like I told him, after the game, good luck to him and I look up to him as a player and all the things he's done, how professional he is, the way he plays. Just everything."
What motivates Duncan is desire for another championship ring to go with the four he's already won, a thirst made even greater by a six-year gap -- the longest of his career -- since his last trip to the NBA Finals.
"It feels like it's been forever since we've been to this point," Duncan said.
"To get over that hump and get back to the Finals is just an amazing feeling, honestly."
MORE ON ESPN.COM
• Arnovitz: Grinding to halt
• Stein: Hollins watch
• Stats/Info: How Spurs trio ranks

Elias Sports Bureau pumped out stats saying Duncan has gone the longest between making initial and latest NBA Finals appearances with the same team (13 years), and that Duncan, Parker and Ginobili are the first trio outside of the Lakers and Celtics to reach four NBA Finals together.
The Spurs are so cyclical. Duncan has never put himself above the organization, but the organization values him above all else. I asked owner Peter Holt who popped into his mind when he thought of this team's latest achievement, and he said: "It's Tim. I mean, everybody, of course. But ... Tim."
Parker implied his MVP-level play of late was to make good on a pledge to Duncan.
"I promised to him that we will go back, go back to the Finals and get an opportunity to win the whole thing, and I'm going to do my best," Parker said.
Parker can't do much better than this game, even though he's been fatigued and battling a calf bruise lately, then was accidentally poked in the eye by Gasol late in this game. (It was the right eye, not the left one that was damaged by broken glass set loose in a nightclub champagne bottle fight between Chris Brown's and Drake's crews.)
Injuries in a club doesn't seem very Spurs-like. Playing in the NBA Finals is more of what they're accustomed to. And it's never felt so good.
"Every team wants to beat you," Parker said. "And that's why it makes it even more special to go back after all those years playing at a high level with the same coach, with the same big three."
Dimes past: May 7 | 8 | 10 | 11 | 12 | 13 | 14 | 15 | 16 | 18 | 19 | 21 | 22 | 24 | 25 | 26
ESPN Senior Writer
ESPN.com senior writer since 2007
Around The Horn panelist
Formerly at Los Angeles Times
2. Around The Association
| | | | | |
| --- | --- | --- | --- | --- |
| San Antonio Spurs | 93 | FINAL | 86 | Memphis Grizzlies |
---
MVP: Tony Parker. The Spurs point guard led the charge from start to finish for San Antonio. He scored an efficient (and season-high) 37 points on 21 shots, and had six points and four assists. Whenever the Spurs needed a basket, Parker was there.
X factor: Points in the paint. The Grizzlies are a team that struggles to score from the outside, so you'd think they'd get their baskets down low. Not so much in Game 4, as the Spurs outscored Memphis 52-32 inside.
Defining moment: After leaving the game and heading to the locker room briefly when he took a Marc Gasol poke to the eye, Parker returned with 4:43 left in the game and hit an 18-foot jumper off a screen on his first offensive possession. Parker was in a zone, and nothing could stop him on this night.
3. Monday's Best
Parker
Tony Parker, Spurs:
Parker had a dominating game, sinking 15 of 21 shots en route to 37 points, giving the Spurs a sweep of the Grizzlies and plenty of rest before Game 1 of the NBA Finals on June 6.
4. Monday's Worst
Shooting by Grizzlies NOT named Quincy Pondexter or Darrell Arthur: Nobody else from the Griz made half his shots in the elimination sweep at the hands of the Spurs. Not one starter sank a 3-pointer, which is no way to open up the inside for Zach Randolph and Marc Gasol.
6. Tweet Of The Night
Wow! Feels so good to be back in NBA Finals after 6 years! Celebrating with TP & TD. #gospursgo http://via.me/-cfcaszc

— Manu Ginobili (@manuginobili) May 27, 2013
7. Quote Of The Night
"You don't expect that to happen maybe this late in the game with the same group."
-- Gregg Popovich, on returning to the NBA Finals with the same core big three who took the Spurs to their last title in 2007.
8. Post Parting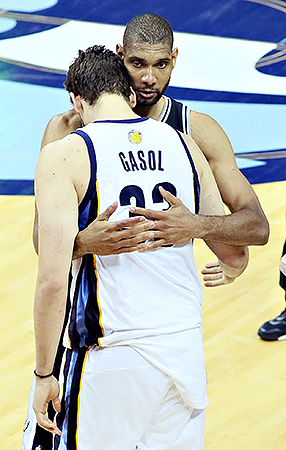 Nelson Chenault/USA TODAY SportsTim Duncan offered a farewell hug to Grizzlies center Marc Gasol after Game 4.
9. Stat Check
Tony Parker tore apart the Grizzlies on Monday night, scoring 37 points while shooting 15-of-21 from the floor and handing out six assists as the Spurs won 93-86 in Memphis to complete a four-game sweep of the Western Conference finals. For Parker, his all-around game evoked memories of Game 2 of a first-round series in 2009, when he had 38 points and eight assists, making 16 of 22 from the field, in a win over the Mavericks. Parker is only the second player in history to have at least 35 points and five assists while shooting at least 70 percent from the floor in two playoff games during his NBA career. The other: Walt Frazier, who dropped 36 and 19, while shooting 12-of-17 from the floor, on the Lakers in Game 7 of the 1970 Finals. Two years later, he went 36 and six, with 14-of-19 shooting, in a victory at Boston in Game 1 of the Eastern Conference finals.
Parker finished the four games against Memphis with 98 points and 38 assists. The only other player in NBA history who reached both those figures for a team that swept a best-of-seven playoff series was Jerry West (who, by the way, turns 75 on Tuesday). West had 114 points and 40 assists in the Lakers' sweep of the Bulls in a Western Conference semifinal series in 1972. The Lakers went on to win the NBA championship.