1. Unofficial Story: Hibbert Leads Boarding Party
INDIANAPOLIS -- It's so tempting to chase the red meat of officiating that Game 4 of the Eastern Conference finals dangled out there.
There were some mysterious missed calls and moments when officials seemed to get caught up in the crowd, got intimidated by coaches or even inexplicably showed one another up by overruling calls. All in all, their being in the spotlight so much is not the desire of the NBA, its fans or the officials themselves. Simply, it was an undesirable mess that marred a terrific battle.
But don't fall into the narrow-minded trap of pointing at whistles to explain how the Indiana Pacers evened the Eastern Conference finals with the Miami Heat after a 99-92 Game 4 victory.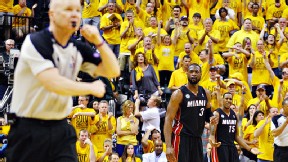 Brian Spurlock/USA TODAY SportsDwyane Wade was surprised by a travel call late.
Cut through the clutter and understand that this is still a series because the underdog Pacers are leveraging their No. 1 asset just enough to narrow the talent gap between the teams. That is what the professionals will be doing leading up to Game 5 on Thursday.
The officiating drama both ways will be forgotten, the Pacers will be figuring out how to keep this edge, and the Heat will be spitballing how to somewhat neutralize it.
Pacers big men Roy Hibbert and David West are completely having their way with the Heat, exploiting the weak area Miami has spent years devising schemes to mask.
The core of the Heat's game plan is to dominate the game's other areas to make up for their huge rebounding and interior defensive issues. It just isn't working very well.
Heat fans might rage on for days about LeBron James fouling out in the final minute on a screen that referees usually let go in that spot. They'll gripe about a 50/50 travel call on Dwyane Wade a few moments later that pretty much ended the game when a Shane Battier 3-pointer was disallowed.
But there's no dodging this whammy: The rebounding tally in the fourth quarter was Pacers 16, Heat 4.
Or this one: Hibbert and West are combining to average 41 points and 20.5 rebounds per game on 51 percent shooting in the series. How does that compare to the legendary combination of James and Wade? It's a relative draw, the two future Hall of Famers averaging 44 points, 11.8 rebounds and 51 percent shooting.
James and Wade's excellent passing is being negated by West and Hibbert's offensive rebounding, which is creating so many more chances for teammates.
In that crucial fourth quarter in Game 4, Indiana had more offensive rebounds (six) than the Heat had total rebounds. The Pacers had seven second-chance points alone in the fourth. As a reminder, the Pacers won by those seven points. That didn't even count a robbery the Pacers could complain about: a blatant shot-clock error cost them two more second-chance points, as well.
Hibbert and West have 82 rebounds in the four games. The Heat's Chris Bosh, Udonis Haslem, Chris Andersen and Battier have a combined 59. Bosh, whose excuses for the worst rebounding season of his career got tiresome months ago, is averaging a woeful 3.3 rebounds a game in the series. He is getting devoured by Hibbert and West and was long before a tweaked ankle might've slowed him on Tuesday.
"We have to overcome it. We have to do better," Heat coach Erik Spoelstra said. "It's going to take a collective effort when you have bigs like that."
Spoelstra's formula is to mitigate the Heat's rebounding issues by creating turnovers with shooters who punish the Pacers' slower big men by making them guard quicker players. That has been a wonderfully effective strategy all season.
But it hasn't been as successful in this series. The Pacers have controlled their turnovers since Game 1, and Miami's primary floor spacers, Ray Allen and Battier, are shooting a combined 11-of-46.
Last season, when the Heat didn't have Bosh for most of their series against the Pacers, they held Hibbert to averages of 12 points and 11 rebounds. But he's trashing the Heat this series, even with the Andersen reinforcement who's been added in the time since. Hibbert is averaging 22.8 points and 12 rebounds, so effectively staying out of foul trouble that he's averaging 39 minutes on the floor.
This is a huge success for the Pacers, who are overcoming the fact that leading scorer Paul George is getting gassed nightly by the task of defending James for 40-plus minutes.
In the fourth quarter of Game 4, Hibbert came up with three vital offensive rebounds that submarined the Heat's chance to put a 3-1 chokehold on the series. He finished with 23 points and 12 rebounds.
MORE ON ESPN.COM
• Wallace: Heat stumble into tie
• Haberstroh: Grading Heat's loss
• Stats & Info: The Hibbert effect

"I'm 275 [pounds]. I gotta throw my body around," Hibbert said. "It's a mental thing, really. Do you want to go in there and bang with LeBron, Chris Bosh and Birdman [Andersen] or would you rather just be on the outskirts?"
Hibbert has 26 offensive rebounds alone in the four games, and it's ruining the Heat's usually effective defense. The Pacers had 15 offensive rebounds in Game 4 and a 49-30 overall rebounding edge. This is the definition of their game plan working.
"We can't afford to get beat on the glass by 20 [rebounds]. Can't happen," said James, who is leading the Heat in rebounding in the series at seven per game. "As a collective group, we can't allow that."
There's plenty of other nuances and strategy points going on. There's the continued diminished production of Wade, who has as many 20-point games in the postseason (one) as Andrew Goudelock. (He plays for the Lakers, FYI.) There's the Tasmanian Devil-like Lance Stephenson, who has the ability to uplift or upset his Pacers teammates at any moment, as his play often resembles a cab driver's at rush hour.
Even James might deserve a sideways glance. He's shot less than 50 percent in four of the past six games. While that's hardly a crime, understand that it happened exactly once in his previous 15 games and only five times after the All-Star break. He's set unprecedented standards, but with teammates struggling a little offensively, the market correction is noticeable. But none of this is controlling the direction of the series like what the Pacers, especially Hibbert, are doing by getting all those loose rebounds. Giving up offensive rebounds is like having a bad bullpen in baseball, often ruining otherwise strong performances around the team.
And it's turned this into a three-game series.
"That's always our game," Pacers coach Frank Vogel said. "Kill the offensive glass."
Dimes past: May 8 | 10 | 11 | 12 | 13 | 14 | 15 | 16 | 18 | 19 | 21 | 22 | 24 | 25 | 26 | 27
ESPN Senior Writer
ESPN.com NBA writer since 2010
Covered Cleveland Cavs for seven years
Author of two books
2. Around The Association
| | | | | |
| --- | --- | --- | --- | --- |
| Indiana Pacers | 79 | FINAL | 90 | Miami Heat |
---
MVP: LeBron James. His third-quarter performance was immaculate. He scored or assisted on 25 of Miami's 30 points in the period. That confidence and a ramped-up Heat pressure defense confounded Indiana. The rest was just pure execution -- in a basketball and guillotine sense.
X factor: Udonis Haslem. Like in Game 3, he couldn't miss. He hit baseline jumper after baseline jumper as LeBron got into the paint, drew the defense and found the shooters. When Haslem and other Heat shooters hit those looks, they are borderline unbeatable.
That was ... domination. The Heat were outplayed in the first half, as Indiana controlled the pace and the interior. But the Heat came out of halftime on a 7-2 run and changed all that. LeBron took over, and the Pacers went into a massive scoring drought. They never recovered.
3. Tuesday's Best
Hibbert
Roy Hibbert, Pacers:
The classic big man was enormous in Game 4, putting in 23 points and pulling down 12 rebounds in Indy's 99-92 win that evened the series with the Heat at two. Next stop: Miami on Thursday for Game 5.
4. Tuesday's Worst
Heat's boardwork: When Ray Allen is your leading rebounder, something is probably amiss. Allen's seven boards led the way for Miami, which lost the board battle 49-30. Chris Bosh had three caroms in 30 minutes of action.
6. Tweet Of The Night
I'm liking Roy Hibbert on the USA Senior Men's Basketball Team in '14 at FIBA World Championships and at Olympic Games in '16 more and more!

— Fran Fraschilla (@franfraschilla) May 28, 2013
8. King In Exile

Andy Lyons/Getty ImagesLeBron James walks to the bench after fouling out with 56 seconds to play. The last time he fouled out was in last year's
Game 4 loss to Boston
in the Eastern Conference finals.
9. Stat Check
Roy Hibbert had 23 points, 12 rebounds and made 10 of 16 field goals (62.5 percent) in the Pacers' win on Tuesday. Hibbert, who had 29 points, 10 rebounds and shot 66.7 percent in Game 2, is the first player in the Pacers' NBA history to have two games in one playoff series with at least 20 points and 10 rebounds while making at least 60 percent of his field goals.