1. LeBron James Turns Irritation Into Domination
MIAMI -- LeBron James was annoyed by fouling out of Game 4 of the Eastern Conference finals. He was cantankerous about getting a fine for flopping the day of Game 5. But what really burned the Miami Heat's star, what drove him to the edge of rage, what got him to dress in camouflage pants to drive to the game in some heavy-handed symbolism, was that the Indiana Pacers' Lance Stephenson was trying to show him up.
Referees' calls and rulings from the league office are out of James' control. As for Stephenson dropping one of the best games of his career on the Heat on Tuesday and mugging James -- even what looked like blowing in his ear in some sort of unusual harassing technique at one point -- that galled him.
The mention of Stephenson's request to guard James that night was a conversation-ender with him. The technical Stephenson drew on James for baiting him and the sixth foul Stephenson drew on James on a moving screen chewed at him for two days.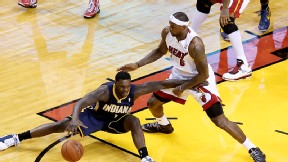 Robert Mayer/USA TODAY SportsWatching his sometime-tormentor Lance Stephenson fall was not exactly an unhappy time for LeBron James in Game 5.
Especially that sixth foul, not that it was called, but that Stephenson got the best of James on a play on which the Pacers' young spark plug messed up the pick-and-roll coverage and was rewarded for it. Even that irked James.
There were a handful of things on the Heat's checklist for Thursday's vital Game 5. They had to even out the rebounding (check), they had to at least limit Pacers center Roy Hibbert (semi-check) and they had to get back to their style of forcing turnovers to create offense (check). Those factors played major roles in the 90-79 victory that pushed the Heat to the brink of their third consecutive Finals appearance.
But on James' personal checklist was one item: Stephenson.
He stamped that one late in the fourth quarter when he stood over Stephenson as he slumped on the baseline, the Pacers guard having been called for a disqualifying sixth foul this time. James stared down as Stephenson lay in frustration, in much the same posture he assumed after he viciously dunked on the Boston Celtics' Jason Terry back in March.
Official Marc Davis had to come over and peel James away from the scene to diffuse another dustup after there had been two confrontations earlier in the game. One fray might lead to some league-issued discipline for Heat center Chris Andersen when it comes to Game 6 for a brutal cheap shot on Tyler Hansbrough.
But back in James' mind, Stephenson now exists on the same list as Terry and the not-related-by-blood-but-certainly-by-spirit DeShawn Stevenson. They're players who made it their mission to not just beat James but to irritate him in playoff series past.
James took pleasure in labeling Stevenson "Soulja Boy" in a long-ago playoff series from another era. He reveled in standing over Terry at that game in Boston during the Heat's 27-game winning streak because of bad blood dating to a flagrant foul that occurred several years ago and that includes a beef from the 2011 Finals.
On Thursday night, James gave Stephenson that treatment.
"Lance is one of those guys who likes to talk some," James said after scoring 30 points with eight rebounds and six assists. "And I'm for it, too. I really don't start it, but if it gets started, then I love to do it."
Oh, James was all for it. He would bark at Stephenson after made baskets. When James tricked Stephenson with an old-fashioned rip-through move for Stephenson's fifth foul, James fist-pumped in his face to rub it in.
Stephenson gave it right back, too, bumping James and trash-talking. Another time, he tossed an elbow Dwyane Wade's direction. Those two have a little thing going, as well, dating back to a collision in Game 2. It's been an eventful series indeed for young Mr. Stephenson, to say the least. He does not lack confidence in his ability, and his penchant for recklessly running his mouth matches the way he sometimes runs his game.
When it works, like it did earlier this week in Game 4, in which his 20 points and effective defense buried the Heat, it's something to see. When it doesn't, like in Game 5, in which he managed just four meaningless points and as many turnovers as rebounds (three), it seems hollow.
"It's the playoffs, and there are no excuses," Stephenson said. "We have to play smart."
Stephenson said that last part twice: "We have to play smart." You get the impression that's what coaches have been telling the wildly talented Brooklyn native his whole life. He talks about it often, obviously something he struggles with at times.
When he played what was, in fact, the game of his life in the closeout against the New York Knicks last round, he couldn't help himself when talking about scoring 25 points with 10 rebounds.
"I can't believe I played so great and played so smart," Stephenson said that night.
Now it's a whole new stage, with less margin for the less-than-intelligent plays. Such as getting two fouls in the game's first three minutes as he did in Game 5, which essentially ruined his rhythm for the night.
Yet the fact that James spent some of the time between games considering Stephenson and summoning up some motivation might be a net win. Last year when Stephenson's influence on the series came from a mere gesture he made from the bench, James couldn't be bothered to talk about him.
When the Heat sought some justice for the choking gesture Stephenson made at James back then, they did so with the guys at the very end of their bench in Juwan Howard and Dexter Pittman. Now, he's on to James and Wade directly and on the floor. That's a first-class upgrade.
MORE ON ESPN.COM
• Wallace: Uphill climb for Indy
• Haberstroh: Grading Heat's win
• Stats & Info: LeBron and on and on

The bottom line is Stephenson is a powerful variable in this series. When he plays well, the Pacers take on a different look. But when he plays poorly, and sometimes that happens when he focuses on the wrong things, it takes a toll. In Game 5, much to James' personal satisfaction, it was the latter.
"Lance is going to have to accept the challenge to go out there and play defense on the top player, the best player in the NBA, the MVP," said Hibbert, who seems to spend plenty of time trying to instruct Stephenson. "So if he has that opportunity again, he's going to have to step up, and we have to have his back. Each one of us has to hold ourselves accountable."
That's a lesson James learned long ago. Whatever the circumstances, he let the Heat down in Game 4. He roared back with an all-encompassing effort in the kind of high-stakes game that defines his success or failure at this point.
James got some attention for giving some manner of motivational speech before the start of the second half as the Heat trailed and looked to be in some trouble. Way more important than all that cosmetic stuff, though, were his actions.
James had one of the worst quarters of his playoff career in the fourth quarter in Game 4. He committed four fouls and a flop egregious enough to get him fined, and he wasn't there when his team needed him at the end. He backed that up with one of his best ever in the third quarter Thursday, scoring 16 points and handing out four assists that led to nine more.
It was the kind of dominating stretch that can swing a series, the kind of run that sets the standard James must deliver on. And it came with a gratifying ancillary benefit that he couldn't deny: Stephenson had to suffer through it.
"As a competitor, you love challenges," James said. "I think it's great. It shows a competitive spirit between two individuals."
Dimes past: May 12 | 13 | 14 | 15 | 16 | 18 | 19 | 21 | 22 | 24 | 25 | 26 | 27 | 26 | 28
ESPN Senior Writer
ESPN.com NBA writer since 2010
Covered Cleveland Cavs for seven years
Author of two books
2. Around The Association
| | | | | |
| --- | --- | --- | --- | --- |
| Indiana Pacers | 79 | FINAL | 90 | Miami Heat |
---
MVP: LeBron James. His third-quarter performance was immaculate. He scored or assisted on 25 of Miami's 30 points in the period. That confidence and a ramped-up Heat pressure defense confounded Indiana. The rest was just pure execution -- in a basketball and guillotine sense.
X factor: Udonis Haslem. Like in Game 3, he couldn't miss. He hit baseline jumper after baseline jumper as LeBron got into the paint, drew the defense and found the shooters. When Haslem and other Heat shooters hit those looks, they are borderline unbeatable.
That was ... domination. The Heat were outplayed in the first half, as Indiana controlled the pace and the interior. But the Heat came out of halftime on a 7-2 run and changed all that. LeBron took over, and the Pacers went into a massive scoring drought. They never recovered.
3. Thursday's Best
James
LeBron James, Heat:
Having a hand in 25 of his team's 30 points in the third quarter is one way to take control of a playoff series. James finished with 30 points, eight rebounds and six assists in the 90-79 win, putting the Heat one win away from a third straight Finals appearance.
4. Thursday's Worst
Pacers guards: George Hill must have forgotten how good he is. Lance Stephenson must have forgotten he was "Born Ready." The two combined for five points on the night after scoring 39 in Game 4.
6. Tweet Of The Night
Plenty of cynicism/skepticism on Wade out there. Dude said he wasn't right entering playoffs. He's giving what he can.

— Michael Wallace (@WallaceNBA_ESPN) May 30, 2013
7. Quote Of The Night
"I kind of just went back to my Cleveland days ... just see if the guys would follow me and lead 'em the best I could."
-- LeBron James, on taking charge in the third quarter.
8. Angry Birdman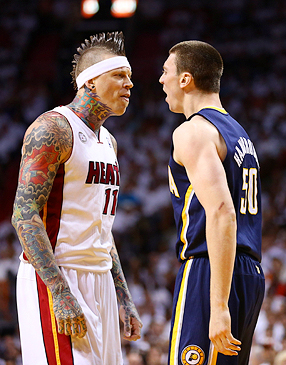 Streeter Lecka/Getty ImagesHeat center Chris Andersen and Pacers forward Tyler Hansbrough exchange unpleasantries shortly before Andersen pushed Hansbrough for a second time. Both got technical fouls; Andersen also picked up a flagrant foul 1.
9. Stat Check
Paul George led the Pacers with 27 points Thursday night. The Pacers have not had an individual player score 30 points in any of their past 33 playoff games. That's the longest streak of its kind for any team in the shot-clock era. Indiana had been tied with Miami, which had 32 consecutive playoff games without a 30-point scorer from 1998 to 2004. There have been 392 instances of a player scoring 30 points in a playoff game since the last Pacer did it (May 4, 2006), including 53 times by LeBron James.