1. LeBron James Stands At Miami Crossroads
INDIANAPOLIS -- Late Saturday night, LeBron James stepped up onto the podium deep inside Bankers Life Fieldhouse and briefly glanced at the vacant chair and unused microphone that was next to him. Down the hall, Dwyane Wade walked to the Miami Heat's bus in vivid designer clothes bought to sit in that seat and considered ways to remind James why there was a setting for two.
The Indiana Pacers played strongly in the first elimination game they've seen this postseason and earned their 91-77 Game 6 victory to stay alive. It's now obvious the Pacers have a bright future ahead of them no matter how Monday's Game 7 plays out.
But the defending champion Heat aren't just facing an elimination game -- they're facing an identity crisis.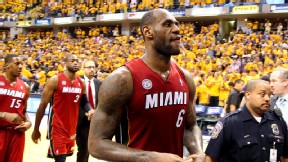 Brian Spurlock/USA TODAY SportsWill LeBron James go it alone or find help from his Big 3 teammates? Game 7 will tell.
This one is not created by fans who enjoy seeing them fail or by media who are attracted to that story. It isn't about their future or free agency or luxury taxes or trades. It's about the present, the right now, and a big choice.
It's about them losing sight of their plan and their grand agreement and whether or not that is the right thing to do.
Over the past few games, James has been talking and clearly thinking about his days in Cleveland. After Game 5, James launched a thousand conversations when he elected to say, "I kind of just went back to my Cleveland days" in explaining how he led a game-clinching run without the aid of Wade and Chris Bosh.
Saturday night and probably into Sunday morning, as the Heat's plane flew to Miami, and then maybe into Sunday afternoon, Wade's best move would be begging him not to go there. He should make James remember why he left Cleveland in the first place, wanting him to not repeat the mistakes of the past.
James is going to have to mull which choice he takes, because the answer is not easy and it has some big consequences. Does he stay with the plan or does he keep drifting away from it, too concerned about the state of his teammates to trust them?
When James finally lucidly explained his decision to sign with the Heat -- which happened not during "The Decision" when everyone was watching and wanted it, but actually in some emotional guard-dropping moments when he and the Heat beat the Boston Celtics in the 2011 playoffs -- James got to the bottom line.
"I wanted to team up with some guys that would never die down in the moment," James said that night.
This was a slap in the face of his former Cleveland teammates. It was a statement that ended friendships with some of them, or at least snapped some already frayed connections.
As James sat there alone after Game 6, that old feeling was creeping back into his head.
"I mean, we can state the obvious, they're both struggling," James said about Wade and Bosh. "When you're struggling, the best thing to get is a layup or a dunk. [Wade] missed a couple of them. ... Chris is struggling with his shot, and him hurting his ankle didn't help."
This was the first time he's said it, but James has been playing like it for a few games now. Playing like he did in Cleveland. Grabbing the ball and trying to do everything. Taking more shots and taking away more shots from teammates. And yet having only marginal success as his team underachieves.
In short, not playing like he did when the Heat won the title last year. Playing like he did when he wore that Cavaliers uniform.
So as Wade sat alone at his locker Saturday -- after shooting 3-of-11, he didn't draw an invite to the interview room -- he reached out to James. Wade's message was easy to dismiss as hubris or downright denial at the state of his knee and the state of his game. Looking at it narrowly, it was almost laughable.
Here was Wade, who just had the two of the worst playoff games of his career in combination with the three worst games Bosh has had since he was a rookie, sending a message to James not to abandon them. Not to play the way he played in Cleveland.
If Wade and the Heat go down, he wants them to go down following the pact they made in James' mansion in late June of 2010 when they decided to sign together. He wants them to go down playing the way they won a championship. He doesn't want James to go down the way he did in Cleveland.
"We've got guys individually who want to play better," Wade said. "But we've got to try to help each other out in this locker room and not leave it up to the individual to self-will it."
That's a tough sell at this very moment. Wade is averaging 13.6 points in the postseason. His knee is robbing him of his athleticism. Bosh is shooting 41 percent in the series and he's got a bad ankle. They look nothing like that offensive juggernaut that won 27 in a row in the middle of the season.
James is slowly pulling away. He's firing up 24 shots over the past few games. Wade and Bosh have seen their shot attempts plummet. It's old habits. Old failing habits.
"We've got to do a good job of making sure me and Chris have our opportunities to succeed throughout the game," Wade said. "That's something we're going to have to look at as a team."
That was Wade's coded way of saying: Trust us. Trust how we got here.
Bosh, as is his personality, was going it alone. He pointed the finger at himself.
"I'm not going to make any excuses. I didn't show up for my teammates tonight, and I'm not going to let it happen again," Bosh said. "I'm really disappointed in myself."
Bosh has not had a great season by his standards. His fall-off in rebounding is inexplicable no matter what excuses he has offered. But he is much better than he's been showing, and he is not getting the chances he's earned over the past three seasons to right the ship.
James can look at the stats and see that he's got more points than Wade and Bosh combined in this series. That goes right back to the Cavs days. In his final series in 2010, James had as many points as Mo Williams and Shaquille O'Neal combined in a losing effort against the Celtics.
Or James can look at his ring finger and see how the sharing of the load, in good times and bad, has worked.
In Game 7, it's going to be one or the other. James is going to have to live with the choice and make no mistake, it's his choice.
"If anything it's on me," Heat coach Erik Spoelstra said. "I've got to find way to get those guys comfortable in areas where they can be aggressive. And that will be my focus the next 48 hours."
Spoelstra is trying everything. He's going down his bench and rolling out players he hasn't used in months. It's not a bad idea, he's not being stagnant. Dusting off Mike Miller and Joel Anthony helped a little. He'll be buried in the film room until Monday night. He'll come up with some motivational tactics and he'll try to sell the vision all over again. That's his job.
There are some bolts to tighten and some tricky playing-time decisions to be made. But it is ultimately not on Spoelstra. It is going to be on James and what he feels he has to do.
What's it going to be? Play like he's back in Cleveland and dominate the ball and hope for a transcendent Game 7 where he can overcome the brick wall that is Roy Hibbert, the wunderkind that is Paul George and the wily veteran that is David West? Or trust the tenets of the Big Three that James scrapped his life and reputation for because he believed in its possibilities.
Sometimes a one-man transcendent game doesn't work, either. James did that once, scored 45 points in a Game 7 in 2008. Lost.
"It's going to be tough," James said looking at Game 7. "I probably won't be able to relax until the game starts."
Probably not. He's got a lot to consider between now and then.
Dimes past: May 12 | 13 | 14 | 15 | 16 | 18 | 19 | 21 | 22 | 24 | 25 | 26 | 27 | 26 | 28 | 30
ESPN Senior Writer
ESPN.com NBA writer since 2010
Covered Cleveland Cavs for seven years
Author of two books
2. Around The Association
| | | | | |
| --- | --- | --- | --- | --- |
| Miami Heat | 77 | FINAL | 91 | Indiana Pacers |
---
MVP: Roy Hibbert. The big fella finished with 24 points and 11 rebounds. Even though he blocked only one shot, his defense was instrumental. He altered and prevented countless opportunities in the lane.
That was ... quite the turnaround: David West went 0-for-7 in the first half, but he overcame an upper respiratory infection to make five of his seven second-half shots, and scored eight points in the decisive fourth quarter.
X factor: LeBron's supporting cast pull a no-show. Heat players whose jerseys do not say "James" on the back finished 16-51 (31.4 percent) from the field.
3. Saturday's Best
Hibbert
Roy Hibbert, Pacers:
Another reminder why the big guy can still matter, Hibbert went for 24 points and 11 rebounds and served as a deterrent to LeBron James' making many bold forays to the hoop.
4. Saturday's Worst
When The Big 3 Aren't Big: Chris Bosh and Dwyane Wade combined to shoot 4-of-19 from the floor in the Game 6 loss to Indiana. Bosh's mere four boards contributed to a 53-33 Indy rout on the backboards.
6. Tweet Of The Night
Heat have lost 7 games last four months. Four of those losses to the Pacers.

— Chris Palmer (@ESPNChrisPalmer) June 2, 2013
7. Quote Of The Night
"Game 7s will be the ones you remember 20 years from now."
-- Heat coach Erik Spoelstra, looking on the upside of the Game 6 loss to Indiana.
8. Which Way Now?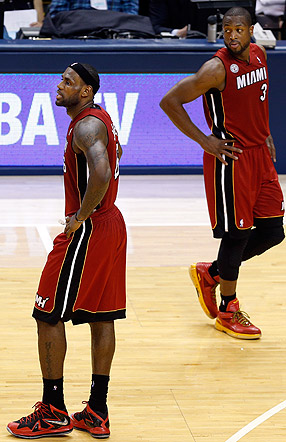 Joe Robbins/Getty ImagesLeBron James and Dwyane Wade need to head in the same direction for Miami to win a third straight East title.
9. Stat Check
Paul George scored 28 points on 11-for-19 shooting (57.9 percent), grabbed eight rebounds and handed out five assists as the Pacers forced a Game 7 with a 91-77 home win over the Heat. Over the past 15 postseasons, only one other player has recorded those levels of points, rebounds and assists while shooting that well from the floor in a game in which his team faced elimination. That was LeBron James, in Game 6 of last year's Eastern Conference finals. James put up 45 points, 15 rebounds and five assists while shooting 73.1 percent as the Heat won at Boston.