1. Tony Parker Gives The Spurs Their Best Shot
MIAMI -- This San Antonio Spurs victory in Game 1 was just like their trip to the NBA Finals itself: a reward for staying true to themselves.
They never abandoned their strategy, they never panicked, not even in the frantic final 10 seconds when their play was busted, the ball was on the ground and their chances of even getting off a shot -- let alone scoring a basket -- were negligible.
The Spurs have been doing this long enough to realize if they do a sufficient amount of the right things they will eventually get the good things, maybe even the lucky things. Start with the fact that even amid their chaotic final play, Tony Parker was involved. He's their most valuable player. Yes, that label still applies on a night Tim Duncan delivered an age-defying 20-point, 14-rebound performance.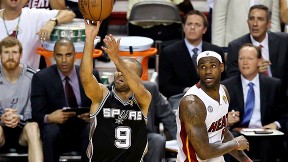 Christian Petersen/Getty ImagesTony Parker got off a shot that sealed an NBA Finals Game 1 win for the Spurs over the Heat.
Parker was the engine who drove their fourth-quarter comeback, the one who scored 10 of his game-high 21 points in the final period to help the Spurs snatch the game and home-court advantage for the rest of the series.
The last two were the ones that stood out the most.
They came after Parker dribbled away from a double-team, toward the Spurs' bench, spun to his left, slipped and went to one knee, got back up, turned to the right, stepped through and released a double-clutch jumper that was so close to the expiration of the shot clock the officials had to check the replay to make sure he actually got it off in time.
Oh, you want added degree of difficulty?
"I mean, he had LeBron on him," Manu Ginobili said.
But Parker managed to slip the ball under James' outstretched arm, then sent it just softly enough off the backboard that it caught the front rim on the way down and bounced in.
"I got a great contest, and he even double-pumped it and barely got it off," James said.
"At the end, I was just trying to get a shot up," Parker said. "It felt good when it left my hand."
He just wanted to get a shot up. That's what this whole season has been about, hasn't it? They just want one more shot at a championship, one more ride to glory for Duncan, Parker, Ginobili and Gregg Popovich. And the closer they get the less sentimental they're feeling. They're about hardware, not soft stories of bonding and old-fashioned veteran smarts.
"We're here to win," Duncan said. "It doesn't matter how we're categorized."
The direction the league takes with each collective bargaining agreement, with more luxury taxes and fewer loopholes for teams to avert the salary cap, makes it unlikely we'll ever see another group stick together for a decade the way these Spurs have.
The fact that they didn't dump Popovich following that first-round playoff loss two years ago, the way five of the eight first-round losers dumped their coach this year, makes the Spurs exceptional.
"We just try to stay focused and keep believing in what we do," Parker said. "It starts with [owner] Peter Holt sticking with the big three and Coach Pop believing in us and just trying to improve the role players and the guys around us."
In this game it required a belief in what they did even after what they did got them behind by as many as nine points. San Antonio's strategy was to crowd LeBron James and force him to pass. Their defense made LeBron look like a magnet attracting every metallic object in the room. Two, three, four defenders at a time were sucked into LeBron's space whenever he came into the lane. Willing passer that he is, LeBron found the open man. That worked fine through the first half, as the Heat made seven of their first 16 3-pointers and led by as many as seven points.
It was enough to cause a bit of doubt to seep into Popovich's head. Maybe it wasn't such a great game plan after all.
"It's difficult," Popovich said. "One second-guesses oneself often in the meat of these games, whether you stick with a certain strategy or change it. We adjusted a little bit, but we stuck with the basics, and found some ways to score."
Turns out the Non-LeBrons couldn't beat them after all. The Heat made only one of their final nine 3-point shots and shot 28 percent with five turnovers in the final quarter. The plot worked, summarized in a single Miami possession with just more than a minute remaining when James drove, saw Duncan planted in his path to the hoop and passed out to a wide-open Chris Bosh, who missed a 3-pointer that the Spurs all but provided a roped-off area for him to shoot.
As Miami wilted, San Antonio grew stronger. Duncan went from missing all five of his shots in the first quarter to hitting eight of his final 14 field goals, plus a drive that netted two free throws with 1:08 remaining.
"I didn't change anything about it," Duncan said. "I think I got a layup to go, and that kind of changed it for me, and just kind of went from there."
That's the Spurs' way. They don't do drastic changes. Occasional tweaks, but that's about it. They exemplify some of their playoff opponents' slogans -- such as the Warriors' "trust in the process" and the Heat's "maintaining our identity" better than those teams themselves.
And it was all summarized in Parker's shot.
"He stuck with it," Popovich said. "He kept competing."
That sounds just like the Spurs.
Dimes past: May 15 | 16 | 18 | 19 | 21 | 22 | 24 | 25 | 26 | 27 | 26 | 28 | 30 | June 1 | 3
ESPN Senior Writer
ESPN.com senior writer since 2007
Around The Horn panelist
Formerly at Los Angeles Times
2. Around The Association
| | | | | |
| --- | --- | --- | --- | --- |
| San Antonio Spurs | 92 | FINAL | 88 | Miami Heat |
---
MVP: Tim Duncan. The Big Fundamental recovered from an 0-for-5 start to put up 20 points, 14 rebounds, four assists and three blocked shots. He also captained the backline of the Spurs' defense, which limited the Heat to 43.6 percent shooting.
X factor: Turnovers. After nine days without an NBA game, the rest or rust question was answered. San Antonio committed just four turnovers in Game 1 against the Heat, which was huge for a rhythm-based offense like the Spurs'.
Defining moment: With the Spurs clinging to a two-point lead, Tony Parker fell over, avoided getting his shot blocked by LeBron and used every bit of the 24-second clock to hit a 16-foot bank shot from the wing. It gave the Spurs a four-point lead with five seconds left and effectively sealed the win.
3. Thursday's Best
Parker
Tony Parker, Spurs:
Improvisation is the name of his game. Parker kept his dribble alive while on the floor, setting up his clinching hoop with 5.2 seconds. He finished with 21 points as the San Antonio Spurs stunned the Miami Heat 92-88 in Game 1.
4. Thursday's Worst
Bosh
Chris Bosh's 3-point attack: His once-dormant 3-point shot was the unsuspecting dagger that sank the Boston Celtics in last year's Eastern Conference finals. But perhaps the numbers are catching up with him. Bosh, a career 28.8 percent marksman from beyond the arc, launched four 3-pointers in Game 1, hoping to find that floor-stretching magic. All missed.
6. Tweet Of The Night
Oh boy. RT @PeteSmithWTFP: @[me] At what point does the idea of amnestying Bosh become a realistic option for the Heat?

— Zach Lowe (@ZachLowe_NBA) June 6, 2013
7. Quote Of The Night
"I thought we were a little fatigued, honestly, in the fourth quarter. Looking around, we looked like a team that came off a seven-game series."
-- Heat guard Dwyane Wade, on his Heat team that was outscored 23-16 in the final quarter.
8. Gathering Of Stalwarts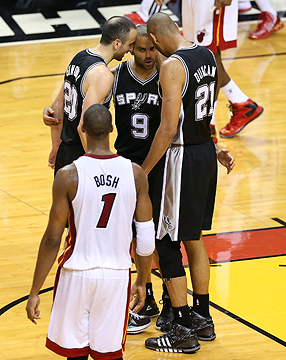 Christian Petersen/Getty ImagesManu Ginobili, Tony Parker and Tim Duncan of the San Antonio Spurs huddle after defeating Chris Bosh and the Miami Heat in Game 1.
9. Stat Check
LeBron James had 18 points, 18 rebounds and 10 assists, but it wasn't enough as the Heat fell to the Spurs in Game 1 of the NBA Finals on Thursday night. James became the sixth player to record a triple-double in the first game of an NBA Finals, joining Wilt Chamberlain (1967), Walt Frazier (1972), Dave Cowens (1976), Magic Johnson (1991) and Jason Kidd (2002). Kidd was the only one of the previous five to do it in a series-opening loss in the Finals.