1. Theme From Swat: LeBron's Winning Approach
MIAMI -- Two years ago this week, in the midst of a playoff-induced insomnia, LeBron James started pulling up columns on the Internet in the middle of the night to read what people were saying about what had been the worst game of his career.
At the time James was in full struggle with the last frontier on his way to becoming a champion, which was his management of pressure and expectations. Regardless of the accuracy, James was still vulnerable to opinion and perception.
So he laid awake in his Dallas hotel room hours after an eight-point game -- it still strains belief James once scored only eight points in a NBA Finals game, but it most certainly was so -- James tried to manufacture some sort of motivation from it. For the most part, that failed.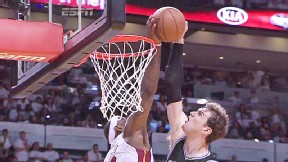 ABC BroadcastingLeBron James' block of Tiago Splitter punctuated the Heat's Game 2 win over the Spurs.
To understand what James did in Game 2 of the 2013 Finals, leading the Miami Heat to an equalizing 103-84 victory over the San Antonio Spurs on Sunday night, you have to recall the 2011 Finals. Only then can the perspective sink in.
James no longer plays with the burden of needing affirmation, jettisoning it when he won it all with the Heat last year. That attitude allowed him to take the calculated Spurs' game plan against him and throw in right back in their face in Game 2 with a trust and confidence reserve that is relatively new to his game.
It couldn't have been better demonstrated than early in the fourth quarter. Up by 19 points, the Heat were in cruise control knowing they had earned the split that they absolutely had to have before packing up for San Antonio. Three days of pressure had been relieved; they were going to be alive in the series. The mission was accomplished.
That was when Spurs center Tiago Splitter thought he was going to have a brief moment when he rolled off a screen for what looked like an uncontested dunk. And that's all it was going to be, a brief moment, until James did something that will probably end up on his career highlight film.
Splitter had already cocked back and was mid-poster when James met him at the rim, James' arm jerking into sight so quickly that it seemed like it might've been a camera trick. James hand met the ball and his wrist briefly flexed backward, Splitter's momentum advantage winning.
Then it was like seeing a father turn the tables to whip his son in an arm-wrestling competition, dominating after a little confidence-building rope-a-dope. In a flick, the ball was headed in the other direction. Strength on strength, and it was no contest.
"A lot of players wouldn't go for that," Heat coach Erik Spolestra said. "The risk-reward, they weigh that right away and the possibility of getting dunked on and being on a highlight film. He's been on that highlight film both ways. It takes great courage to go up and make one of those plays."
This is where James is at in his career. He doesn't care anymore about the risk-reward quotient. Had Splitter finished that dunk over James' late contest, he would've surely been mocked for getting shown up by a Brazilian role player hardly known for muscle. He did it anyway because that's what James does these days.
Sometimes he gets dunked on. Most of the time he does the dunking. He has accepted the liability that comes with the decisions because he's torn off the rearview mirror.
"Basically I told myself, 'You'll end up on 'SportsCenter' where you're going to get dunked on or you're going to get a block,'" James said. "Luckily, I was on the good side of the Top Ten and the Not Top 10."
That's how he played in Game 2. It was hardly a standout performance by his standards. He missed 10 of his first 12 shots, he uncharacteristically fumbled a couple fast-break attempts and he went almost 12 minutes before his first basket.
But he did not change his game plan. The Spurs kept double-teaming him and James kept passing, just as he did in the Heat's Game 1 loss. He was ribbed for that tactic, for not taking over and firing shots into the defense. He was questioned for allowing Mario Chalmers, Mike Miller and Ray Allen to dictate the game's outcome.
Regardless of where one may come down on that strategy, James has made his choice. He's either going to be heralded or chided. He has decided he's going to play on his terms and he will accept what happens on his terms.
On the most basic level, this is the difference in James between 2011 and now. Faced with the defense aimed to limit his scoring, James continued to pass. This time Allen, Miller and Chalmers combined for eight 3-pointers as they took advantage of the space James' got them. This time the Heat forced some turnovers -- James had three steals and three blocks -- and it turned into a blowout.
"I already know what we have here," James said. "I don't really read into it of what people want more of me or whatever the case may be. I will continue to find my shooters, if they're open. And I will continue to try to put pressure on the defense. If I draw two, I'll find my shooters. I have confidence they're going to knock them down."
Had the Spurs put up a better fight and he needed to play to the end, James very well could've put up another triple-double in Game 2. He finished with 17 points, eight rebounds and seven assists and sat the last five minutes. No one's had back-to-back triple-doubles in the playoffs since Jason Kidd in 2002. No, the points aren't impressive, but the rest of it sure was. So was the will he showed in not bending from the strategy he'd willed himself to employ.
"He's a grown man, he doesn't need anybody to tell him anything," Spurs coach Gregg Popovich said before the game.
NBA FINALS ON ESPN DEPORTES

Encuentra lo más reciente de las finales de la NBA en español en ESPNDeportes.com.
"He understands the game. If he makes a pass and you all think he should have shot it, or he shoots it and you think he should have made a pass, your opinions mean nothing to him, as they should not mean anything to him. He's a great player, and his decisions are what they are to gain. All decisions don't always work out. They didn't always work out for Michael [Jordan] or Tim Duncan or Shaq or Kobe Bryant or whomever. You make a decision and that's what you go with."
The choice is now really the Spurs'. They head home 1-1 thanks to a flawless fourth quarter in Game 1 but otherwise have seen the Heat control most of the action. And they've seen James' willingness to deal with their defensive scheme by going into Magic Johnson mode, which Sunday also included playing power forward in a big lineup and guarding Tony Parker for several possessions in the first half.
Popovich may indeed like his chances and keep up the plan to swarm James, daring his teammates to beat him. And James might become the first player ever to average a triple-double in the Finals. Either way, James won't be worried about how it plays out and affects what anyone thinks about him.
"Draw whatever conclusion you want, it's a 1-1 series," James said about the rest of the series. "That's the only conclusion I know. We look forward to Game 3."
Dimes past: May 18 | 19 | 21 | 22 | 24 | 25 | 26 | 27 | 26 | 28 | 30 | June 1 | 3 | 6
ESPN Senior Writer
ESPN.com NBA writer since 2010
Covered Cleveland Cavs for seven years
Author of two books
2. Around The Association
| | | | | |
| --- | --- | --- | --- | --- |
| San Antonio Spurs | 84 | FINAL | 103 | Miami Heat |
---
MVP: LeBron James struggled shooting for most of this game, but made plays in all facets to help Miami take Game 2. His fingerprints were all over the 22-2 run that blew the game open.
Defining moment: That block. Tiago Splitter looked to throw down a dunk fiercer than any he has had in his career. Instead, he ran into both the unstoppable force and immovable object in one LeBron James-shaped package.
X factor: After committing just four turnovers in Game 1's win over the Heat, the Spurs gave the ball away 17 times in Game 2. The miscues fueled Miami's second-half run and stifled San Antonio's offense.
3. Sunday's Best
Chalmers
Mario Chalmers, Heat:
Heat fans should yell their gratitude at Chalmers for sparking a Game 2 win. San Antonio had taken a 62-61 lead late in the third, Chalmers converted two three-point plays, sparking a 103-84 rout.
4. Sunday's Worst
Ginobili
Manu Ginobili, Spurs: Perhaps eating that large buttered popcorn before the game was not a good idea. But seriously, Ginobili (three turnovers in 18 minutes) seemed to have a case of the roundball yips, when simple things like dribbling become a challenge.
6. Tweet Of The Night
No offense to the Heat PA guy, but all NBA intros should be done this way: http://www.youtube.com/watch?v=kSSa1dKwqE4 &

— ESPN The Magazine (@ESPNMag) June 9, 2013
7. Quote Of The Night
"I told myself, 'You're going to end up on 'SportsCenter' one way or another.'"
-- Heat forward LeBron James, on his thoughts before going up to block Tiago Splitter's dunk
8. Another Big LeBron Block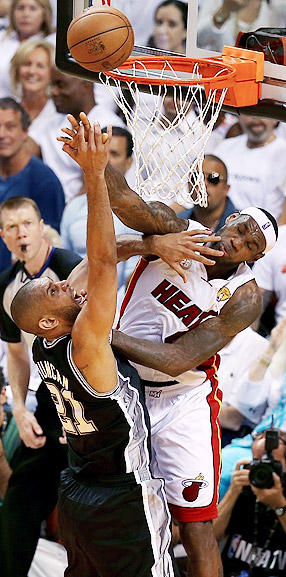 Mike Ehrmann/Getty ImagesWhile his swat of Tiago Splitter was huge, LeBron James' return-to-sender of a Tim Duncan shot in the first half was also notable.
9. Stat Check
The Miami Heat took control of their victory in Game 2 of the NBA Finals by scoring 15 consecutive points to increase their lead from 69-65 with one minute remaining in the third period to 84-65 fewer than three minutes into the fourth quarter. No team had scored more than 12 straight points in a game versus the San Antonio Spurs during this year's playoffs and the Heat were the first team to score at least 15 consecutive points against the Spurs in a playoff game since Dallas went on a 17-0 run in its Game 3 loss at San Antonio in the first round of the 2010 playoffs.