1. Unheralded Spurs Roll With Driven Duncan
SAN ANTONIO -- So much of this Night of the Unsung Spurs -- a night when Danny Green made seven 3-pointers and scored 27 points, when Gary Neal had six 3-pointers and 24 points off the bench, when Kawhi Leonard had a double-double and once again put in serious work to hold LeBron James to fewer than 20 points -- started with Tim Duncan.
Duncan had a game-high 14 rebounds, plus two blocked shots to go with his 12 points. He initiated so many of the San Antonio Spurs' 20 fast-break points. He ran back to be part of the transition defense that held the Heat to 11 fast-break points. The oldest man on the court was hustling to the sidelines and outjumping younger Heat players to tip rebounds to his teammates.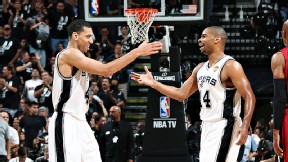 Nathaniel S. Butler/NBAE/Getty ImagesDanny Green and Gary Neal helped the Spurs get a 2-1 edge in the NBA Finals.
The Spurs' foundation made his mark on Game 3 even though they looked deeper than ever while thrashing the Miami Heat 113-77 to take a 2-1 series lead in the NBA Finals. The organization that made stars out of Tony Parker (drafted 28th) and Manu Ginobili (drafted 57th) is now getting trips to the NBA Finals interview room podium from the likes of Neal (undrafted) and Green (waived by the post-LeBron Cavaliers and cut twice by the Spurs before Green's voicemail plea to Gregg Popovich earned him a second chance).
Popovich was so proud of the efforts of these cultivated heroes that he actually turned verbose when asked about them after the game, calling Neal a "quality individual" and Green a "confident young man" as part of his answers that constituted full paragraphs, not blurbs.
The Spurs got contributions from so many people that their most dominant stretch of the game came after a strained hamstring forced Parker out of the game with 5:07 left in the third quarter. Parker said he "felt something on my hamstring." He was cleared to return and played a minute and a half in the fourth quarter, but the Spurs' cushy lead after quickly rebutting LeBron James' lone stretch of influence on the game made it unnecessary for Parker to continue.
And before you write off the Spurs if they get bad news from an MRI exam scheduled for Parker on Wednesday, keep in mind that they went 11-5 without him during the regular season. They would be diminished without Parker, but not necessarily done.
The Heat didn't allow Parker to make much of a scoring impact anyway the past two games. Tuesday night he was 2-for-5 from the field and scored six points in 27½ minutes before he came out. He adapted to Miami's defensive attack of having a big man jump out and stick with him off every screen by seeking out teammates and recording eight assists.
It was similar to Duncan's resolve to impact the game even when the ball wasn't coming to him.
"I'm just trying to do whatever I can," said Duncan, who was 5-for-11 from the field after shooting 3-for-13 in Game 2. "I don't feel like I have a great rhythm right now. I got some shots to fall, a couple of shots, but I'm missing a lot of easy stuff. But the one thing I can do is go out there and try to make some hustle plays, try to get us some second possessions and just try to find a way to help the team however I can."
• Duncan grabbed a rebound and whipped a 25-foot outlet pass to full-speed Parker, who flipped the ball to Neal for a 3-pointer just before the halftime buzzer.
NBA FINALS ON ESPN DEPORTES
Encuentra lo más reciente de las finales de la NBA en español en ESPNDeportes.com.
• Duncan blocked a layup by Mario Chalmers in the third quarter, chased down the ball and saved it before it went out of bounds, leading to a pair of free throws for Green.
• Duncan grabbed an offensive rebound in traffic that led to a 3-pointer by Leonard.
All of the guys the Spurs cut and pasted onto this roster kept reaping the benefits of the guy who was delivered by the fortuitous bounces of the pingpong balls in 1997, and the guy who never acts like a franchise player, even if it means cleaning the dishes and taking out the trash.
"Just because he's a little older doesn't mean he's lost his competitiveness or his professional will to compete," Popovich said. "That's not going to stop.
Green and Neal had their well deserved turns at the podium Tuesday night. But Duncan was up there first.
Dimes past: May 18 | 19 | 21 | 22 | 24 | 25 | 26 | 27 | 26 | 28 | 30 | June 1 | 3 | 6 | 8
ESPN Senior Writer
ESPN.com senior writer since 2007
Around The Horn panelist
Formerly at Los Angeles Times
2. Around The Association
| | | | | |
| --- | --- | --- | --- | --- |
| Miami Heat | 77 | FINAL | 113 | San Antonio Spurs |
---
MVP: Kawhi Leonard. In truth, there were three San Antonio players who deserved the game ball Tnight -- Leonard, Gary Neal, and Danny Green. But only one of them had to defend LeBron James for 29 hellish minutes. And defend he did, absolutely bottling the best player in the world and locking down the glass. Amazing stuff.
X factor: In 2010, Danny Green couldn't make it off the bench for LeBron's Cleveland Cavaliers. Tuesday night? Green scored 27 points on 15 shots. In 2010, Gary Neal was playing for Unicaja Málaga. Tuesday night? Neal scored 24 points on 17 shots. The Spurs roll merrily onward.
That was … devastating: The Spurs have flirted with dominance of many flavors over the past decade. Offense first, defense first, slow down, speed up, all manner of styles and colors abound. Tuesday night, they finally synthesized the best aspects of every one of them. The result? Overwhelming dominance. The Heat have two days to respond.
3. Tuesday's Best
A different Spurs' big three:
Former NBA castoffs Gary Neal and Danny Green combined to shoot a sizzling 13-for-19 from 3-point range, sparking a Game 3 blowout. Kawhi Leonard helped shut down LeBron while posting a double-double of his own as the Spurs won 113-77.
4. Tuesday's Worst
Chalmers
Mario Chalmers, Heat: Live by the Mario, die by the Mario. The hero of Game 2 followed up some sublime hoop with the roughest of outings in Game 3, going scoreless in 20 minutes of action. He turned it over four times to boot.
6. Tweet Of The Night
How long has it been since LeBron failed to get to the FT line in a game? Danny Green was his teammate (Dec. 2, 2009).

— Tom Haberstroh (@tomhaberstroh) June 11, 2013
7. Quote Of The Night
"I didn't recognize the team that was out there.'"
-- Heat coach Erik Spoelstra, on his team being blown out in Game 3.
8. Down Goes Miami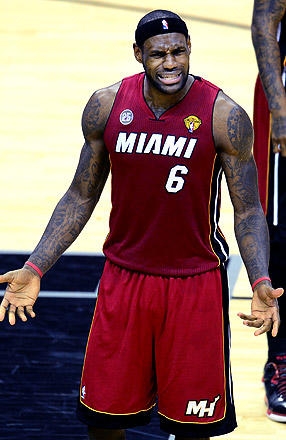 Fredric J. Brown/AFP/Getty ImagesLeBron James had a rough time in Game 3, outscored by his former Cavaliers teammate Danny Green 27-15.
9. Stat Check
Green
Danny Green has made 16 3-point field goals in his first three career NBA Finals games. That's the most 3-pointers made over a three-game span in the Finals for any player in NBA history. The previous record was 15 by Ray Allen, spanning the 2008 and 2010 Finals.