1. Starting Points: Manu Ginobili Soars For Spurs
SAN ANTONIO -- Manu Ginobili pivoted the NBA Finals in the San Antonio Spurs' favor by spinning away from everything they hold sacred.
The Spurs are the first team in team-first attitude rankings, and as cumulative and well-balanced as the 114-104 Game 5 victory that brought them to the brink of a championship was, it started with an individual's thirst to satisfy his own desires.
"I needed it," Ginobili said.
He used variations on that phrase five times at the podium, where his play merited an appearance for the first time this series thanks to his 24 points and 10 assists.
It was his personal breakthrough. That it gave the Spurs a 3-2 lead in a series heading back to Miami for its conclusion made it better. He could accept less if his team was fine without him. But the Miami Heat kept bouncing back to stare the Spurs in the eye, and Ginobili was the one blinking.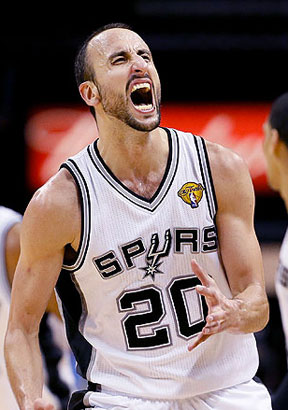 Kevin C. Cox/Getty ImagesManu Ginobili showed he still has several great moves in good working order as the Spurs won.
"I was angry, I was disappointed," Ginobili said. "We are playing in the NBA Finals, we were 2-2 and I felt I still wasn't really helping the team that much. And that was the frustrating part."
Through the first four games of the series Ginobili had been a detriment in Spurs losses, an accessory in their victories. He was shooting 35 percent and providing only 7.5 points per game, with more turnovers than rebounds. He seemed as likely to emerge as a central figure in Game 5 of these NBA Finals as he was to shoot the lowest round at the U.S. Open.
But Miami's successful switch to a smaller starting lineup, including Mike Miller in Game 4, prompted Gregg Popovich to respond in kind, benching center Tiago Splitter after a wildly ineffective Game 4. Ginobili's presence meant a better counter to Miami, and an opportunity for Ginobili to benefit by playing more minutes alongside Tony Parker and Tim Duncan. Those two command more of the defense's attention and allow Ginobili more room for, as he put it, "attacking the seams."
Starting Ginobili mid-series has proven to get him untracked in the past. The previous three times Popovich has done it, Ginobili scored at least 30 points each time.
So there was Ginobili, in the starting lineup for the first time this season. His presence there didn't account for the Spurs' victory by itself. The caliente Danny Green added six more 3-pointers, bringing his series total to an NBA Finals-record 25. Tony Parker eviscerated the Heat's point guards to score a game-high 26 points. Their defense didn't allow Miami easy inside baskets in the half court or even in transition.
And yet Ginobili never seemed more fired up than he was when he fist-pumped after he made the first shot of the game. It's not that Ginobili is selfish -- there's no way that label applies to a starting-caliber player who has willingly come off the bench more than half his career -- it's just that, increasingly, his big shots seem to signal triumphs over the doubts that have amassed in such large numbers he has been unable to prevent them from breaching his mind.
"I needed to make a couple shots," Ginobili said.
"I was having a tough time scoring, and I needed to feel like the game was coming to me, and I was being able to attack the rim, get to the free throw line, and make a couple of shots."
He did all of that and more. He whipped a pass to Green for a layup. He kept finding Duncan in familiar low-post spots.
He scored or assisted on half of the Spurs' 12 field goals in the first quarter as they enjoyed another hot start, emerging with a 32-19 lead. They were up by as many as 20 in the game. Even though the Heat pulled to within a point in the third quarter, the flow of the game indicated the Spurs were never in jeopardy. The quality of their shot opportunities was better throughout, and that usually coincides with victory. A 19-1 run after things got tight didn't hurt, either.
The Spurs were successful even though the downside of starting Ginobili -- a weakened reserve unit -- came to full fruition. The Heat, thanks to Ray Allen's found shooting stroke providing 21 points, won the bench scoring, 31-7. But the Spurs prevailed almost everywhere else, shooting 60 percent to Miami's 43 percent, and outrebounding Miami 36-34, blocking eight shots to Miami's three.
Green has emerged as the most consistent Spur, knocking down 3-pointers and hustling back to stop LeBron at the basket in transition, as difficult an assigment as you'll find in the NBA. Kawhi Leonard continues to add offense to his defensive effort against LeBron. Duncan is Duncan.
NBA FINALS ON ESPN DEPORTES
Encuentra lo más reciente de las finales de la NBA en español en ESPNDeportes.com.
But Ginobili looking like Ginobili is a new development, at the stage of the series when it's supposed to be too late for new developments.
"Tonight he played his best game in a while," Popovich said. "So it was obviously helpful."
Such a Popovichian understatement.
Duncan, meanwhile, stayed with his newfound candor when talking about the championship quest.
"Every one of us wants this really badly, from the top on down," Duncan said. "We're trying to play that way."
He wants another ring for himself. He's the only Spurs player who would have five. He has little time remaining. Yes, this is about his own wants. It doesn't mean he has abandoned the Spurs' team concept. It doesn't mean he has done anything on the court that's out of character. Pride and ego can be good things when managed the right way.
Ginobili just showed it.
Dimes past: May 22 | 24 | 25 | 26 | 27 | 26 | 28 | 30 | June 1 | 3 | 6 | 8 | 11 | 13 | 16
ESPN Senior Writer
ESPN.com senior writer since 2007
Around The Horn panelist
Formerly at Los Angeles Times
2. Around The Association
| | | | | |
| --- | --- | --- | --- | --- |
| Miami Heat | 104 | FINAL | 114 | San Antonio Spurs |
---
MVP: We've been waiting for the Manu Ginobili game and we finally got it. The Argentine scored 24 points and racked up 10 dimes in the winning effort, pulling off several circus shots that left Miami's defense confounded.
X factor: Add six more 3-pointers and 24 more points to Danny Green's Finals résumé. He is now shooting 25-for-38 from behind the arc in the Finals, with those 25 3-pointers surpassing Ray Allen's old Finals record of 22.
Defining moment: In the second half, we saw a lot of Boris Diaw on LeBron James. The Frenchman did not disappoint his coach, as he frustrated LeBron by taking away his driving lanes, forcing LeBron to 1-for-8 shooting when he was guarded by Diaw.
3. Sunday's Best
Ginobili
Manu Ginobili, Spurs:
Fabulous bounce-back performance by Ginobili, who responded well to his insertion in the starting lineup. Ginobili finished with 24 points and 10 assists in a classic Manu outing that brought a 114-104 Game 5 win.
4. Sunday's Worst
Heat point guards: Mario Chalmers and Norris Cole did not have many answers for Tony Parker, who made 10 of 14 shots in the Spurs' Game 5 win. Chalmers made 2 of 10 shots, while Cole appeared to be overmatched.
6. Tweet Of The Night
Danny Ferry told me tonight that there were practices in Cleveland where Danny Green was the 2nd best player on the floor after LBJ

— Ramona Shelburne (@ramonashelburne) June 16, 2013
7. Quote Of The Night
"I told you Manu was going to have a big game. You didn't listen."
-- Tony Parker, on the Game 5 rise of Manu Ginobili
8. So Much Green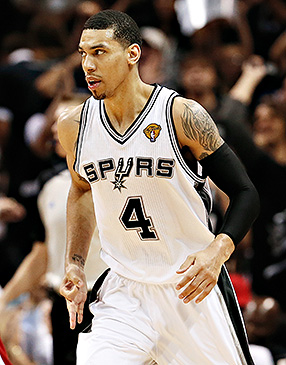 Kevin C. Cox/Getty ImagesDanny Green keeps on making shots, sinking six 3-pointers to break the record for 3-pointers in a Finals previously held by Ray Allen (22 3-pointers in 2008).
9. Stat Check
Green
Danny Green made another six 3-point field goals in the San Antonio Spurs' Game 5 win over the Miami Heat, bringing his series total to a NBA Finals-record 25. In fact, that total ties the record for the most 3-pointers made by a player over any five playoff games, regardless of round. Dennis Scott (1995 Orlando Magic) and Ray Allen (2009 Boston Celtics) also made 25 shots from downtown over a five-game span. Green needs to sink four more 3-pointers this series to break the all-time record for any playoff series of any length. Scott made 28 3-pointers in the 1995 Eastern Conference finals against the Indiana Pacers, and Allen recorded 28 for the Milwaukee Bucks in the 2001 Eastern Conference finals against the Philadelphia 76ers.