1. Bandless Leader: LeBron, Heat Will Play On
MIAMI -- The headband was lost, knocked off from behind by Tim Duncan as LeBron James finished a putback slam with nine minutes remaining in the fourth quarter.
It sat on the hardwood for a few moments, was recovered by a ball boy and offered back to LeBron during the next stoppage of play. He waved it off.
It meant nothing to the outcome. All it did was allow us to label one of the most amazing Finals games in NBA history: The No Headband Game.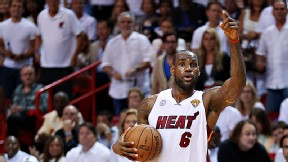 Mike Ehrmann/Getty ImagesWith his head clear, LeBron faces a Game 7.
In actuality, LeBron's season-saving surge of energy and relentlessness didn't begin when his headband fell off.
In fact, the Heat's recovery from down 13 started with a Shane Battier 3-pointer late in the third.
And it was completed by Ray Allen, with a game-tying 3-pointer with five seconds left in regulation that gave the term "second-chance points" a much deeper meaning.
But in between those two moments, right after the Heat were demoralized by a tireless Spurs team, and before Allen rescued Miami from a five-point deficit with 28 seconds left, there was LeBron.
He wasn't going to exit these Finals with question marks about his contribution or his approach. He wasn't going to leave these Finals with Boris Diaw claiming ownership over him.
He wasn't going to leave these Finals without a "We ain't going out like this" moment, a la Dwyane Wade in Game 3 of the 2006 Finals.
So with his forehead exposed for the world to see -- and probably mock -- LeBron turned into an unstoppable force.
He attacked the rim the way we all expected him to this entire series, even getting past his nemesis Diaw (how silly does that sound?) on one play for a layup.
He defended Tony Parker as well as he could be defended (he had some quality help from Chris Bosh, but that didn't even stop Parker from scoring what seemed like five straight dagger points late in the fourth).
He blocked Duncan at the rim, then scored a game-tying layup midway through the fourth quarter.
He still found open teammates and hit the glass well enough to finish off his second triple-double of these Finals with 32 points, 11 assists and 10 rebounds.
This was required of LeBron if his team was going to see a Game 7, and he delivered.
Down 13 late in the third quarter, the Heat seemed as demoralized as they'd been at any point since 2010, perhaps with the exception of those 2011 Finals when the team had lost all hope that this version of LeBron could show up.
So it didn't even matter that headband-less LeBron wasn't perfect -- he went 6-for-12 from the field while posting four rebounds and three assists sans headband, including back-to-back baffling turnovers with under 40 seconds remaining. All that mattered was that he flipped that switch.
He led the way, and his team, with a touch of good fortune, followed suit.
"If he has great energy, we feel it, the rest of the team," Allen said. "So one thing I always try to make sure I do with him is to make sure he understands how his aura, his energy has an effect on the rest of the team. And we always need it to be great energy.
"So it's a terrible burden, but for one guy, he has to make sure that he always keeps the energy and that positivity flowing in the right direction."
In the Heat's last win in this series, LeBron leaned heavily on Wade, who came up with 32 points to get a much-needed win in San Antonio.
This time, he couldn't rely on Wade, who had trouble shaking Spurs defenders and finished just 6-of-15 shooting for 14 points.
So just like in Game 2, when the Heat used a late-game rally to pull away from San Antonio, the Heat had their most successful stretch with a lineup that featured Allen, Chris Andersen, Mike Miller and Mario Chalmers alongside LeBron.
That group actually gave the Heat an 84-82 lead before Erik Spoelstra reinserted Bosh and then Wade.
Without Wade or Bosh at his side, LeBron turned into a one-man attack, and it was evident to the Spurs he wasn't going to go quietly into his third Finals loss in four tries.
"He started to attack against one, two [players], and with his strength, it got difficult," said Manu Ginobili, who had eight turnovers to follow up his renaissance performance in Game 5. "When you're desperate, that's what happens.
"It was a bad moment for us, but we took the punch and we kept playing."
They kept playing, indeed. The Spurs took a five-point lead off three Ginobili free throws in four tries with 28 seconds left. But LeBron had one last gasp in him. He nailed a 3-pointer with 20 seconds left, his only make in five tries from distance. And after Kawhi Leonard missed one of two free throws on the next Spurs possession, LeBron rose up for another 3 that would've tied the game.
That one missed, though, because LeBron's storylines are never quite that simple, are they?
But without Duncan in the game, Bosh was able to rise for an offensive rebound and kick out to Allen in the corner.
Even then, LeBron hoped for another opportunity, yelling for a pass from Allen, who had zero intention of giving up the shot.
"If it's not me taking the shot, I have no problem with Ray taking that shot," James said. "He's got ice water in his veins."
Allen proved that again in the extra session, hitting two free throws with 1.9 seconds left after he stripped the ball from a driving Ginobili, who was going in for a potential game winner.
But none of that happens without LeBron turning in one last burst of greatness. He played the entire second half and overtime, only asking Spoelstra to call a timeout whenever he needed a rest.
He didn't back away from a challenge when everyone was ready to rewrite the disparaging words we all wrote back in 2011. He confronted it head-on -- literally, because he had no headband to provide a cushion -- and he gave himself and his team an opportunity to play a winner-take-Larry Game 7 on his home court.
That yellow rope, the one that was set up just beyond the boundaries ready to signal a championship celebration for the Spurs? LeBron made that rope disappear.
And now when it reappears on Thursday night, it might just be for a Miami Heat celebration.
NBA FINALS ON ESPN DEPORTES
Encuentra lo más reciente de las finales de la NBA en español en ESPNDeportes.com.
"We seen the championship board already out there, the yellow tape," James said. "You know, that's why you play the game to the final buzzer. And that's what we did tonight.
"We gave it everything we had, and more."
The Heat gave it everything they had.
LeBron was the "and more."
Dimes past: May 22 | 24 | 25 | 26 | 27 | 26 | 28 | 30 | June 1 | 3 | 6 | 8 | 11 | 13 | 16
ESPN Staff Writer
Israel Gutierrez is an NBA writer for ESPN.com.
2. Around The Association
| | | | | |
| --- | --- | --- | --- | --- |
| San Antonio Spurs | 100 | FINAL | 103 | Miami Heat |
---
MVP: LeBron James was slow to start, going 3-for-12 in the first three quarters. However, he exploded in the fourth, scoring 16 points sans his trademark headband. He finished with 32 points, 10 boards and 11 assists, becoming the first since Charles Barkley in '93 to put up a 30-point, 10-rebound, 10-assist game in the Finals.
X factor: Chris Bosh had only 10 points in this game, but he had a clutch offensive rebound at the end of the fourth and two key blocks in overtime to seal it for the Heat, including the rejection of a Danny Green 3-point attempt with one second left in OT.
Defining moment: With seven seconds left in the fourth, it looked over. LeBron had missed a 3-pointer, but Bosh came down with the aforementioned clutch rebound. He then kicked the ball out to Ray Allen in the corner for the 3 to tie the game with five seconds left, preventing the Spurs from claiming their fifth NBA title, for now.
3. Tuesday's Best
James
LeBron James, Heat:
Lost the headband, but won the game. James finished with 32 points, 10 rebounds and 11 assists in an all-time classic 103-100 overtime win in Game 6. The Heat stayed alive and forced Game 7.
4. Tuesday's Worst
Ginobili
Manu Ginobili, Spurs: A career-high eight turnovers for the hero of Game 5. Ginobili was forthcoming about his misery. "I had a career high in turnovers in a really bad moment. It really helps to make me feel terrible," he said.
7. Quote Of The Night
"I saw the rope. Everybody saw the rope."
-- Gary Neal, Spurs reserve, on noting the yellow line ringing the court in the final minute of regulation in preparation for a Spurs title ceremony.
8. No Shot For You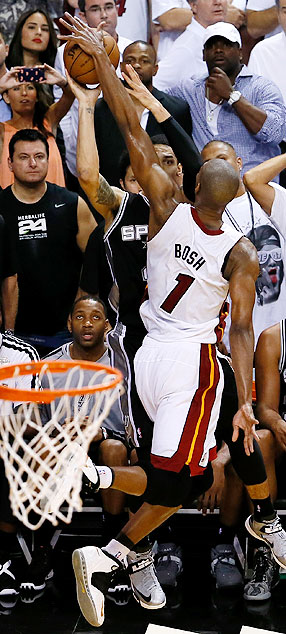 Kevin C. Cox/Getty ImagesChris Bosh, who declared that hot-shooting Danny Green would not get open looks in Game 6, rejected the final shot of the game by Green.
9. Stat Check
The Miami Heat rallied from a 75-65 deficit after three quarters to force Game 7 with a 103100 overtime victory over the Spurs. Only one other team staved off elimination in the NBA Finals by overcoming a double-digit deficit heading into the fourth quarter. Trailing three games to one in 1967, the San Francisco Warriors outscored the 76ers 33-13 in the fourth quarter to post a 117-109 victory at Philadelphia. The Sixers rebounded to win Game 6 at San Francisco and with it the NBA title.
Only three other teams avoided elimination with an overtime win in the NBA Finals, and two of them -- the Celtics against the St. Louis Hawks in 1957, and the Celtics against the Lakers in 1962 -- did it in the seventh game. The other was Milwaukee with a Game 6 victory over Boston in 1974.