1. The Second Story: LeBron's Long Shot Wins
MIAMI -- Ten years ago this week LeBron James stepped into the NBA in a shimmering white suit with an unburdened smile and limitless expectation.
He had the talent for it, he had the personality and he had the charisma, but he didn't really have the game. It took him some time to recognize that, then get his mind around it and focus on what to do about it. But at the end of a decade of pressure and pageantry, James has some battle scars and has figured it out.
He brought home his second NBA championship with the Miami Heat on Thursday night in a 95-88 Game 7 victory over the San Antonio Spurs with a performance that was a fitting testament to the rigorous training he has put himself through over the years to complete the superstar package that has now verified control of the league.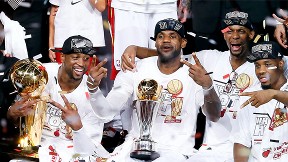 Kevin C. Cox/Getty ImagesThat's title No. 2 for this Heatles trio.
The young James couldn't shoot, couldn't shoot a lick. He used to change his form midway through games, would alter how high he would jump on a whim, and fire the ball up from anywhere on the court without always having a reason. When there was a layer of pressure added, that inconsistency ate at his results and dimmed his confidence, a recipe that observers used like a whip to attack his ability to perform in the clutch.
Even when James occasionally got hot, as he did one incredible night in Detroit in 2007, there was a greater chance element than he would've preferred to admit.
He could always dunk with the power that his frame allowed. And he could always flip in shots from impossible angles around the rim, a product of a preternatural gift of touch and ambidexterity. But for a long time he shot like a high schooler, and that was never going to do.
The poetry of these NBA Finals was that James displayed his years of effort in eradicating that younger version against the team that forced him to look in the mirror. After those 2007 Finals, which were basically an unmasking of the James mystique after the in-their-prime Spurs embarrassed him, James found a new dedication to mastering that broken jumper.
He took Cavs assistant coach Chris Jent with him wherever he went over the next few summers as if he were a roadie. When James was on vacation, he and Jent shot. When James was filming a commercial, time was built into the schedule for he and Jent to shoot. When James went to China on business with Nike, it was understood that there always had to be a court and there always had to be some hours to shoot with Jent.
It became an obsession like that 36 percent shooting in his first Finals became an albatross. It wasn't 10,000 hours, it might've been more. And up and up came the numbers, and closer and closer did James come to his ceiling.
When he came to Miami, James found a young coach who brought spreadsheets to practice with his whistle. Erik Spoelstra showed James that there was more to great shooting than balance, form and muscle memory. There were some shots that were more efficient than others, there were some places where he would always be comfortable and where opponents would always let him go and they could be seen in all those columns and printouts. James' eyes were opened to looking at the art of the shot in a new way that took him to a cerebral level he'd never even considered before.
Of all the things James has accomplished and all the awards he has won and all the various statistical milestones he has set, one stands above all the others when it comes to illustrating just how much dedication he has put into the task of making himself a professional shooter. For six consecutive years, longer than the average player's career, James has improved his shooting numbers. Season after season, MVP after MVP, and now title after title, James kept toiling away on the craft and sharpening his edge.
This season it touched 56 percent and a glorious 46 percent from 16-23 feet, one of the best in the league. A dazzling 41 percent from 3-point range, which won't make anyone forget Steve Kerr but worthy of a honorary degree when you look back to his teenage numbers, when he couldn't crack 30 percent from that range.
So there it was in Game 7, the Spurs playing the old game plan to let James shoot. It had worked in 2007 and it worked for a while in 2013. If it was the 2007 James, the Spurs would've won and not just because they were seconds away from doing so anyway before a Game 6 collapse. This version of James won't allow it.
Shot after shot he made over the Spurs Thursday night, all the proof he would ever need. Five 3-pointers went through. More midrange shots slammed in, including a 20-footer with 27 seconds left that gave the Heat a vital four-point lead. At the end of the shot clock and with huge stakes, it was as clutch of a shot as James has ever made, a jumper that iced a title.
"I said before the series that I was a better player than I was last time I faced the Spurs," said a champagne-soaked James, with the Larry O'Brien Trophy on his left and the Bill Russell Finals MVP Trophy on his right. "I just trusted all the work that I put into my game."
James had 37 points in Game 7 after 32 in Game 6. Over the past two seasons in these Finals runs, he has carried the Heat through five elimination games, three Game 7s and five series in which they have trailed. He simply couldn't have done it without his immense dedication to improving the weak spots in his game.
Execution of that nature on this level is not something that can be faked or comes from fluke. And it doesn't come without some self doubt. After James struggled shooting earlier in the series when the Spurs' game plan aimed to bring back old memories, James admitted he looked back at his stats from the regular season to remind himself of what to trust.
"Don't abandon what you've done all year," James told himself. "If it's there, take it."
You could see James having to tell himself that again as he watched Spurs players step back during Game 7. Even the fabulous young defender Kawhi Leonard, who announced himself to the world in the Finals with a masterful 19-point, 16-rebound final effort, went with the percentages and issued the dare.
NBA FINALS ON ESPN DEPORTES
Encuentra lo más reciente de las finales de la NBA en español en ESPNDeportes.com.
Over the long haul, that dare is done working on James.
"LeBron is the greatest player in the world," Heat president Pat Riley said after the game. "He deserves everything he gets right now."
James became a millionaire because of his talent, he became a pitchman because so many were drawn to him, but he deserved to become that champion only after putting in all the hard work that was fueled by his failures.
As he headed into the night to celebrate another title, James made two more promises. He'd be back for more of this. And he'd always keep in mind what got him to this moment.
"I want to be, if not the greatest, one of the greatest to ever play this game," James said. "And I will continue to work for that."
Dimes past: May 25 | 26 | 27 | 26 | 28 | 30 | June 1 | 3 | 6 | 8 | 11 | 13 | 16 | 18
ESPN Senior Writer
ESPN.com NBA writer since 2010
Covered Cleveland Cavs for seven years
Author of two books
2. Around The Association
| | | | | |
| --- | --- | --- | --- | --- |
| San Antonio Spurs | 88 | FINAL | 95 | Miami Heat |
---
MVP: LeBron James, of course. The now two-time Finals MVP gave a historic performance, putting up 37 points, 12 rebounds and 4 assists. He hit what appeared to be the dagger, a jumper with 27 seconds left to give the Heat a four-point lead that didn't break.
LVP: Unfortunately for the Spurs, Danny Green had to regress from his extreme 3-point display at some point. The San Antonio guard went 1-for-12 from the field, turned the ball over twice, and looked completely lost when Miami forced him to put the ball on the floor.
Defining moment: With 48 seconds left and Miami leading by two, Tim Duncan went for his trademark sweeping hook through the lane. A shot that we've seen fall so many times finally clanked out on the Hall of Famer, and it was the last clean look at the basket that the Spurs got on the night.
3. Thursday's Best
James
LeBron James, Heat:
The Spurs dared him to shoot, and he shot. James canned five 3-pointers to lead the Heat to their second straight title, scoring 37 points and grabbing 12 rebounds in a 95-88 victory Thursday night in a worthy NBA Finals Game 7.
4. Thursday's Worst
Green
Danny Green, Spurs: It once looked as though he would never miss. But Green missed plenty, going 1-for-12 from the field in the Game 7 loss to Miami. He started the series by making 25 3-pointers in the first five games, an NBA Finals record for a series.
6. Tweet Of The Night
If you still hate LeBron you really need a life coach... And I'll sponsor you.

— Andre Iguodala (@andre) June 20, 2013
7. Quote Of The Night
"I talked to my knees today. … I told them, 'Both of you guys, if you can give me one great game, we'll have a great summer.'"
-- Dwyane Wade, on rising up on bad knees to help the Heat win a title.
8. So Close To Title No. 5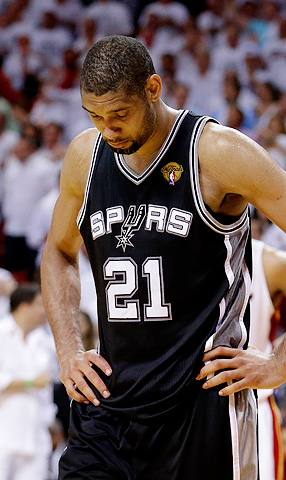 AP Photo/Steve MitchellTim Duncan walks off the court after suffering his first NBA Finals Game 7 defeat. Duncan had 24 points and 12 rebounds in the loss, including one late miss that led the normally stoic big man to pound the floor in frustration.
9. Stat Check
LeBron James (37 points) and Shane Battier (18) both posted their highest point total of the 2013 playoffs in Game 7 of the NBA Finals. No player did that in either of the past two Game 7s in the Finals, and the last team with two such players was Boston in Game 7 in 1960: Frank Ramsey (24) and Sam Jones (18).