4. First Look: Ben McLemore

McLemore
If we know anything about Ben McLemore, it's that he can shoot, so there's no point in fretting over his horrendous accuracy in his NBA Summer League debut on Saturday -- 4-for-23 from the field, including 1-for-11 on 3-point attempts. While the passivity that plagued McLemore at Kansas certainly wasn't an issue, we didn't see him create many opportunities for himself. There was a missed turnaround jumper posting up the smaller Gal Mekel and a drive that got him to the free throw line, but for the most part McLemore was shooting jumpers. As sweet as his shot might be (Saturday's results aside) McLemore will have to do more to become a star player.
Kevin Pelton is an NBA Insider for ESPN.com.
6. Saturday's Best

Valanciunas
Jonas Valanciunas, Raptors: The No. 5 pick from 2011 impressed, dropping in 23 points on 8-of-10 shooting from the floor. Toronto will happily take a good fraction of that kind of production come the real season.
• Vegas Summer League: Schedule/Results
7. Saturday's Worst
Ben McLemore, Kings: Even J.R. Smith would shake his head at this kind of serial hoisting. Going 4-for-23 (including 1-for-11 from 3-point range) from the floor isn't exactly the blueprint of efficiency. The Kings' top pick saw his team lose 76-73 to the Mavs.
8. Watch Out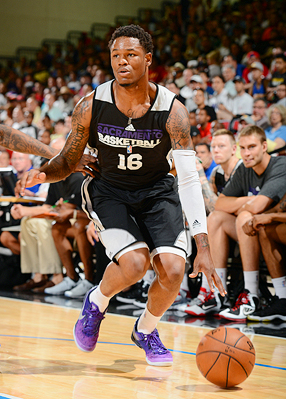 Garrett W. Ellwood/Getty ImagesKings rookie Ben McLemore was not cheated when it came to shots taken during his team's loss to the Mavericks.
9. Tweet Of The Night
Meyers Leonard on the feed from CJ McCollum. Leonard eatin' healthy in LV. Spotted with a full cart at Whole Foods this morning.

— Kevin Arnovitz (@kevinarnovitz) July 13, 2013
10. Quote Of The Night
"My whole goal is, this is my fourth year and I need to be in the playoffs. There's nothing more, nothing else that needs to be said about that. I just need to be in the playoffs. Leaving the season early every year is not fun. It's not exciting just going home and watching basketball."
-- John Wall, the Wizards point guard, who is checking out his club's summer league team.