4. First Look: Dennis Schroder

Schroder
Through two games in Las Vegas, Dennis Schroder has done nothing to dismiss comparisons to Rajon Rondo. Like Rondo, Schroder's exceptional quickness enables him to penetrate on offense and pressure opposing ballhandlers. He used good footwork to hound Miami guard Anthony Marshall all night Sunday, forcing eight turnovers, and handed out eight assists. The Rondo similarity extends to Schroder's weaknesses. He missed both perimeter attempts -- one was wide right by at least a foot -- and he'll have to make the simple pass rather than forcing the issue and turning the ball over, as he did three times.
Kevin Pelton is an NBA Insider for ESPN.com.
6. Sunday's Best

Zeller
Cody Zeller, Bobcats: The buzz around the youngest Zeller brother heading into the draft was his ability to stretch the floor from the 4-spot, but he showed some old-school authority on the blocks in his second summer-league game. Dunks, up-fakes, and-1s, blocks -- Zeller looked like a regular Larry Johnson in totaling 21 points (6-for-12; 9-for-9 FT) and 13 rebounds, 11 of which came on the defensive glass.
• Vegas Summer League: Schedule/Results
7. Sunday's Worst
Selby
Josh Selby, Lakers: The reigning co-MVP of Las Vegas Summer League lost the touch that tore up the competition last year. Selby, once a top recruit, thrives off his natural scoring ability, but it was nowhere in sight in reserve duty for the Lakers. He finished with four points (1-for-7), three rebounds, one assist and three turnovers.
•
Vegas Summer League: Schedule/Results
8. Zeller Doing Work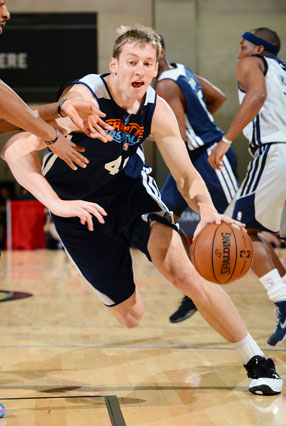 Garrett W. Ellwood/NBAE/Getty ImagesBobcats forward Cody Zeller, the No. 4 overall pick, had a 21 points and 13 rebounds in an 86-80 win over the Dallas Mavericks
9. Tweet Of The Night
Career to date in one play: Thomas Robinson misses three contested shots at the rim on Portland's first possession.

— Kevin Pelton (@kpelton) July 13, 2013
10. Quote Of The Night
"I like his skill sets a lot. I think a lot of teams have liked his skill sets over the years. He does a little bit of everything."
-- New York coach Mike Woodson, on the merits of free agent Metta World Peace, who has been in contact with the Knicks.