1. Vegas Buzz: Full Tank, Showing ID And 2014
LAS VEGAS -- It's been a peculiar year at Las Vegas Summer League.
Anthony Bennett and Alex Len are sitting out due to injury, and several other notables, such as Victor Oladipo, Kelly Olynyk and Kentavious Caldwell-Pope, were drafted by teams that opt for summer league in Orlando over Vegas. As a result, only five of the top 15 picks from the June draft have taken the floor here, and the majority of those prospects have been underwhelming.
For NBA power brokers, though, summer league has never really been about the exhibition of young talent. The execs and scouts on site have already spent an eternity observing and watching the top talent. They're in Las Vegas for the schmoozefest, to compare notes, trade information and generally celebrate their common fortune to work dream jobs.
As they congregate in Sections 104 and 116 at the far end of Cox Pavillion, in remote corners of the Thomas & Mack Center's lower bowl and in restaurants and bars along the Strip, insiders have plenty to talk about in 2013.
Here are some of the trending themes after speaking to about two dozen NBA executives, coaches, personnel people, scouts and analysts:
---
Tankfest 2013-14
A fair amount of resentment exists among front offices trying to win basketball games in 2013-14 for those rival execs who aren't.
"When you sell failure, you can't be judged by failure," one exec said. "By doing it this way, they buy themselves a five-year cycle rather than a three-year cycle. It's about survival as much as strategy."
In other words, by selling owners on the idea that calamity must precede success, the Merchants of Tank get a pass from owners who might otherwise have a low tolerance for the volume of losses they're about to accumulate.
There are varied opinions as to whether decision-makers such as Philadelphia's new general manager, Sam Hinkie, are pursuing a sensible strategy. Some doff their caps to the pragmatism, boldness and, most of all, power of persuasion required by an executive to sell 62 losses to owners who aren't accustomed to losing in life.
But others feel as if tankers are overplaying their hands. The thinking goes that tanking is all well and good when you're one of only a select group engaged in the practice (as Oklahoma City was during its construction). But when as many as a dozen teams are participating, the race to the bottom is far more competitive -- and potentially corrosive to the franchise.
"There are only three top-three picks," one assistant general manager said. "Everyone wants to be the Thunder, but for the majority of teams, it doesn't work out that way. Meanwhile, you don't want to create a cultural malaise while you're busy driving away your fan base."
The unintended consequence of all this? The competitive balance the league purported to establish during the 2011 negotiations is as nonexistent as ever.
---
Small ball and shooting are ascendant, but self-awareness trumps all
Las Vegas Summer League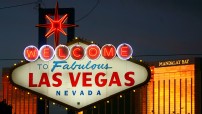 • Summer Report Cards, Day 7
• Summer Report Cards, Day 6
• Summer Report Cards, Day 5
• Summer Report Cards, Day 4
• Summer Report Cards, Day 3
• Summer Report Cards, Day 2
• Summer Report Cards, Day 1
• Summer league schedule | Rosters
• Vegas primers: East | West
• Summer League Index: All the action
Shooting is at an all-time premium in the NBA, one reason we've seen players such as J.J. Redick, Kevin Martin and Kyle Korver score four-year deals well above the midlevel. Premium ball-dominant creators need open lanes and options along the perimeter to take full advantage of the defense.
A year later, few discount the importance of keeping the paint open, but that belief carries more caveats than it did last summer, when the Heat's forward tandem was heralded. Stretching the defense is still an important ingredient to success, but a team's self-awareness is just as vital.
"It's not necessarily about small ball," Miami Heat coach Erik Spoelstra said. "The more important thing is, 'What is your identity?' -- whatever that identity is."
Spoelstra cited the Indiana Pacers and Memphis Grizzlies as examples. Both teams play big, but both know exactly who they are. Spoelstra insisted that small ball is only one subset of a more crucial effort -- the introduction of unorthodox ideas, whatever those ideas might be.
"You want the unconventional," Spoelstra said. "At first it sparks contentious arguments, and we went through that, but you gradually come to an understanding."
This sentiment has been echoed throughout the building. High pick-and-rolls are fine and well, but there's a belief building that wrinkles win championships.
---
What have we really learned about the CBA?
Most execs shrug when asked if we've learned anything definitive about the current collective bargaining agreement as it concludes its second season and readies for its third. They list a few effects they see as measurable, many the same as last summer -- a focus on tax avoidance in most cases, shorter deals, Exception A is the new Exception B.
"It's harder to get into real trouble," said one general manager. "We're seeing more players who would've gotten three years in the old CBA get only one or two. But the same class of players is getting the same money. And the gap between the haves and have-nots isn't getting much smaller in terms of spending. The Lakers were ready to spend, and they're not going to hold back when the time comes to spend again."
One front-office decision-maker suggests that the spreadsheet we'll increasingly see from most teams will consist of the following budget lines: (A) two big-money contracts, (B) two mid-size contracts, including the midlevel, and (C) smallish exceptions and everyone else. For the Cadillac teams, that first category will consist of three high-dollar deals.
More than anything, execs increasingly feel like creative accountants rather than talent evaluators, a job in which cap manipulation far outweighs taste in basketball players in import. "Basketball guy" is a diminishing demographic in NBA front offices, and for a certain brand of basketball lifer and those who came up through the coaching, development and scouting world, it's a buzzkill.
---
Talking up the 2014 draft
"Even 2003 wasn't talked about this much a year out," Houston Rockets general manager Daryl Morey said. "This is the most hyped draft since I came into the league in 2002."
The riches waiting in next June's draft have been a major tailwind for Tankfest 2013-14, and it isn't just Andrew Wiggins. Scouts love the depth from Kentucky's Julius Randle, Australia's Dante Exum, Duke's Jabari Parker, Oklahoma State's Marcus Smart, Arizona's Aaron Gordon -- and that's leaving out some guys projected by some as potential All-Stars.
The commonality most cited by scouts and execs is the maturity and versatility of the prospects.
"They've been reading ahead," said one NBA scout who has started to shift his attention toward next June. "Play multiple positions. Guard multiple positions. Do multiple things. Be serious about the work and the conditioning and don't be an a--h---."
The prevailing perception is that the top of the Class of 2014 embodies these attributes.
Some of the attention on 2014 might be driven by the universal indifference to the current class ("Living up to their billing," squawked one exec). And a minority among top general managers think the 2014 crop is slightly overrated, while others refused to get sucked into irrational exuberance 11 months out.
---
Oy, Brooklyn
Brooklyn has been a flashpoint for this last claim. As of Thursday night, the team is slated to pay a luxury-tax bill in excess of $80 million. Despite the fact that owner Mikhail Prokhorov has money to burn, many feel that his model is unsustainable, especially if the Nets don't sniff a title. Prokhorov might be willing to absorb substantial costs if the Nets win, but even a man of inexhaustible wealth doesn't want to be known as the guy who burned through a billion dollars during his ownership tenure and didn't win bupkis.
As Zach Lowe tweeted last week, rival execs are tweaked by Andrei Kirilenko's deal in Brooklyn. In their eyes, the deal smells funny, especially with whispers circulating that Kirilenko had considerably better offers from other teams. More than one exec has carped that international ownership (read: Prokhorov) could leave the league vulnerable to sketchy side deals that are virtually untraceable.
---
It's a 'change year'
The sight of George Karl and Lionel Hollins as VIP spectators in Las Vegas has driven home how much turnover we've witnessed over the past few months. Spoelstra, through his experience in Miami and as someone with a strong familiarity of the San Antonio Spurs, continues to reiterate his belief that constant change is a deterrent to success.
"You need consistency and patience," Spoelstra said. "You have to have that, even if it means some early failure. Say, 'Let's figure it out,' instead of bringing in a new regime and starting at square one."
The tumult isn't just occurring on the sideline. New, younger executives -- and more important, new kinds of younger executives -- have set up shop in many NBA front offices.
"Things are changing fast," said Stu Lash, director of player personnel and basketball development for the Memphis Grizzlies. "Look at the average age of the new coaches and executives."
Some popular explanations from Las Vegas: Practitioners of innovation tend to be young, and that's what new-wave owners, who tend to be younger themselves, are looking for. But we shouldn't discount the financial incentives either. Younger coaches tend to be more affordable than the old lions of the profession.
As one exec put it: "This is the owners getting their money back."
---
A few other topics in the ether:
• Most forward-looking organizations are looking for the next edge, and that seems to lie not only in optical tracking (the cat is out of the bag there) but also in the physiological and psychological realms.
• The complex in Las Vegas is dripping in schadenfreude for the Lakers. Rival teams howled at the Lakers' having to beg Dwight Howard to stay and still losing out, but almost everyone expects the Lakers to recover quickly from their current ennui. "They'll be fine in spite of themselves," said one assistant general manager. "Players want to be there."
• European basketball continues to falter under the stress of the continent's flailing economy. "Salaries are at the lowest I've seen in 22 years," said Guy Zucker, a European agent who represents Marcin Gortat and Thabo Sefolosha, among others. "The money is following the same migration pattern as industry -- to Asia."
• Vegas Dimes Past: July 12 | 13 | 14 | 15 | 16 | 17

ESPN Staff Writer
NBA writer for ESPN.com since 2008
Former contributor and editor at NPR
2. John Henson's Game On Higher Level
By
D.J. Foster
| TrueHoop Network

Henson
LAS VEGAS -- John Henson looks out of place at summer league. A mobile big man who runs the floor incredibly well, shows a sweet touch at the rim, blocks everything within reach of his never-ending arms and skies above the fray for rebounds regularly?
All that size and ability just makes you channel your inner Billy Joel and ask Henson, "Man, what are you doing here?"
"I'm here to play," Henson said. "This is the best kind of game you're going to get, as far as competition."
If it's competition Henson is searching for, he'll find it yet again upon his return to Milwaukee. A year removed from being an infrequently used piece in a crowded frontcourt, the Bucks' front office went out and signed Zaza Pachulia this offseason to complicate matters further.
"It's going to be a battle," Henson said. "But, hey, this is the NBA. It's never going to come easy."
See the full TrueHoop post on Henson
D.J. Foster writes for the TrueHoop Network. Follow him @fosterdj .
3. Second Look: Jeffery Taylor
Taylor
Jeffery Taylor has been one of the most impressive players of the summer league and is enjoying the kind of week the Bobcats had hoped to get from Michael Kidd-Gilchrist. Taylor is among the scoring leaders in Vegas and has greatly enhanced his all-around offensive repertoire after a rookie season in which he functioned primarily as a floor runner and spot-up shooter. He's shown a consistent ability to get into the lane, often when initiating the offense, and finishes well. Taylor is quick and athletic on defense and finishes explosively in transition. Best of all, Taylor and Cody Zeller have not only both played well this week, but they have developed a terrific chemistry playing together.
Bradford Doolittle is an NBA Insider for ESPN.com.
5. Thursday's Best
Dyson
Jerome Dyson, Bobcats: Break up the summer league Cats! Dyson, who scored 11 points in the fourth quarter, made all seven of his shots and finished with 21 points and nine assists in a 92-84 win over Memphis that pushed Charlotte to 3-1.
6. Thursday's Worst
Goudelock
Andrew Goudelock, Bulls: After some earlier lights-out shooting performances, the lights definitely stayed on this time. Goudelock went 2-for-14 from the field in a 68-62 loss to the Miami Heat.
7. Goodwin: See What Develops

Goodwin
LAS VEGAS -- Phoenix Suns rookie guard Archie Goodwin was handed the keys to the offense in the waning minutes of the Suns' 92-84 victory over the Portland Trail Blazers on Thursday. With second-year point guard Kendall Marshall sitting out after the third quarter, Goodwin was in charge of getting the team into its half-court sets in an increasingly intense fourth quarter.
It wasn't pretty. Goodwin's ball control left a lot to be desired, and all three of his turnovers came in the final period. It was bad, but that doesn't matter much. He tried, and the team will continue to ask him to try. At this point in his young career, results aren't nearly as important as the process.
The sooner Goodwin is comfortable with getting his team into quick sets, the sooner he'll find himself in meaningful minutes on the floor. In a recent Grantland interview, Suns coach Jeff Hornacek de-emphasized the importance of designating all point guard duties to a single player. Suns guards Goran Dragic and Eric Bledsoe, who seem likely to see the court together often, are imperfect point guards but could find harmony in the new system. If Goodwin, a lifelong shooting guard, can develop some of these skills, he'll likely fit right into Phoenix's cast of interchangeable parts. He clearly has a ways to go, though.
It seems wrong to criticize Goodwin. After all, at 18 (he doesn't turn 19 for another month), he's the youngest player in summer league -- too young to gamble and much too young to understand how to effectively run a team in the half court. Goodwin is the latest Russell Westbrook acolyte, a player who plays a reckless, almost dangerous game.
Like Westbrook, he might be able to get away with it one day. Goodwin certainly looks the part of a star, with arms, legs and athletic ability for days. His unconscious drives to the rim are often unsuccessful in practice but irresistible in theory. Watching Goodwin struggle with consistency throughout the week, one left to wonder how good he can be once he learns how to play the game.
Danny Chau writes for the TrueHoop Network and Grantland. Follow him @dannychau.
8. The Youngest Sun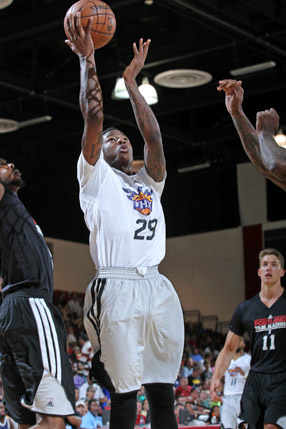 Jack Arent/NBAE/Getty ImagesArchie Goodwin showed the kind of potential that could make him an asset to Phoenix.
9. Tweet Of The Night
Heard one 7- or 8-year-old kid tell another that he got Isiah Thomas' autograph. His friend asked, "The short one or the Hall of Famer?"

— Bradford Doolittle (@bbdoolittle) July 18, 2013
10. Quote Of The Night
"Fans of the old Hornets would say, 'Please give us back our Hornet name.' I laughed at it initially. But it stayed there bubbling below the surface, and there's something to it."
-- David Stern, on the repatriation of a nickname to North Carolina next year