1. Hawks Going Full Speed Into Transition Game
By
Danny Nowell
| ESPN.com/TrueHoop Network
LAS VEGAS -- Sometimes a crossroads is a refreshing place to find oneself.
For the Atlanta Hawks -- for years defined by their inability to transcend mid-seed purgatory -- a little uncertainty has to feel like a bit of a reprieve. Moving forward after the departure of Josh Smith, the Hawks are a team loaded with value contracts and intriguing young players. It's a construction that affords the flexibility so many teams crave, but almost no certainty about the team's future.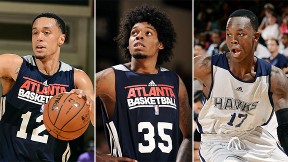 Getty ImagesHawks hopefuls: Jenkins, Nogueira, Schroeder.
In Vegas, the Hawks possess two of the most intriguing rookies and a player in John Jenkins who figures to have a spot in the team's plans as a knockdown shooter. Rookie point guard Dennis Schroeder was drafted the spot after Brazilian center Lucas Nogueira in the first round, and the two rooks together don't have 40 years between them. Schroeder has been the darling of Summer League with his preternaturally mature game, and though Nogueira is likely a few seasons away from regular rotation duties, the Hawks nonetheless boast a cache of promising youth many teams would envy.
And yet, despite letting Josh Smith walk and stocking the cupboard with tantalizing prospects, the Hawks are a far cry from tanking. They replaced Smith with Paul Millsap on a deal that makes cap nerds salivate; he makes just $9.5 million for the next two years, a pittance for a player of his quality and an almost entirely painless contract length.
They matched Jeff Teague's offer sheet from Milwaukee to retain the point guard for four years at $32 million -- a deal that, like Millsap's, seems so reasonable as to be a shock amongst the contracts that free-agency arms races often produce. In short, the Hawks have spent the summer locking in a 25-year-old starting point guard and one of the league's most efficient scoring power forwards for less than Zach Randolph is owed.
Las Vegas Summer League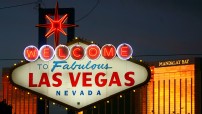 • TrueHoop: Final word on top rookies
• Summer Report Cards, Day 8
• Summer Report Cards, Day 7
• Summer Report Cards, Day 6
• Summer Report Cards, Day 5
• Summer Report Cards, Day 4
• Summer Report Cards, Day 3
• Summer Report Cards, Day 2
• Summer Report Cards, Day 1
• Summer league schedule | Rosters
• Vegas primers: East | West
• Summer League Index: All the action
What's more, they continue to employ Al Horford at one of the league's best values, have signed Kyle Korver for $6 million a season and will pay Lou Williams a shade less to provide a little bench combustibility. If it's possible, this team is excessively frugal, awash in solvency. For a squad locked into the enormity of Joe Johnson's deal and Josh Smith's caprice just one year ago, the Hawks enjoy a confluence of talent and frugality few teams can match.
A major factor in this course shift is GM Danny Ferry, who was hired a little over a year ago. Ferry seemed to announce his intentions with the Johnson trade, and in swapping Millsap's contract for Josh Smith, to have nearly realized his vision. Or at least, his vision of the cap sheet. How the team will compete, exactly, is an open question, which means that the Hawks' enviable ledger must be more transitional phase than final goal. Hence, the crossroads.
Horford, Millsap, and Teague form a nice core, but they are nobody's idea of a murderers' row; with the depth Atlanta has amassed, the Hawks have every reason to be confident of a playoff berth, but without more firepower it seems that even their previously inevitable 4-seed might be asking a bit much.
Similarly, Schroeder and Nogueira have the makings of a long, athletic and fluid pair of franchise players, but both are years away from warranting that sort of commitment. In trying to stay young while competing in the postseason, it's impossible to have the best of both worlds, but the Hawks have pulled off something close. It remains to be seen which of the worlds has more gravitational pull.
One of the lessons of this offseason is that amassing talent can pay off big even if the talent doesn't necessarily mesh perfectly, as the Rockets demonstrated by turning their stockpile of desirable young players into the superstar they'd been pursuing. The Hawks' questions of fit are not so much an on-court issue as an organizational one --- you can think of their assets as conflicting positions in the game of roster building.
Will the Hawks try to split organizational touches, between their young but developing players and their veteran stalwarts? Is that even the game? Perhaps Atlanta's future looks like that of a few other teams starting over with smart management: fringe competition, a revolving door to the locker room, and a constant effort to land one of the league's crown jewels. But for a team that had been locked into a level two steps above mediocrity, the devil they don't know is likely the one they prefer.
• Vegas Dimes Past: July 12 | 13 | 14 | 15 | 16 | 17 | 18
Danny Nowell writes for the TrueHoop Network. Follow him @dmnowell
2. Bulls Eye Complements For Returning Rose
LAS VEGAS -- Marquis Teague and Malcolm Thomas, the two standouts from the Chicago Bulls' summer league team, didn't dress Friday night for their game against the Dallas Mavericks. It was some well-deserved rest. It's a common scene at summer league: Right after a game, ice packs come out and players emerge from their locker rooms noticeably limping. The rigors of playing as many as four games in five nights can do that to an athlete.
For players like Teague and Thomas, whose futures in Chicago are at least somewhat secure, there wasn't much more to prove in their final summer league game of the year. In the four games he played, Teague was outstanding. His newfound accuracy from the 3-point line was a revelation, and he looked a lot more comfortable creating for himself and others. Malcolm Thomas was a beast on the boards all week, averaging 15 rebounds for the week. Combining a nose for the ball, an unrelenting intensity, and the extremely impressive athletic ability, Thomas seems sure to find some time as an energy guy off the bench.
Teague and Thomas' absence left the door open for a number of other players. Four of the five Bulls starters scored at least 14 points in the game. Last June's draft picks Tony Snell and Erik Murphy were impressive spacing the floor with a combined 8-for-13 from behind the arc. Andrew Goudelock, who will surely receive a training camp invitation after his offensive explosions throughout the week, scored 16 points in the second half alone.
It was an impressive showing by the Bulls' summer league team, and a good sign for the team coming into the season. Depth has always been an issue with Chicago, as main rotation players were often pushed to the brink. With Derrick Rose's imminent return next season, the Bulls will be in dire need of bodies to fill in the blanks. The talent being cultivated over the course of this summer league could be exactly what the team needs to stay in the elite conversation heading into next season.
Danny Chau writes for the TrueHoop Network and Grantland. Follow him @dannychau.
Danny Chau (
@dannychau
) is an intern for Grantland.
3. Jeremy Tyler's Sense Of Urgency
Tyler
LAS VEGAS -- Though he just turned 22, Jeremy Tyler is aware of the stakes, cognizant that the life he imagined is slipping away, if it's not already gone. There has been a recent urgency to his play and demeanor. Rarely physical in the past, Tyler, playing for the New York Knicks' summer league team, twice elbows the Wizards' Chris Singleton during a game in which he claims 13 points and eight rebounds in 13 minutes of play. Against the Bobcats, Tyler reacts to every shot, screaming "Go in!" on one that just lips out.
He's been flying all over the court in the Charlotte game, at least until his ankle bends, sending the young big man tumbling. Perhaps it's just bad luck, but it seems as though Tyler just played too hard for his body to handle. The jumpers weren't falling, so Tyler kept pressing until he fell. But he gets back up, and after a session with the trainer, trundles back to the court for some more frenetic action.
I spied Jeremy Tyler packing his gym bag after the Charlotte game. He was under the bleachers of Cox Pavilion, in the dark, assisted by little more than whatever his eyes could glean in the dank area where sunflower seeds fall. Tyler's clothes were crumpled around his feet because his cave-like makeshift locker room lacked an actual locker. I call into the cave, and he waves me in. It's been a while since we last talked, back when he was trying to hang on with the Golden State Warriors by way of Japan.
See the full TrueHoop post on Tyler
Ethan Sherwood Strauss writes about the NBA for TrueHoop and ESPN Insider. Follow him @SherwoodStrauss .
ESPN Staff Writer
Covers the Golden State Warriors for ESPN.com
Contributes to ESPN's TrueHoop blog
Hosts TrueHoop TV Live
4. Second Look: Austin Rivers
Rivers
Austin Rivers, Pelicans: Statistical models didn't like Austin Rivers coming out of Duke, and last season they were right about him. There have been 13,607 player seasons during the 3-point era, and just 27 times has a player posted a worse WARP than Rivers' rookie season total of minus-4.7. So the Rivers narrative is straightforward, right? Not so fast. Rivers is figuring things out, even if he has a lot of answers yet to find. His jump shot is still herky-jerky, but his decision-making is much improved. He's not aimlessly dribbling and jab-stepping as often, and his ability to leverage change-of-pace moves into layups and floaters is maturing. Rivers is picking his spots, finishing better and needed just 13 shots to get 23 points against Washington on Friday. Don't write him off yet.
Bradford Doolittle is an NBA Insider for ESPN.com.
6. Friday's Best
The Sacramento Kings: Guess who won't be leaving Vegas winless? Yup, the team that would not be moved earned a 93-87 win over the Atlanta Hawks. Ben McLemore showed his scorer's touch with 27 points and nine rebounds in the win.
7. Friday's Worst
Muhammad
Shabazz Muhammad, Wolves: The No. 14 pick out of UCLA had six points and four fouls in 23 minutes of action as the hometown hero from Vegas struggled along in his team's 72-66 win over the Blazers.
8. Back In The Game?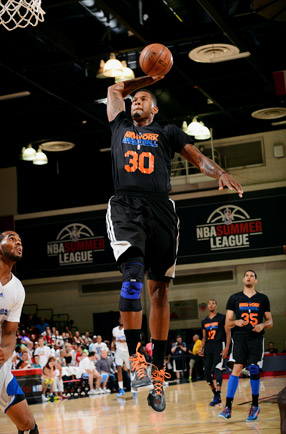 Garrett W. Ellwood/NBAE/Getty ImagesLooking for another shot [See Box 3], Jeremy Tyler dropped in an efficient 20 points for the Knicks in a 91-80 win over the Clippers.
10. Quote Of The Night
"This is definitely a playoff team. I'm really excited about this roster."
-- Andrew Bynum, upon his introduction as the newest Cleveland Cavalier