1. Zellers Take Family Game To Next Level
LAS VEGAS -- Before they played at three of college's marquee programs, before the cheeky fan-driven nicknames, before they were on the radars of NBA scouts and general managers, Luke, Tyler and Cody Zeller had one-on-one games in their hometown of Washington, Indiana.
It surely was something to see -- three future NBA big men from the same family going head-to-head. At least it would have been had anyone been able to see it. Whether it was the gym or the driveway, the Zeller brothers had to be alone before they went to work. "We don't talk about that," said Tyler (23 years old), the middle brother of Luke (26) and Cody (20). "We keep that in house. We don't let other people watch."
The Zellers keep things simple and they keep to themselves. They aren't for places like Las Vegas, a place of vice and excess and oversharing.
Last year, Luke, undrafted out of Notre Dame in 2009, and Tyler, a 2012 first-round pick by the Cleveland Cavaliers, had dinner together before summer league play started; this year, Tyler paid it forward on one of the first days Cody arrived.
"We went out to eat," said Cody with a smile. "That's about it."
Luke would've been proud. As he told me again and again at last year's summer league, for the reserved Zeller brothers, "it's all about who we're with, not what we're doing."
---
Cody Zeller is likely on his way to building up that wall, but he's not quite there yet. Tyler might not have approved, but Cody found it too hard to resist sharing at least a bit of what made those one-on-ones so important.
Las Vegas Summer League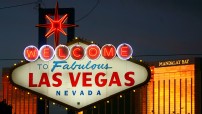 We're tracking the top storylines and players in Vegas. Summer League »
"I could never win," he said. "[It got] better as I got older, but I could never win."
Cody, the fourth overall pick in this year's draft, is the most high-profile player of the three, but as a high school freshman, he was 6-foot-5 and 155 pounds, playing backup power forward and spot minutes at small forward. He was still years away from being the imposing figure he is now, and years away from breaking free of the punishment he'd take from his two older, more physically mature brothers. But by the time Cody graduated, Tyler knew he could be something special.
"In high school, you can kind of do whatever you want because you're good enough," Tyler said. "Cody was just kind of starting to get into that phase."
Though Cody will always be considered the momma's boy in the family for choosing to stay in Indiana for so long, he was on his own when Tyler left for North Carolina. The lessons learned from particularly memorable bouts against Luke and Tyler gave him the ability to readjust and reinvent.
"I had to develop guard skills and be able to shoot outside growing up because I could never score inside," Cody said. "And I think I'm probably more athletic, [and have] more God-given ability than Luke and Tyler, so I try to use that to my advantage."
It's a subtle jab at the athleticism of his older brothers, but one that feels earned after taking his fair share of lumps throughout childhood. It's also 100 percent true. And while Luke has the best shooting stroke and Tyler is the strongest of the three after adding about 20 pounds to his frame since the end of last season, Cody's blend of touch, coordination, fluidity, and explosiveness for his size -- now 7 feet and 230 pounds -- puts his potential on an entirely different tier.
"[Cody is] an all-around player," Tyler said. "He can shoot, he can score inside, he can run the floor. He can really do a lot of things. That's why he was the No. 4 draft pick. He's a great player."
---
The early returns look good. Zeller averaged 16.3 points on 52 percent shooting and 9.3 rebounds through four games in the Las Vegas Summer League before the Charlotte Bobcats shut him down, torturing defenders with midrange jumpers and the ability to slash to the rim. Getting to the line is an important part of Cody's game, and he has not only shown the ability to draw them (4.5 per game in Vegas), but drain them as well (72 percent).
It'll be a quantum leap going from summer league opposition to the All-Stars he'll be facing in the regular season, but his skill set should fit perfectly in Charlotte. He's had a stellar summer.
Cody's assessment?
"Not too bad," he said. "I'm not going to get too excited about playing well out here, just because the stakes are low and I'm just trying to learn and get better."
He's putting in the time. After an hour-long practice in the Cox Pavilion practice gym held on Friday afternoon, most Bobcats personnel had already cleared out and boarded the team bus. The gym was nearly vacant, except for Cody, off to the side, sitting with a member of the Bobcats' coaching staff, studying film on a laptop for an extra 15 minutes.
"When you think you've made it is when everyone passes you, so I gotta continue to get better," Cody said. "I'm not satisfied with where I'm at."
---
In late November of last season, Luke, who was then on the Phoenix Suns' roster, played against Tyler's Cavaliers. But Luke registered only three minutes in the game, and neither brother had a memorable night.
It'll be different when the Bobcats and Cavaliers meet for the first time, and once again, the two brothers will face off, both with different standings in the league. Tyler will have competed in the Team USA summer minicamp, training with the best young talent in the league. Cody will be in his first few months as a legitimate pro, experiencing the peaks and valleys that come with an 82-game season. Cody is looking forward to it. It's been a while since the two of them have played against one another.
"It'll be fun," Cody said. "It'll be an awkward experience just because we've always just played in the driveway when nobody's around, so it'll be unique with everyone watching."
The Zellers may have been able to keep past outcomes quiet, but from now on, family battles are open to the public.
• Vegas Dimes Past: July 12 | 13 | 14 | 15 | 16 | 17 | 18 | 19 | 20
Danny Chau writes for the TrueHoop Network and Grantland. Follow him @dannychau
Danny Chau (
@dannychau
) is an intern for Grantland.
2. Morris Twins Taxonomy
By
Danny Nowell
| ESPN.com/TrueHoop Network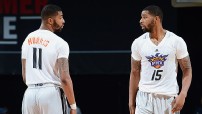 Garrett W. Ellwood/NBAE/Getty ImagesIt's hard to tell the Morrises apart.
To the untrained eye, the Phoenix Suns' Markieff and Marcus Morris are impossible to tell apart. Though there are a few subtle differences physically, game speed tends to make the twins difficult to parse. This week in Las Vegas, a popular game on media row is "Which Morris was that?" To date, nobody has answered correctly without first checking a roster to compare jersey numbers. And so we present, in the hopes of illuminating future observers, a unified taxonomy of the Morris twins:
3. Bobcats' run doesn't quiet doubters
By
Danny Nowell
| TrueHoop Network
LAS VEGAS -- In making their way to the semifinals of the tournament in Vegas, the Charlotte Bobcats managed to avoid shedding any light on the big questions the franchise currently faces. Though the Bobcats made their way to the tourney's final four, they did so after shutting down almost every player of consequence, making the results even less meaningful than the typical summer contest.
On the bright side, rookie Cody Zeller exceeded expectations, playing like observers might have predicted after watching his monstrous rookie season rather than the sophomore campaign that fueled doubts about his ability. Zeller looked agile and savvy in averaging 16 points and nine rebounds on better than 50 percent shooting. What's more, second-year guard Jeffery Taylor was among the standouts in Vegas; both he and Zeller stand a solid chance of first-team Summer League recognition.
More darkly, the Bobcats' young veterans failed to distance themselves from their competition, and so allowed questions about Charlotte's talent level to linger. In four games, Bismack Biyombo averaged fewer than 24 minutes and six points. While his seven rebounds per game and 70 percent shooting were effective, Biyombo absolutely did not separate himself from the other players on the court, which 7-foot lottery picks entering their third seasons are expected to do.
Michael Kidd-Gilchrist was similarly unable to showcase his talent, though can be forgiven to an extent for focusing on the jump shot he's spent this offseason retooling with mechanics guru Mark Price. In his three games, Kidd-Gilchrist struggled to just over 10 points per game and an average of almost three turnovers before being pulled from the action with a putative hamstring injury.
Add it all up, and the Bobcats' winning ways in Vegas don't seem to amount to much. Charlotte has long prompted fans to wonder whether its hoarding of lottery talent can produce winning veterans, and certainly that question remains going into the 2013-14 season. It's not easy to make loud statements during the summer, but the Bobcats found a way to turn up the volume for their doubters.
Danny Nowell writes for the TrueHoop Network. Follow him @dmnowell .
4. Second Look: Draymond Green
Green
There is a lot to like about Draymond Green's game, and most of it has been on display in Las Vegas. He's strong, crafty and is a good defender and excellent rebounder at three positions. Green's efficiency numbers as a rookie were held back by unsightly shooting percentages and a poor turnover rate. The shooting problems have been on full display during summer league, as Green entered Sunday's semifinal against Charlotte shooting 28 percent from the floor and 3-for-19 from the 3-point arc. He shot the ball better against the Bobcats early, knocking down a 3 and hitting 5-for-10 in the first half, but faltered after haltime. Green brings a lot of intangibles to a team and will be a key part of a Warriors bench that needs all the help it can get. An uptick in efficiency from Green would be a boon to Golden State's unproven second unit, but his showing in Vegas indicated he's got a way to go in that regard.
Bradford Doolittle is an NBA Insider for ESPN.com.
6. Sunday's Best
Tucker
P.J. Tucker: The Suns had pulled their starters, allowing the Heat to storm from behind and take a late lead. They could've folded, but Tucker would have none of that. He finished with 19 points and was the driving force late to help the Suns reach the Las Vegas Summer League title game.
8. Gorilla Time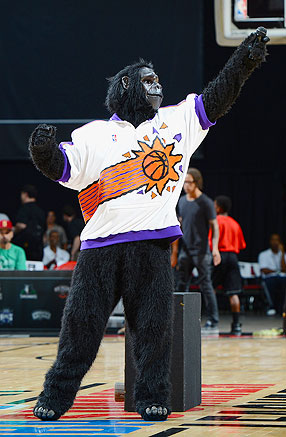 Garrett W. Ellwood/NBAE/Getty ImagesSummer League isn't just a place for players to get some reps in. The Phoenix Gorilla was in regular-season form in Las Vegas on Sunday.
9. Tweet Of The Night
Goodwin continues to make about 18-22 other teams squirm.

— david b. thorpe (@coachthorpe) July 21, 2013
10. Quote Of The Night
"We got a new coach, and he's coaching our summer league team, so why wouldn't I play?"
-- P.J. Tucker, the Phoenix Suns veteran who extended his stay in Las Vegas beyond his original plan of two days, and helped the Suns reach the title game.