1. Las Vegas Summer League Awards
LAS VEGAS -- After 11 long days spent shuffling between UNLV's Thomas & Mack Center and Cox Pavilion for a total of 61 games, Las Vegas Summer League has officially come to a close. Toronto Raptors big man Jonas Valanciunas was named MVP of the event, with Kent Bazemore (Warriors), John Henson (Bucks), Jeffrey Taylor (Bobcats) and Cody Zeller (Bobcats) joining him on the first team. But as a final sendoff from Las Vegas, we hand out some awards of our own.
Most Valuable Player
Jonas Valanciunas, Toronto Raptors

Valanciunas
Unlike last year, when Damian Lillard and Josh Selby torched summer league defenses for more than 24 points a game apiece, there wasn't a true best player in Las Vegas, but Valanciunas is as close as we had. It helps to be one of the biggest and strongest players among a crowd of NBA hopefuls, but he was one of five players to average a double-double (18.8 PPG, 10 RPG), and subtle refinements in his post game foretell a bright future.
Runner-up: Kent Bazemore, Golden State Warriors
---
Breakthrough Performance
For the surprise standout at summer league
Schroeder
Dennis Schroeder, Atlanta Hawks
It's hard to notice the slender, pint-sized Schroeder among the sea of tall people roaming the halls of the Thomas & Mack Center hunting for Dippin' Dots and an NBA contract. But the rookie hailing from Germany, whom most knew little about heading into the event, turned heads and became an Internet darling through his unexpected maturity running the point and ability to set up teammates.
Runner-up: Reggie Bullock, Los Angeles Clippers
---
Most Begrudgingly Good Performance
For the player who played well despite not wanting to be there
Waiters
Dion Waiters, Cleveland Cavaliers
He looked so bored. Unlike other high lottery picks from years past, the Cavs' off-guard was kept in the lineup until tournament play, and he didn't seem thrilled about it. Having said that, Waiters wasn't awful. He shot only 37 percent from the floor, but his superior slashing and scoring was especially apparent in this setting. He also played with a snarl, which broke up the long days of watching several mediocre basketball games in a row; after not getting one call late in the week, Waiters stopped dead in his tracks, glared at the referee and then ran back into the play.
Runner-up: John Henson, Milwaukee Bucks
---
The First-To-Worst Award
For the player with the biggest drop-off from last year's event
Selby
Josh Selby, Los Angeles Lakers
It's never good to have multiple stints at summer league on your resume. It's even worse for the reigning co-MVP to return to Las Vegas as the sixth man on an anonymous roster. No one expected Selby's torrid scoring last year to lead to much real-life success, but after being traded and then waived this past regular season, he couldn't even do that for the Lakers (2 PPG on 15.4 shooting). He'll never be as good as his talent suggests, and until he realizes that, he probably doesn't have a place in the league.
---
The Tyreke Evans In Reverse Award
For the first-year disappointment who showed great progress
Rivers
Austin Rivers, New Orleans Pelicans
Rivers was, quite literally, one of the worst rookies in NBA history; for a player with such pedigree, both in terms of bloodlines and prep success, it was shocking to see how all-over-the-place he was in Year 1 in New Orleans. But Rivers' performance in his last game was just gorgeous -- so fluid, so smooth, so athletic. He's not a point guard, but he's too talented to bury so quickly. His performance here (18.2 PPG, 49 percent shooting, 3.6 RPG, 2.6 APG, 1.4 SPG) was a good first step.
Runner-up: Thomas Robinson, Trail Blazers
---
Nate Robinson Award
For the biggest chucker at summer league
McCollum
CJ McCollum, Portland Trail Blazers
McCollum may be slightly more prudent than the chucker label would indicate, but, man, did he let the shots fly. The rookie hoisted 20 shots a game, the same number as fellow Blazer Damian Lillard did last year, but he shot only 37 percent from the floor. McCollum averaged the most points (21) among players with more than two games played and should thrive as a scorer in Portland. But with Lillard and LaMarcus Aldridge around, he'll have to make the most of fewer opportunities.
Runner-up: Ben McLemore, Sacramento Kings; Andrew Goudelock, Bulls
---
Most Likely To Play Marcus Morris In A Movie Award
Acy
Quincy Acy, Toronto Raptors
He's just a really good actor.
Runner-up: Markieff Morris, Phoenix Suns
---
Biggest Disappointment
Porter
Otto Porter, Washington Wizards
Porter should be graded on a curve given that his all-around, Uber-Glue Guy style isn't the best fit for the structure-less brand of basketball played here, but you'd still expect one of the Big East's top scorers and the highest 2013 draft pick playing in Vegas to average more points per game than Arinze Onuaku. He'll probably fare better with better talent around him, but his three games before a hamstring injury shut him down were total snoozefests.
Runner-up: Tony Wroten, Memphis Grizzlies
---
The Mirage Award
For the player whose performance isn't a future indicator
Vesely
Jan Vesely, Washington Wizards
Three years later and Vesely is still defined by his non-NBA YouTube clips -- his overseas highlights, that draft-night smooch with his girlfriend, this. He looked good at times in Vegas, leading one longtime Wizards watcher to dub his 18-point performance against Denver one of the best of his career, and finished with a respectable 11.6 PPG and 6.8 RPG. But we've been here before; last summer league he averaged 7.4 and 5.2. Let's move on.
Runner-up: Ben McLemore (in a good way)
---
Most Outstanding In A Guest Spot
Robinson
Nate Robinson, Denver Nuggets
The newest Nugget showed up, watched a game from courtside and signed a baby. Hard to top that kind of efficiency.
Runner(s)-up: The Phoenix Gorilla; Iman Shumpert, New York Knicks
ESPN Staff Writer
Justin Verrier is an NBA writer and editor at ESPN.com.
2. Warriors' Title Part Of Something Bigger
LAS VEGAS -- The Golden State Warriors won't hang a banner in the rafters of Oracle Arena after claiming the 2013 Las Vegas Summer League championship with a 91-77 win over the Phoenix Suns.
But the Warriors' 14th consecutive win here in the desert -- their last loss in Vegas came in 2010 -- speaks to something larger about the franchise over the past few years, a seismic shift that's produced a culture of competence.
"When we came in three years ago, the goal was to be winners, to do everything the right way, and that starts with the little things," said Kirk Lacob, the Warriors' assistant general manager. "We didn't win anything here, per se, today, but it's reflective of what we're trying to do."
Attention to detail is nearly impossible to measure -- nuanced things such as instilling a sense of ownership of the team in its star player. When Stephen Curry speaks of the Warriors now, that's the air he carries. The Warriors' management team moves with alacrity and smarts through the free-agent market. The franchise is one of only a few that has outright ownership of its D-League affiliate, and has been on the cutting edge of player development through its farm club.
And, yes, the capacity to build a summer league roster and then staff it with one of the brightest assistant coaches in the league in Darren Erman is another marker of an organization that knows what it's doing.
"The culture was changed [with] great ownership, great management and great character," Warriors head coach Mark Jackson said. "We're a destination that people want to be part of."
Destination has established itself as a buzzword in the league, and it's code for an NBA team often, but not always, in a desirable geographical location that seems to have the facilities, culture and wherewithal to build a winner.
The list of NBA destinations is short, but the Warriors have staked their claim, building their case in a remarkably short period of time. They've accumulated an attractive roster of guys who understand roles. A move later this decade into the most state-of-the-art arena in North America across the bay in San Francisco will also bolster their case.
Now comes the hard part -- the winning.
ESPN Staff Writer
NBA writer for ESPN.com since 2008
Former contributor and editor at NPR
3. Valanciunas' Added Bulk Leads to MVP
LAS VEGAS -- In a tongue-in-cheek video interview (that has since been deleted) with Toronto Raptors center Jonas Valanciunas, Raptors guard DeMar DeRozan asked the NBA sophomore-to-be how the first five days of summer league had been. Valancuinas, ever the word economist, had four words.
"It's been f----d, man."
Spoken like someone who was able to average nearly 19 points, 10 rebounds and one block despite facing constant double and triple teams during his time in Las Vegas.
Through five games, every player on the floor had to keep eye on Valanciunas, who was named MVP of Las Vegas Summer League. He wasn't the leader in scoring, nor was he the leading rebounder or shot blocker, but there was not another player who changed the state of play on the court like him.
Much of what occurs at summer league tends to be egregiously overstated, but, if anything, Valanciunas' vastly improved physique hasn't received enough coverage. Of course, this is the NBA; there is no real shortage of giant human beings. But there are few with the developing skill set that Valanciunas boasts.
With the added bulk, Valanciunas has addressed one of the major concerns about his game. If he can withstand the punishment of the true centers in the league, the Raptors have an almost unfair weapon in the post. He shot 83.5 percent from the foul line from February until the end of the regular season, and managed to shoot more than eight free throws a game during the summer league at nearly 88 percent. Against this level of competition, he is as intimidating as any elite NBA big man. The difference is, less than a handful of those bigs can absorb the damage and then reliably dish it out at the free-throw line.
The summer league may be only one long and winding setup for Valanciunas punchline, but it was also a brief introduction to the next step in his development. We probably wont remember Valanciunas winning Las Vegas Summer League MVP a few years down the road, but well remember his physical transformation. Well remember it as the first time he truly experienced the gift and curse of being a physically dominant NBA center.
Danny Chau writes for the TrueHoop Network. Follow him @dannychau.
Danny Chau (
@dannychau
) is an intern for Grantland.
4. Second Look: Kent Bazemore
Bazemore
It was a surprise that long-armed Kent Bazemore was overlooked as the MVP in given his 18-plus-points average and Golden State's perfect run through the tournament. Bazemore continued to show his improved offensive arsenal in Monday's title game against Phoenix, though he did force a couple of contested jumpers, which is not going to be his forte. Generally, Bazemore made good decisions and now looks like he can go left and right with equal aplomb, which is his biggest upgrade.
When the real season comes around, Bazemore will need to rein himself in, as he forced too many deep shots and committed nearly four turnovers per game. Overall, he's becoming one of the more exciting two-way guards in the league, with the defensive chops to smother opponents at three different positions.
Bradford Doolittle is an NBA Insider for ESPN.com.
6. Monday's Best
Clark
Ian Clark: The 2013 Ohio Valley Conference co-player of the year made a great last impression in Las Vegas, putting up 33 points to earn championship game MVP honors. After good runs with the Heat in Orlando and the Warriors in Vegas, Clark should earn at least a training camp invite.
7. Monday's Worst
The Schedule: Or, more accurately, the lack thereof. Monday's championship game between the Suns and Warriors was the last NBA action until preseason starts in October. Until then there's only USA Basketball mini-camp (going on now in Las Vegas) and EuroBasket (Sept. 4-22 in Slovenia) to hold over basketball junkies.
8. Goodwin? No, loss.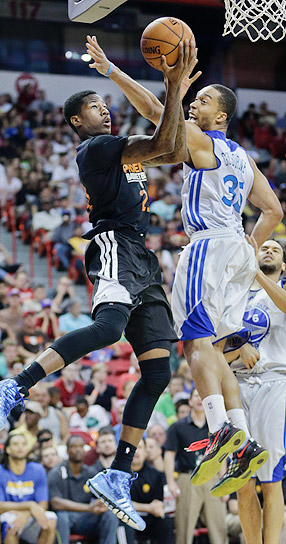 AP Photo/Julie JacobsonDespite this acrobatic up-and-under, Archie Goodwin wasn't able to lead the Suns to a win in Monday's title game against the Warriors.
10. Quote Of The Night
"I'm happy to be in Indiana. Our future is bright in Indiana. I wouldn't want to leave something great."
-- Paul George, on rumors the Lakers might target him in free agency in 2014.