1. Dwight Howard Debuts With A Boarding Party
HOUSTON -- It will be remembered as a clunky and mostly clanky spectacle that, record rebounding aside, belongs in no scrapbook.
Scratch that.
No one is going to want to remember any of the unsightly particulars from the game that launched what Dwight Howard is calling a "new age" for the Houston Rockets.
Howard included.
"I think we could have been a lot better," Howard said.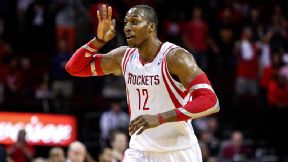 Troy Taormina/USA TODAY SportsDwight Howard tied a career high with 26 rebounds in his debut with the Rockets.
Yet he'll gladly take those 26 rebounds and the 96-83 victory over the misfiring Charlotte Bobcats that Howard's board work helped secure, well aware that this slog against an Eastern Conference bottom-feeder could have been a far unhappier occasion. Despite a labored offensive showing Kevin McHale likened to a "trip to the dentist," Houston ultimately claimed a triumph that, judging by some of the upside-down scores on this Wednesday night, had to have the Miami Heat and Brooklyn Nets feeling pretty envious.
"Amazing," Rockets teammate James Harden said when asked to recap Howard's debut. "Running the floor. Taking all my rebounds. Doing what he does.
"He's a game-changer."
He's healthy and happy above all, which is why Howard -- who eventually mustered 17 points to go with the career-high-tying rebound total -- won't be dwelling on Houston's raggedy execution or McHale's discontent too long.
The Rockets were stagnant and/or disjointed when they had the ball to the point that they scarcely resembled the team that frequently turned heads in the preseason. It certainly didn't help that Harden, thanks to a tight back and banged-up wrist, wasn't close to the full Bearded Lefty. Harden scuffled to score 21 points and suffered the indignity of being forced to lay one in on a breakaway because he couldn't get enough lift for the dunk, while Patrick Beverley (bruised ribs) and Jeremy Lin (stitches in his chin) came away with their own scars.
What will get them over all of it quickly, though, is the sight of Howard -- rangier than he ever looked as a Los Angeles Laker -- controlling the paint and likewise covering enough ground to occasionally slide over to power forward defensively when McHale had him out there alongside Omer Asik.
Team officials continue to privately insist that Asik, after lodging his offseason trade request, is not available as long as he continues to flourish as a frontcourt starter next to Howard. Their premise: Houston's rim protection with Howard and Asik as a starting tandem or at least one of them on the floor at all times -- with Chandler Parsons, Omri Casspi and Francisco Garcia all ready to step in as a small-ball power forward when McHale needs to mix things up -- is at such a special level that it would take something quite unique in return to consent to breaking them up.
Hard to argue with the first returns, no matter what you think of Charlotte's front line anchored by a rusty Al Jefferson and Houston's inevitable free-throw woes, when Howard and Asik are combining to snag 40 rebounds to the visitors' team total of 37. The Bobcats were also hounded into 36.7 percent shooting from the floor and gradually faded away.
"My mind was at the ball, but my body was still on the other side," Howard said, reflecting on his limitations as a Laker trying to work his way back from back surgery and then through subsequent shoulder trouble. "I couldn't do it.
"I'm a lot healthier than I was last season," Howard continued, rating himself an 8 out of 10 in terms of playing at full capacity.
Said Bobcats coach Steve Clifford, who worked with Howard in both Orlando and Los Angeles as an assistant: "When he's right -- and it looks like he is -- he can impact every single play on the floor."
"He never moved last year like he was moving in preseason," Clifford said even before tipoff. "He's looking like a different guy."
Yet it clearly goes beyond the mere physical for Howard. One real game into his Rockets career, Howard's comfort level in his new surroundings is easy to detect, which presumably only pumps more juice in his legs. He never settled into the Lakers' star-laden culture and the resulting tension only mushroomed to toxic levels. In Houston? There's no hint of such problems on the horizon.
One club insider went so far as to tell ESPN.com that Howard, at this early juncture, is the "best leader on the team by far."
It certainly looks as though these Rockets are rallying around him, too. Howard's name was called first in pregame introductions at Toyota Center, with Harden's going fifth, but it was No. 12 who took the microphone before the opening tip to implore the home fans to revel in this "new age" and this "new team."
"I just want to go out there and play, have fun and get back to being who I am as a player," Howard said. "I think when you focus too much on what everybody else is saying, that's when don't play like you want to play."
He surely knows there's only one way he'll ever really hush the skeptics. He knows it's time to finally replant some firm roots somewhere to chase that elusive championship. Players of Howard's stature aren't supposed to be on their third NBA employer at the age of 27; history tells us only five Hall of Famers played for three different teams before turning 28. They are: Adrian Dantley, Bob Houbregs, Bob McAdoo, Alex English and a former Rocket named Moses Malone.
Howard certainly challenged himself in this first act, revealing afterward that he went into the game gunning for a Moses-like 30 rebounds and proclaiming himself to be "upset that I didn't do it." He also broke out a McHale impression at his locker to lighten the mood, pretending to lament how this performance didn't at all resemble McHale's "Boston days" like he used to do in Orlando with Stan Van Gundy impersonations, but his initial approach has been sufficiently serious to win over many of the locals. More than one customer sitting courtside before tipoff could be heard to shout "We love you, Daryl" at Rockets GM Daryl Morey.
Count the ultimate expert on Houston big men, who bequeathed control of the Rockets' front office to Morey, as part of the growing fan club.
Longtime Rockets executive Carroll Dawson has worked with them all: Malone, Ralph Sampson, Hakeem Olajuwon and Yao Ming. Ask the 75-year-old if Dwight can get to the peaks some of those legends reached and Dawson breaks into a big smile as he sizes up how the Howard-and-Harden era is starting.
"He has a real chance," Dawson said.
ESPN Senior Writer
• Senior NBA writer for ESPN.com
• Began covering the NBA in 1993-94
• Also covered soccer, tennis and the Olympics
2. Around The Association
3. Wednesday's Best
Carter Williams
Michael Carter-Williams, 76ers:
Take that, two-time defending champs. The long-limbed rookie had 22 points, 12 assists, nine steals and seven rebounds to lead the Philadelphia 76ers past the Miami Heat 114-110. Bring on his Friday encore in D.C.!
4. Wednesday's Worst
Blatche
Andray Blatche, Nets: Went scoreless in 20 minutes, missed all five shots and committed three turnovers in Brooklyn's 98-94 loss in Cleveland. That's no way to usher in a now-or-never season.
7. Quote Of The Night
"He had a great game, couldn't think of a better way to start your NBA career."
-- LeBron James, on Michael Carter-Williams' big night against the champs.
8. Determined Melo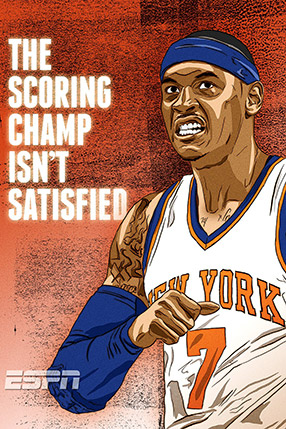 Timothy McAuliffeMelo is determined to keep the Knicks on a rising path. They face the Bulls on Thursday (8 p.m. ET).
More on Facebook
9. Stat Check
Durant
Kevin Durant made 22 of 24 free throws (92 percent) in his 42-point performance for the Thunder in their 10198 win at Utah. It was the fourth time in his career that Durant has shot at least 90 percent from the line while making at least 20 foul shots. That ties Michael Jordan for second place all-time behind Moses Malone (five).