1. Night Of The Living Lob In Los Angeles
LOS ANGELES -- There's a certain strain of electricity generated inside Staples Center the instant before Chris Paul floats the ball in the path of a leaping big man on a fast break. There's giddy anticipation, then a sudden rush of propulsion as Blake Griffin or DeAndre Jordan explodes then descends. The surge blows the door off the building right about the time the ball hits the floor.
Griffin has tried persistently to disown the Lob City marker created to describe this phenomenon. A month after Paul arrived in Los Angeles in late 2011, he called it unfortunate. This past offseason, Griffin said, "Lob City doesn't exist anymore" -- basketball's Babylon.
As much as Griffin would like to retire "Lob City" from the vernacular, a label can be sticky. String together three consecutive alley-oops with the game on the brink, as the Clippers did in the third quarter of their 126-115 win over the Golden State Warriors on Thursday, and it can be virtually impossible to discard.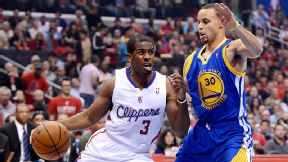 Jayne Kamin-Oncea/USA TODAY SportsChris Paul finished one point shy of his career high.
Griffin's intentions to shake Lob City are noble. No team or superstar wants to be a novelty act in a league where rewards are usually reserved for the serious. Taking pride in a catch phrase is indulgent if it's not backed up with success in spring. Yet the Clippers are at their best when they leverage the playmaking of Paul with the athleticism of Griffin and Jordan, something that was at work in full force in the Clippers' first win of the season.
Paul's output was prolific -- 42 points, 15 assists, six steals -- and historic. No player had done that since steals were first recorded in the 1973-74 season, though after the game Paul wouldn't deign to take any pride in the accomplishment. Afterward, the only digit he'd acknowledge in his statline was his six turnovers.
His teammates were more charitable.
"He got to the rim when he wanted to get to the rim," Griffin said. "He got a jump shot when he wanted to get a jump shot. He set guys up all night long. It was an unbelievable performance."
A tension has existed over the years whenever Paul's teams have struggled: Should the pass-first point guard distribute the squad out of its funk? Or should he assert himself as a scorer even if that's not his inclination? On Thursday, Paul effectively did both.
"I looked for my shot on the ball screen," Paul said, and this was his preferred mode of attack.
He also tormented the Warriors' pick-and-roll defense off high ball screens, probed the interior to find shots near the rim, nearly dunked on a break, drilled a 3-pointer in transition and scored another when he was the beneficiary of a kickout from Griffin. On the distribution business, he was his usual self -- dishing to wing shooters coming off screens, working the two-man game with Griffin and, of course, gentle lobs that burst into violent finishes by Griffin and Jordan.
The sequence of back-to-back-to-back alley-oops that restored the Clippers' lead to 18 points was the showcase piece in the win. The first was a give-and-go initiated by Griffin on the other end off a steal. The second was a pretty advance pass from Paul left directly at the rim for a striding Griffin. The coup de grace was a one-handed throwdown by Griffin off yet another Paul steal.
Griffin was quick to point out that the theatrics were rooted in substance.
"It started with defense," Griffin said. "That's what got us going. That's a positive thing, but we have to learn from that, and we have to know that we can extend the lead and put the game where we need it to be with our defense."
Must the two be mutually exclusive? Can't the Clippers embrace the idea that sparks create fire and build a defense rooted in principle? Certainly Lob City can prosper while the redevelopment work is underway?
"It doesn't have to be exclusive," Griffin said. "We'll take energy wherever we can get it. It's not like we get some stops and we're, like, 'Oh! Let's not run the break! Let's let that energy go!'"
Irony in yet another energy current for Griffin and the comment drew laughter from the press and Griffin himself. After the giggling subsided, he considered the premise again -- that pyrotechnics can co-exist with fundamentals, and the idea had appeal.
"It can be mutual," he said. "That's what we want it to be."
Does Lob City need a police force, emergency services and sanitation? You bet. But every city should work its strengths if it wants the best quality of life.
ESPN Staff Writer
NBA writer for ESPN.com since 2008
Former contributor and editor at NPR
2. Around The Association
| | | | | |
| --- | --- | --- | --- | --- |
| Golden State Warriors | 115 | FINAL | 126 | Los Angeles Clippers |
---
MVP: Chris Paul. He had 42 points, 15 assists and 6 steals in what was arguably his most impressive performance as a Clipper. The Point God dissected the Warriors' defense at will and defended Stephen Curry about as well as you can.
Defining moment: In an insane 32-second sequence, Paul connected with Griffin for three consecutive jaw-dropping lobs. The Clippers' lead stretched to 18 points, the crowd became engaged and Golden State was never able to recover.
That was ... a shootout: Paul and Curry (38 points, 9 3-pointers, 9 assists) had a good ol' fashioned point guard duel to the delight of NBA fans everywhere. Paul ultimately had the better performance, though, as Curry's 11 turnovers proved costly to the Warriors' comeback.
| | | | | |
| --- | --- | --- | --- | --- |
| New York Knicks | 81 | FINAL | 82 | Chicago Bulls |
---
MVP: Tyson Chandler. Despite starting with an ineffective "big" lineup to combat the Bulls' size, it was smallball Knick unit anchored by Chandler that shut the Bulls down for the final quarter, holding Chicago to 11 points in the frame. Chandler finished with 19 rebounds and four blocks.
Defining moment: Though he appeared out of sync for the bulk of the game, Derrick Rose nailed the game-winning shot with less than six seconds remaining -- a beautiful ceiling-scraping floater going to his right over Ray Felton as well as the outstretched arms of Chandler.
That was ... sloppy: Remember the '90s Knicks-Bulls battles? This was reminiscent in style and tone, but without MJs brilliance as an aesthetic palliative. Both teams struggled to run cohesive offensive sets, cross-court passes were batted away and ill-considered drives into a packed lanes led to 33 combined turnovers.
3. Thursday's Best
Paul
Chris Paul, Clippers:
His 42 points Thursday -- one shy of his career high -- paired with 15 assists makes for one special night in L.A. Three of those dimes came on consecutive monster alley-oops to Blake Griffin, all of which brought the Staples Center crowd to its feet.
4. Thursday's Worst
Thompson
Klay Thompson, Warriors: One night after going off for 38 points against Los Angeles' other team, Thompson couldn't continue the fun against the Clippers. With "Splash Bros." counterpart Stephen Curry dropping 38 points of his own, Thompson managed only 10 points on 3-of-7 shooting.
7. Quote Of The Night
"I'm not going to continue missing shots that I'm missing. I work too hard."
-- Derrick Rose, on his 7-for-23 shooting night in the Bulls' 82-81 win over the Knicks.
8. Such Great Heights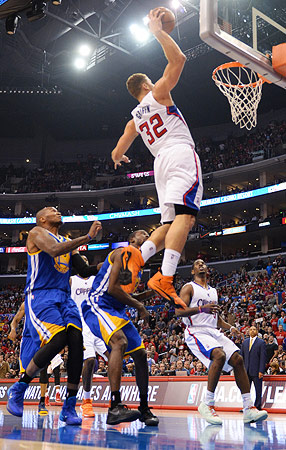 Joe Klamar/AFP/Getty ImagesThe end of Lob City was greatly exaggerated.
9. Stat Check
Rose
Derrick Rose made only seven of 23 shots in the Bulls' win over the Knicks on Thursday, but one of them was a game-winner with less than six seconds to play in the fourth quarter. It's the fourth time that Rose has made a basket that put the Bulls ahead to stay in the final 10 seconds of the fourth quarter or overtime; his only other shot of that kind in Chicago was a double-OT game-winner against Washington in 2010.
Chicago has won its last six games against New York, its second-longest regular-season winning streak in a rivalry that dates back to 1966. The Bulls won 11 straight regular-season games against the Knicks from 1990 to 1992, and during that streak knocked New York out of the playoffs in 1991 and 1992 (although the Knicks did win three games in the 1992 series).