1. Unbeaten Pacers Owning Up To Big Goals
Herb Simon, the owner of the Indiana Pacers, celebrated his 79th birthday two weeks ago.
He is now the league's second-longest tenured owner, having bought the team in 1983. His brother and co-owner, Mel, died four years ago. David Stern, who has been commissioner for nearly Simon's entire run, is about to retire.
There has been plenty of attention paid to the Brooklyn Nets' $180 million payroll, the Los Angeles Clippers' investment in a $7 million-a-year coach and the Miami Heat's prized collection of free-agents-to-be as the examples of the teams that are going for it all this season. Even New York Knicks owner Jim Dolan, who looks at his aging team's bloated salaries and, reportedly, declared this a championship-or-bust campaign.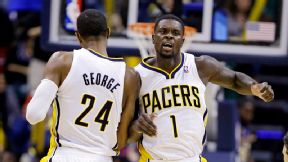 AP Photo/Michael ConroyPaul George and Lance Stephenson are two big reasons the Pacers are off to a 5-0 start.
But while Simon keeps a low profile, his actions have been clear. He isn't sure how many more chances he's going to get, and he's acting like it. The Pacers may not get the attention of their bigger-market brothers and their salary sheet isn't as gaudy, but they too are shoving the chips in the middle and they have the team to prove it.
Wednesday night the Pacers put their now trademark squeeze on the Chicago Bulls, out-defending and out-rebounding one of the best defenses and best rebounding units in the league. Indy moved to 5-0 with the 97-80 win.
It's the best start in the NBA, and the team's best start Simon has seen in his three decades as owner.
Last summer after the Pacers lost in Game 7 of the Eastern Conference finals to the Heat, Simon called up Larry Bird in Florida and coaxed him back to town to run the franchise again after a year away.
Bird had left after winning Executive of the Year in 2012 for several reasons. He said he was tired and he was dealing with some health issues but there was also an impasse over money. Simon had also forced Bird to take a several-million-dollar pay cut the year before and it wasn't much of a secret Bird was unhappy about it.
What Simon did to get Bird to come back remains between them. But the actions speak for themselves. Since agreeing to take his old job back Bird has spent major money and made moves aimed at winning in the immediate future.
He spent $36 million on David West. He spent $12 million to revamp the bench. He traded two younger players on valuable cheap contracts (Miles Plumlee and Gerald Green) plus a coveted first-round pick in the loaded 2014 draft for veteran big man Luis Scola. And he signed Paul George to the biggest contract extension in the history of the franchise.
This is what going for it looks like in Indiana. These are big moves for a team like the Pacers and a historically frugal owner like Simon who already has big-salaried players such as Roy Hibbert and Danny Granger on the roster.
What he's getting for his money is a team that is experienced, deep and hungry, and it has shown in the season's first two weeks.
The Bulls managed just 36 percent shooting on Wednesday and were outrebounded 52-40. Derrick Rose, who now has 55 missed shots and 25 turnovers in five games, was again inefficient. Joakim Noah, who didn't make a basket, is now shooting 27 percent on the season. And Carlos Boozer, who had been one of the Bulls' few early bright spots, managed six measly points in 31 minutes against the Pacers' front.
Hibbert was a menace inside. He blocked five more shots and now has 26 through five games. Last season, Hibbert cursed the media for not paying attention when he finished just 10th in voting for defensive player of the year. Though, it merits mentioning, the league's coaches had him 17th in balloting for the all-defensive team. That mistake won't be made again.
West had 17 points, 13 rebounds and three steals, Scola had 12 points off the bench and George continued his hot start with 21 points. The Pacers executed their game plan despite having two of their top six players -- Granger and starting point guard George Hill -- sidelined with injuries.
It's still too early to discuss trends but the Pacers led the NBA in rebound rate, defensive efficiency and opponents' field goal percentage last season. They're already No. 1 in defensive efficiency and opponents shooting this season (holding them to less than 38 percent so far) and are third in rebounding. In other words, they've picked up where they left off.
Yet with their augmented bench -- which put up 35 points in the win despite the injuries thanks to an unexpected nine points from new addition Donald Sloan -- they are not the same team that fell just short of the NBA Finals.
Bird has said publicly the team will not pay the luxury tax. They have assembled this roster and kept a little less than $2 million under that dangerous threshold. Simon has frequently postured against paying it, being from one of the league's smallest markets.
It's left some to wonder how aggressive they might be in testing the trade market for Granger if it develops over the next few months. In the last year of a deal that pays him $14 million, there would be interested parties but the Pacers would probably have to take on long-term money and that's not something that seems to fit the franchise's preference. With George's $80 million deal starting next season plus valuable guard Lance Stephenson headed for free agency, the Pacers are mindful about their commitments in the future.
But, as the past few months have shown, worries about the balance sheet have taken a step back to worries about the talent. And it has made the Pacers as dangerous as any team in the East.
They've also gotten some help. Ticket sales are up 30 percent. The city is in the process of giving the Pacers more than $40 million over a three-year span as part of a new deal to offset losses from running and upgrading Bankers Life Fieldhouse. And, according to a league source, the Pacers are projected to receive more than $10 million this season as part of the league's expanded revenue-sharing plan.
All of that is going on behind the scenes. What's going on in the front of the house is a team building off success and getting off to a sizzling start to the season. The Bulls are just the latest team to attest to it.
Dimes past: October 29 | 30 | 31 | November 3 | 4 | 5
ESPN Senior Writer
ESPN.com NBA writer since 2010
Covered Cleveland Cavs for seven years
Author of two books
2. Around The Association
3.Wednesday's Best
Vucevic
Nikola Vucevic Magic:
The big man who recently turned 23 had 30 points and 21 rebounds to help your upstart Orlando Magic down the Clippers 98-90. It was his fifth 20-point, 20-rebound game of his career.
4. Wednesday's Worst
The Utah Jazz: When the tank-y Celtics can put it on cruise control, then you know winning is going to be tough this season. The Jazz trailed by 25 points in the third quarter and opened the fourth down 22 before making it a 97-87 loss. Will Utah and Denver both still be winless when they clash Nov. 11 in Salt Lake City?
6. Tweet Of The Night
Tommy Heinsohn sums up tonight's Celtics game: "The dentist just gave me novocaine for the last minute." Congrats to Utah for outsucking us.

— Bill Simmons (@BillSimmons) November 7, 2013
7. Quote Of The Night
"It's early. I am not a panicky coach."
-- Mike Woodson, the Knicks coach whose 1-3 team learned Wednesday it will lose the services of Tyson Chandler for at least four weeks.
8. Biggest Bird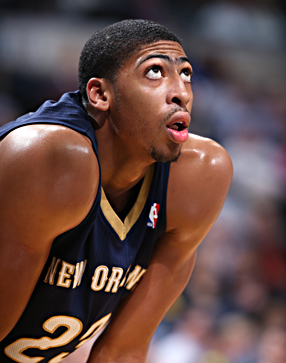 Joe Murphy/NBAE/Getty ImagesAnthony Davis had 18 points and nine rebounds and three blocks, anchoring the Pelicans' defense in a 99-84 win over the Grizzlies.
9. Stat Check
Thompson
Klay Thompson scored 19 of his 30 points in the fourth quarter to help lead the Warriors to a 106-93 win over the Timberwolves on Wednesday night. That tied the most points Thompson has scored in any quarter in his 153-game career during the regular season, equaling the 19 he produced in the third quarter against Detroit on Dec. 5, 2012. Prior to Wednesday, the most points Thompson had ever scored in the fourth quarter of a game was 14 against Denver on Feb. 9, 2012.