1. Dynamic Wade Shoulders Load For Miami
MIAMI -- You knew Dwyane Wade was feeling good when he was taking and making his jump shot in rhythm.
You knew he was feeling great when he took a heat-check 3-pointer in the fourth quarter (he missed).
And you realized this would be his game when he followed that miss with a nasty step-back jumper over J.J. Redick, who was a tad too aggressive in his recovery and fouled Wade in the process for a three-point play.
It was convenient timing for Wade and the Heat, with LeBron James slowed slightly by back pain against a Los Angeles Clippers offense that entered the night leading the league in scoring at 113.2 points a game.
But what's becoming clear in these first few games, is that Wade isn't just feeling good in spurts.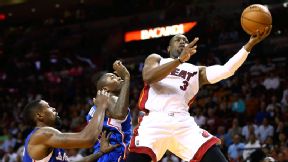 AP Photo/J Pat CarterWith LeBron James sidelined late, it was the Dwyane Wade show against the Clippers.
He's healthy and only getting stronger. And with that comes a varied offensive game and an ability to take over, whether LeBron is on the floor with him or not.
In fact, in Thursday's 102-97 win over Chris Paul and the Clippers, Wade did most of his damage with reserves surrounding him and LeBron on the bench.
Wade's efforts kept the contest close in a first half that saw both offenses humming. Then he led the charge as Miami pulled away to start the fourth.
Wade finished with 29 points on 13 of 22 shooting with seven assists, three steals and a blocked shot.
It was the type of showing even his seven turnovers couldn't spoil.
"My shot was feeling good tonight," Wade said. "It's been feeling good the last couple games.
"They're giving it to me a little bit, so I was able to get in a groove early in the game. I just have to continue to knock those down."
Wade wasn't just doing it with jumpers, though. In a continuing effort to "open up my pie chart," Wade has been staying away from sweet spots and scoring from multiple areas on the floor.
Last season, most of his attempts came either at the rim or on the left side of the basket in the 15- to 18-foot range.
Thursday, he was scoring on dives to the rim, in the post, from the baseline and, of course, with the jumper from a handful of spots on the floor.
"You're stronger on your shot, use both legs when you get up," Wade said of his health translating into more made jumpers. "You have more confidence to shoot it knowing that you have the strength to shoot it."
Wade was at his best to start the fourth quarter, with LeBron on the bench and Ray Allen, Norris Cole, Shane Battier and Chris Andersen playing alongside him.
The quarter began with the Heat clinging to a three-point lead. Wade scored nine of the Heat's 12 points, and assisted on the other field goal during a quick 12-7 spurt to open up an 88-80 lead -- all with LeBron seated with a heat pack on his lower back.
Upon James' return, Wade still helped provide a damaging blow with a cross-court pass to Battier for an open 3-pointer that gave Miami a 91-80 lead.
It was similar to when LeBron and the second unit dominated portions of the NBA Finals against the Spurs. Only this time it was a lively Wade running the show.
"I love playing with that unit," Wade said. "You got guys that can spread the floor. The court is a little wider. Also the ball is in my hands a little more.
"It's a good unit for us to be able to come in and give us a different look, give us that kind of energy," Wade said.
The Heat's defense, which was cause for concern after consecutive losses to the Sixers and Nets, did the rest.
The Heat trapped and harassed Paul as often as possible from the start, but it wasn't until the second half when the Heat completed those defensive possessions by forcing difficult shots or turnovers.
Paul was just 3 of 11 from the field (outside of Michael Carter-Williams, no opposing point guard has played particularly well against Miami, including Derrick Rose, Deron Williams and John Wall). Paul finishing with 11 points, 12 assists and five turnovers.
Blake Griffin was the beneficiary of a lot of open looks, which got him and impressive stat line of 27 points and 14 rebounds.
But the Clippers were simply too scattered at the offensive end to truly make this a contest down the stretch.
"Obviously with a great player like CP, you can't stop him," James said. "You just want to put as many bodies and as much pressure on him, just make it tough on him. Our bigs did a great job of communicating with our point guards or whoever was guarding him."
As for his lower back, LeBron said he's had issues with it before and knows how to handle it and play through it. His back issues tend to crop up at the beginning of his season, so he's confident he'll get through it again without missing time.
But it doesn't hurt to see Wade capable of performing like this against one of the league's elite teams.
"I don't think he's even 100 percent yet," LeBron said of Wade.
He might not be 100 percent for several weeks, as he continues to gain strength following his offseason knee treatment and training program.
So if this is just the start, LeBron might have plenty of time to rest -- should he ever decide it's necessary.
Dimes past: October 29 | 30 | 31 | November 3 | 4 | 5 | 6
ESPN Staff Writer
Israel Gutierrez is an NBA writer for ESPN.com.
2. Around The Association
| | | | | |
| --- | --- | --- | --- | --- |
| Los Angeles Lakers | 99 | FINAL | 98 | Houston Rockets |
---
Defining moment: With under 2 seconds to go, and the Lakers trailing by one, Steve Blake comes open off a curl and nails the what would prove to be the game-winning 3-pointer.
MVP: Blake. He had 14 points and sank four 3s in this game, none more important than his final bucket.
X factor: Jodie Meeks. The Lakers shot 16-of-35 from downtown, and Meeks was responsible for five of those makes. Beyond just his shooting prowess, Meeks also played great defense on James Harden on Houston's penultimate possession.
| | | | | |
| --- | --- | --- | --- | --- |
| Los Angeles Clippers | 97 | FINAL | 102 | Miami Heat |
---
MVP: Dwyane Wade. Despite seven turnovers and some defensive lapses, Wade proved instrumental in Miami's victory. He finished with 29 points and seven assists, dicing up the Clippers defense.
LVP: DeAndre Jordan. Sure, other players played worse, but Jordan did the most damage to his own cause. He played a game-high 42 minutes struggling to protect the paint and complaining too often to referees.
Defining moment: The third quarter. This is when Wade went off, Chris Paul went cold and the Heat defense unleashed swarming traps. Miami outscored Los Angeles 24-17 in the frame and never looked back.
| | | | | |
| --- | --- | --- | --- | --- |
| Atlanta Hawks | 107 | FINAL | 109 | Denver Nuggets |
---
MVP: Despite the losing effort, Paul Millsap finished with a line of 29 points, 10 rebounds, five assists, and no turnovers. When the Hawks were struggling, it was Millsap who kept them in the game and shouldered a heavy load the entire night.
Defining moment: Coming off a screen in a two-point game, Ty Lawson hit the biggest shot of the night, banking in a 27-foot 3-pointer. With 58 seconds left, the Nuggets didn't let the lead slip out of their hands after that shot.
X factor: Atlanta's perimeter defense was sloppy all night, and the Nuggets -- shooting 14-for-25 from 3-point range -- took full advantage.
3. Thursday's Best

The Hack-A-Dwight:
Oh, how the tables have turned, but a win's a win. The Lakers fouled Howard six times down the stretch, and with D12 draining only five, it paved the way for Steve Blake's final-second theatrics.
4. Thursday's Worst
Howard
The Hack-A-Dwight: This was your chance, Dwight. With the Lakers in town, this was your chance to make a statement at the line with the game on the line, and a 5-for-16 night from the stripe won't cut it.
7. Quote Of The Night
"Everyone said he was done. Go figure."
-- Heat coach Erik Spoelstra, on Dwyane Wade's 29-point, seven-assist performance Thursday night against the Clippers.
8. Hey, You!
Scott Halleran/Getty ImagesDwight Howard welcomed Pau Gasol and the Lakers into his new home.
9. Stat Check
Paul
Thursday night was Chris Paul's sixth straight game with at least 10 assists this season -- he finished with 12. Paul is now one game shy of tying his longest such stretch to start a season.