1. Eh? For Effort: Knicks Could Use More Oomph
NEW YORK -- There's no question the New York Knicks have been dealt a bit of a bad hand.
Their defensive anchor, Tyson Chandler, has a broken leg. The Amar'e Stoudemire situation is untenable, it's not really even worth detailing. Kenyon Martin has been relegated to senior citizen status by league standards. J.R. Smith has been on drug suspension.
There are no smiles in there. What the Knicks can't control is disrupting them and it, indeed, appears it's going to suppress their effectiveness for a while.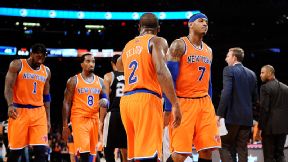 Maddie Meyer/Getty ImagesThe Knicks missed more than just Tyson Chandler's defense in a blowout by the Spurs.
But what the Knicks can control is something different. Those facets are what had the Madison Square Garden crowd booing them on a Sunday afternoon as they were outclassed by the San Antonio Spurs 120-89 to drop to 2-4 on the season.
Several undermanned teams across the league have made waves by overcoming early-season deficiencies. The Philadelphia 76ers, Phoenix Suns and Boston Celtics, for example, are undermanned almost every night when it comes to the talent on their rosters and their corresponding payrolls. But you'd never know it by watching them play and it's already made a difference in their outlooks and their records.
Meanwhile, the Knicks are at the opposite end of the spectrum and their underachieving is starting to fray some nerves. At a point in the season when some extra effort and energy could make a big difference for a team battling some challenges like the Knicks, they are doing the opposite and it's hard to miss.
"That's just unacceptable," Knicks coach Mike Woodson said after watching his team fall down by as many as 37 points on Sunday. "We didn't compete."
The Spurs are 6-1, owning the second-best record in the league at the moment. Dropping a game to them is not cause for shame. It's not enjoyable but it's not unacceptable, either.
The Knicks' approach, however, is where there is an expanding issue and that was illustrated in the final score. Their defensive "effort" was eye-opening in its ineptitude and the Spurs were relentless in taking advantage of it.
Tony Parker worked them over. He scored five baskets and had five assists ... just in the game's first 10 minutes. Danny Green hit six 3-pointers in nine tries, most of them free and clear as the Knicks reacted to him as if they hadn't read a scouting report.
If the idea of covering for one another was addressed in a players-only session last week, it was apparently quickly forgotten. If Woodson was bringing it up in the huddles, it was either not being heard or being ignored. Without Chandler to save the back line, this sort of energy outlay would seem an essential part of any game plan yet it was totally missing on Sunday.
Meanwhile, the Chandler injury seemed like it might have the ancillary benefit of allowing the Knicks to adjust their lineup to play Anthony at power forward in a small lineup. Under most measures, this strategy enabled Anthony to have one of the best seasons of his career a year ago and the team posted its best numbers in this setting because it filled the floor with shooters and the Knicks shattered 3-point shooting totals.
But Woodson seems to be deploying it under protest.
"This is a different team," Woodson said before the game. "I'd love to get to the big [lineup], we'll see how it plays out."
Woodson's lack of confidence in this adjustment seems to be wearing off on the team because there's little sign of the same vigor that spurred the team last season when they actually won their first six games and then later won 13 games in a row with the small lineup mostly in place.
All of this is the centerpiece of why there is an uneasiness growing in the team's locker room. It gives off the impression that not everyone has their heart in it. Usually when teams get off to bad starts, it is incumbent to downplay the small sample and focus on patience. That is the standard public stance but it's also the sales pitch from the coaches to the players -- it is happening right now in about half the league, for example.
The same goes for the front office when it comes to pacifying ownership, especially when said ownership is paying the luxury tax.
The Knicks' rivals over in Brooklyn, for example, are facing their own 2-4 rocky beginning and drifting toward the well-worn clichés that pepper the NBA in November as they do baseball in April and football in September.
The Knicks players, however, sounded an alarm last week when they called a players-only meeting after they lost three of their first four games. Carmelo Anthony mysteriously went so far as to label a November game in Charlotte against the Bobcats as a "must win." Now, he said this after the Knicks won the game when everything was safe and it could come in a congratulatory tone.
It's easy to fall into a myopic state once the season is engaged. Going to the players-meeting option, however, was a tad extreme and it only fostered a belief that the Knicks' players are feeling some pressure despite the season being very much in its infancy.
"We do have to get it figured it out and quickly," Anthony said. "This city and this organization is not known for being patient."
Anthony is talking like he's attempting to take the lead. He was the one that called the meeting. After the Spurs steamrolling he called for his team to "not press the panic button." All of this is fine but, again, it would perhaps be more helpful if he did more on the floor.
He took just 10 shots in 35 minutes on Sunday, scoring 16 harmless points. Save for a game last March when he left early with an injury, it was the fewest shots he'd taken in a game in nearly two years. Anthony's scoring and shooting are down from last year's levels in the early going as he's drawing heavy attention from opponents who aren't too worried about the Knicks' other options.
But Anthony has bigger worries than his own play. He's much more focused on the lackluster effort and mood of the team. That's perhaps most telling of all.
"I have to remain very confident and positive in this locker room and hopefully my teammates feed off of that mentality and that attitude," Anthony said. "If I'm in here being negative then they'll be in here being negative and moping around and then the morale is down. We can't have that. Not right now. It's easy to go into that place but were not going to allow that."
Dimes past: October 29 | 30 | 31 | November 3 | 4 | 5 | 6 | 7
ESPN Senior Writer
ESPN.com NBA writer since 2010
Covered Cleveland Cavs for seven years
Author of two books
2. Around The Association
3. Sunday's Best
Rubio
Ricky Rubio, Timberwolves:
Some nice triple-double magic from Rubio in a 113-90 laugher over the Lakers. Rubio had 12 points, 10 rebounds and 14 assists in the win as the Wolves set a franchise record with 47 first-quarter points.
4. Sunday's Worst
Smith
J.R. Smith, Knicks: With the Knicks needing a boost, J.R.'s debut was an anti-boost. His return from a five-game suspension for violating the league's anti-drug policy saw him struggle defensively, shoot 1-for-9 from the field and cough up four turnovers in a rout by the Spurs.
7. Quote Of The Night
"That's my Megatron out there. I'm just trying to be Stafford."
-- Kevin Love, on his long passes to Timberwolves teammate Corey Brewer that are inspired by Detroit Lions combo Matthew Stafford and Calvin Johnson.
8. Trying Times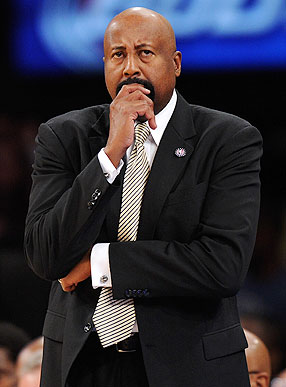 Maddie Meyer/Getty ImagesKnicks coach Mike Woodson looks on during the first half against the Spurs, witnessing an effort level he later called "unacceptable."
9. Stat Check
The Minnesota Timberwolves outscored the Los Angeles Lakers 47-23 in the first quarter of Sunday night's game at Staples Center. That was the highest first-quarter point total by a visiting team since the Toronto Raptors led 48-17 after the first quarter at the New Jersey Nets on Jan. 11, 1997.
The Wolves also matched the largest margin by which any team had outscored Los Angeles in the first quarter since the Lakers left Minneapolis in 1960. Three other teams held a 24-point lead over L.A. after the first period, but none since the Buffalo Braves in 1974.