1. Brow Beaten But Unbowed As Pelicans Learn
LOS ANGELES -- Anthony Davis walked onto the court at Staples Center on Tuesday night as the best player in the NBA. Maybe he won't be tomorrow, or the tomorrow after that, or the tomorrow after that. But Davis, still 17 weeks away of his 21st birthday, has devoured the opposition in the first two weeks of his sophomore season, so much so that his player efficiency rating of 29.52 ranked first among all 302 qualifying players when his Nikes hit the hardwood at 7:40 p.m. Pacific time. Thats better than Kevin Love, that's better than Kevin Durant, and that's indeed better than one LeBron James -- if only for the moment.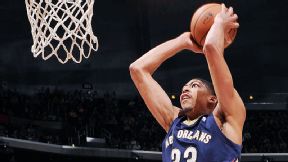 Andrew D. Bernstein/NBAE/Getty ImagesAnthony Davis and the Pelicans were beaten by an energized Lakers team on Tuesday night.
A full season's worth of games will surely restore order to the statistic pages and the league hierarchy, but it's hard to envision the former No. 1 high school player, No. 1 college player and No. 1 overall draft pick straying too far from the top. The long and lean big man was viewed as a virtual sure thing when he was drafted out of Kentucky last year, a golden ticket back to relevancy, and his averages of 20.9 points, 10.8 rebounds and 3.4 blocks through the first eight games of 2013-14 go a long way in confirming that.
But the New Orleans Pelicans are quickly learning that selecting a future superstar is just the first step in a very long road to the top.
"We've been up and down. We've played some games like world beaters and then we play games like tonight," Pelicans coach Monty Williams said after his team was steamrolled by the Los Angeles Lakers, 116-95. "That's just part of bringing in this many new guys together. I have to find groups that are going to play well together. We've just been up and down, inconsistent."
It was easily the roughest night of the season for Davis, but certainly not a bad one. Davis had become appointment viewing in the Pelicans' first seven games, in which he totaled either a double-double or came close to it. But with his team in catch-up mode almost the entire night and tagged with foul trouble early in the second half, the 6-foot-10 forward finished with a modest 15 points on 6-for-11 shooting, five rebounds, two assists, two steals and no blocks (for the first time this season) in 26 minutes.
The Lakers deployed two centers to start the game and Pau Gasol (14 points, eight rebounds) was able to muscle his way to a few buckets against the slender big man as a result. But Davis, who said he hit the gym hard this offseason and learned the magic of the cold tub, was able to plug his share of the many holes that sprouted before the Pelicans drowned in a barrage of Lakers 3s (11-for-20 on the night) and easy buckets.
Like it has been in each of the Pellies' five losses on the season, Davis wasn't the issue. Every good big man needs to put in good positions by his backcourt, even one who was a guard himself four years ago and has maintained the handle, and the approximate $132 million New Orleans has invested there has struggled to do so in the early goings.
Jrue Holiday will be hard-pressed to earn another trip to an All-Star Game in the near future, but the production, either on this night (7 points, five assists, three turnovers, 2-for-11 shooting) or on the season as a whole (12.97 PER, 7.1/4.1 assists-to-turnover ratio), has been far from stellar. A healthy Eric Gordon has shown flashes of his former self, but at times the off-guard seems relegated to a floor-spacer. And Tyreke Evans is just a mess; still unable to shoot from deep, the former rookie of the year entered the night with a sub-6 PER, which won't get any better after Tuesday's game-low minus-21 performance.
Reportedly under the gun from ownership to make strides this season, the Pelicans paid a hefty price to add a lot of offensive firepower around Davis. But the returns thus far are fairly meager: New Orleans entered the night 16th in offensive efficiency, at just 99.9 points per 100 possessions.
"You definitely don't want to see a team like us be able to score under 100 points, with the type of guys we have," said Gordon, who finished with 17 points on 5-for-13 shooting. "With the guards that we have, they shouldn't be able to stop us at any given point of the game. It should be free-flowing. I think that's what we need to get better at, as far as energy at the start from scoring."
In a vacuum, pulling out the checkbook and paying to build around a cornerstone is a commendable move, particularly when that player needs only one year of seasoning to begin to blossom. But by shelling out hefty deals to above-average young talent right off the bat, and dealing away what could be two lottery picks to Philadelphia, the Pelicans, like the Cavaliers and Magic before them, may have also committed themselves to a glass ceiling.
Still in the beginnings of a long NBA season, this is the point at which the obvious caveat needs to be tacked on: The Pelicans, at 3-5, still have a lot of basketball to play, and the raw ability is certainly there, even more so once Ryan Anderson returns to the mix. But it's hard to focus on the long road ahead when the franchise is very much focused on the immediate.
After the game, a reporter compared Davis' early-season tear to guys such as LeBron and others. Davis, though, saw a clear difference.
"They've won already," he said. "I'm not there yet."
ESPN Staff Writer
Justin Verrier is an NBA writer and editor at ESPN.com.
2. Around The Association
3. Tuesday's Best
Curry
Stephen Curry, Warriors:
This was a first-round KO. Curry went 7-for-10 from the field, sank all nine of his free throws and had eight assists as the Warriors built a 19-point first-quarter lead en route to a 113-95 win over the Detroit Pistons.
4. Tuesday's Worst
Holiday
Jrue Holiday, Pelicans: Posting a 2-for-11 shooting night when his team needed a boost, his seven-point effort in a 116-95 road loss to the Lakers was not one of his more high-flying moments early in his Pelicans career. Holiday turned the ball over 4.1 per game and his field goal shooting has sunk to 39 percent, both the worst levels of his career.
7. Quote Of The Night
"They actually said they don't want us carrying them, but I understand with the stuff going on with the football thing."
-- Wolves rookie Shabazz Muhammad, telling the Los Angeles Times that he was informed by team management that he did not have to carry a Jonas Brothers backpack given him by a veteran teammate.
8. Passing The Logo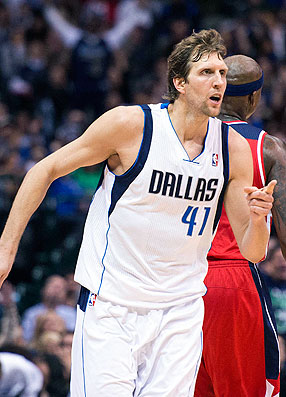 Jerome Miron/USA TODAY SportsDirk Nowitzki celebrates his shot over Wizards big man Al Harrington, passing Jerry West into the 16th spot with a 3-pointer. Nowitzki finished with 19 points and now has 25,197 all-time.
9. Stat Check
Beasley
Michael Beasley took advantage of his time on the court in the Miami Heat's blowout win over the Milwaukee Bucks by scoring 19 points off the bench in 19 minutes, 39 seconds of playing time. It was the most points by a Miami player in a game in which he played fewer than 20 minutes since Jermaine O'Neal scored 19 points in 18:39 against his former team, the Indiana Pacers, at Miami on Dec. 27, 2009.