1. Clippers Get The Edge On A Tough Night
LOS ANGELES -- There are Twitter tough guys and then there are tough guys on Twitter. Twitter tough guys are best dealt with by expeditious use of the block button and a brisk move to more productive things. When true tough guys take to Twitter -- as Matt Barnes did after being ejected from the Los Angeles Clippers' victory over the Thunder on Wednesday night -- it gets complicated. In this case it will warrant a review from the NBA.
A night that began as a matchup between two potential Western Conference finalists somehow turned into a referendum on toughness. That was due in part to the Clippers finding enough defensive resolve to hold the Thunder to 41 points and 36 percent shooting in the second half. Mostly it was a reaction to a second-half skirmish that began when Serge Ibaka tangled with Blake Griffin, then escalated when Barnes entered the fray with a two-hand shove to Ibaka. The verdict from the officials: fighting fouls and ejections for Barnes and Ibaka, a technical foul on Griffin.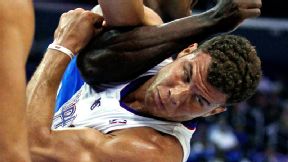 AP Photo/Alex GallardoBlake Griffin stayed in the game and won the battle.
But that was far from the last word.
Barnes sent out a tweet during the third quarter that read: "I love my teammates like family, but Im DONE standing up for these n---as! All this s--- does is cost me money."
So that happened.
He called out his teammates. He violated league social policy (NBA guidelines implemented before the 2009-10 season prohibit use of social media by players and coaches involved in the game starting 45 minutes until tipoff and lasting until the postgame media access period begins). And he used language that's at the forefront of sports discussions right now thanks to Richie Incognito and the Miami Dolphins. It was a modern three-point play.
And it put the league office in a hole. In the midst of a national debate about locker-room language, how can it afford to tolerate use of an inflammatory word, even if this was the "as" ending, even if it was used by an African American? This was a quandary that actually goes back to the Philadelphia Eagles' Riley Cooper's use of the word earlier in the year. Even if we make social allowances for African Americans to use the same racial epithet that is instant trouble for white people, how could that be expected to hold up legally? If Kobe Bryant can be fined for using a homophobic slur, how can Barnes get off for using a derogatory term about African Americans?
Those issues are almost as difficult as trying to determine just how tough the Clippers are. They're 6-3 so far this season, with two-thirds of their victories coming against teams that made the 2013 Western Conference playoffs. They're also the team that was manhandled out of the playoffs by the Memphis Grizzlies last season.
Wednesday, they were the team that was prepared to let things simmer down to their own conclusion -- until Barnes stepped in. This is nothing new for Barnes. He's unafraid of physicality, willing and able to enter any fray. It's also unsurprising when he gets ejected ... with the constant possibility that he might be judged on past offenses.
And where does that leave the rest of his teammates?
"I think at times, toughness can be mistaken in the form of being ready to fight and stuff like that," said Chris Paul, who had 14 points and 16 assists. "But toughness comes down to basketball. Ain't nobody in the NBA holding the world championship belt."
Maybe Paul was feeling his pacifist side because he'd just tried to come up with an answer for his son, who repeatedly asked in the locker room, "Why did 'baka want to fight?"
Paul couldn't come up with a good response. He just called on his son to repeat the lessons he taught him about avoiding violence.
"We do it with words," Lil' Chris said.
Maybe the constant presence of children in the locker room keeps the Clippers from sliding to the thug side -- although Barnes' twin boys are fixtures in the room as well, and he's prone to the occasional slip. But that's not the team ethos.
Paul and Griffin are the two biggest names, and the team takes their personas more than anyone else's.
"If you feel like somebody was trying to hurt you, I think it's time to take action," Griffin said. "That wasn't a situation like that. It happened. Guys push after plays, hold. I didn't personally feel a need to do something in order to get myself ejected. To me, toughness isn't being ready to throw a punch or push somebody. It's about having that mental toughness as well to stay in the game."
Ibaka, diplomatically, said "It's a physical game, and anything can happen. The referee made the decision, so I will take it."
That's twice he has gotten into an altercation with Griffin though. The first came on March 3, when he hit Griffin in the groin. He wasn't ejected for that action. Didn't even draw a suspension. It's hard to envision his actions Wednesday warranting a suspension either.
The more fascinating speculation is what type of fine or stronger punishment the NBA levies for Barnes' tweet, which he later deleted.
How ironic it would be if the Clipper most likely to be a man of action took a severe hit for his words.
Dimes past: October 29 | 30 | 31 | November 3 | 4 | 5 | 6 | 7 | 10 | 11 | 12
ESPN Senior Writer
ESPN.com senior writer since 2007
Around The Horn panelist
Formerly at Los Angeles Times
2. Around The Association
3. Wednesday's Best
Afflalo
Arron Afflalo, Magic:
Afflalo scored 29 of his 36 in the second half, including 11 straight Magic points in a 94-91 win over Milwaukee. For the game, he hit 11 of 15 shots, including 8 of 11 on 3-pointers, and had eight rebounds and six assists.
4. Wednesday's Worst
The Brooklyn Nets: These guys could use a Brooklyn Lantern to find their way home. When the Kings beat you by 21, your high hopes to challenge in the East face serious doubts. Kevin Garnett and Paul Pierce combined to shoot 6-for 21 for the Nets, who are 2-5 this season, including 0-4 on the road.
6. Tweet Of The Night
Via @eliassports Tony Wroten: 1st career triple-double; 1st player since starts were 1st tracked in 1970 to have triple-double in 1st start

— ESPN Stats & Info (@ESPNStatsInfo) November 14, 2013
7. Quote Of The Night
"There is no more 'Let's get it next time.' This is unacceptable! This is our time right now.'"
-- Jazz forward Richard Jefferson, exhorting his team after falling behind by 16 points early in the second half. The Jazz rallied to beat the Hornets 111-105 for their first win of the season.
8. Impressive First Start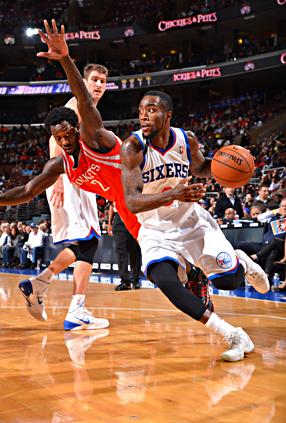 Jesse D. Garrabrant/NBAE/Getty ImagesTony Wroten's first career start resulted in the first triple-double of his life. Wroten had 18 points, 10 rebounds and 11 assists, and James Anderson scored a career-high 36 points as the 76ers beat the Rockets 123-117 in overtime.
9. Stat Check
Anderson
James Anderson scored a career-high 36 points against his former team while leading the Philadelphia 76ers to an overtime victory over the Houston Rockets. Anderson, who hadn't scored more than 19 points in any of his previous 123 games in the league, became only the second player in NBA history to score 35 points or more in a game that far into his career without ever before posting a 20-point game. The only other player to do so was Toronto's Acie Earl, who dropped 40 points at Boston on April 12, 1996, after he entered that game with a career high of 16 points in his 140 previous games in the NBA. And like Anderson, Earl did that against his former team.