1. Iguodala's Actions Speak Volumes In Wild Win
OAKLAND, Calif. -- "It was dark in that huddle," as Mark Jackson described it. The Warriors had just squandered a 14-point fourth quarter lead with a series of point-blank misses. They had a mere 2.3 seconds to fix the situation, to show fans and observers that this team had grown beyond the fourth-quarter collapses of last postseason. In that dark huddle, Jackson did something curious. With a roster that includes Stephen Curry, Klay Thompson and David Lee, he drew up a play for the team's newest starter.
Finally, it was Andre Iguodala's moment to shine. He seized it brilliantly, craning a rainbow over Thabo Sefolosha's outstretched arms for the most satisfying Warriors win of the season.
On media row, however, some expressed dismay after Iguodala's buzzer-beater.
It wasn't because they had a rooting interest, and it wasn't because the game had disappointed. No, the Golden State Warriors' 116-115 victory over the Oklahoma City Thunder had delivered a better basketball experience than many playoff games could boast. It gave the people an incredible Russell Westbrook go-ahead 3-pointer, followed by a desperate Warriors team striking gold all in the game's final three seconds.
The issue was Iguodala's voice and the challenge of finding it in a media scrum. The Warriors small forward is quite soft spoken, his voice even better at evading audio recorders than his body is at evading screens. His words aren't projected for an audience, even if that audience is thrilled to hear from the guy who just ended a game on a leaning fadeaway swish as time expired.
That's Iguodala's approach, though. He doesn't tailor what he does well for the public. Though an elite athlete and top-flight dunker, he's devoted himself to the quieter aspects of the game -- most specifically defense.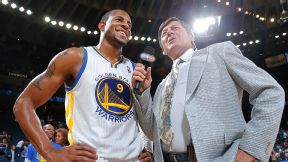 Rocky Widner/NBAE/Getty ImagesWhen you're next to the man on the right, you know you've had a good night on the court.
He does the thankless task of playing percentages, shading his marker to the wrong spots, taking the smarter angle around a pick. Fans by and large do not take notice, which might have something to do with how many of them complained about Iguodala's hefty contract back in Philadelphia.
When asked whether he viewed this game winner in that same clinical "process over results" approach he applies to his overall game, Iguodala responded, "It feels good for the night, I guess. But I've played in places where it's kind of, 'What have you done for me lately?' So you learn how to get over the good days and the bad days pretty fast."
That's fairly dispassionate for someone who just made the Oracle Arena crowd leap up in unison. Iguodala's initial breakdown was devoted to strategic description instead of emotion.
"The defender was on the topside, denying me the ball," Iguodala said. "So, it's great that Klay made the pass. We both read the same thing."
Iguodala isn't a robot, and he proves it with his smiling, effusive praise of his teammate on the wing. He's called Thompson his "favorite player," and Iguodala repeatedly talks up his defense, perhaps trying to give it the attention that Iguodala's brand of defense deserved back in Philadelphia and Denver.
On Thursday night, Iguodala's coach took notice of his ace perimeter defender's efforts.
"You can fall in love with the buzzer shot," said Warriors coach Mark Jackson. "I'd rather fall in love with making a superstar in Durant work, competing against him, grinding it out, contesting shots, battling. I'd rather fall in love with that."
Iguodala certainly did make Durant work, as the rest of the Thunder offense hummed merrily amid its superstar's struggles. Durant shot 5-of-13, picked up five fouls and incurred a technical for an outburst of anger.
The last time the Thunder visited Oakland, back in April, they made the Warriors look less than a playoff team. Oklahoma's 116-97 win came with a violent Westbrook block of Curry's layup, followed by a court-shrinking, coast-to-coast slam by Durant that ended in an emphatic throat-slash gesture.
Objective observers would have concluded that ground-bound Golden State just couldn't match Oklahoma City's athleticism, and that these teams were decidedly far apart.
Not so with Iguodala it seems. He helps close the athleticism gap between these two squads while giving the Warriors someone who could plausibly guard Durant capably. When these teams meet again, the Warriors might have more trouble containing Russell Westbrook. The fiery guard had 31 points, many of them coming on shots that didn't once consider grazing the rim.
For now, the Warriors will enjoy their good fortune. They are fortunate to have pulled this victory out after ceding a 100-86 lead, and they are, in their estimation, fortunate to have traded for Iguodala over the summer.
Stephen Curry, who finished with 22 points and nine assists, summed up those feelings when ruminating on Iguodala's big shot.
"That's why we're so deep and talented," Curry said. "That's why 'Dre was such a big acquisition for us."
For much of the evening, Iguodala's play quietly argued that this year's team is better than last year's. His defense and nine assists spoke to the subtle improvement before his game winner loudly demanded that fans at Oracle believe in the hype.
ESPN Staff Writer
Covers the Golden State Warriors for ESPN.com
Contributes to ESPN's TrueHoop blog
Hosts TrueHoop TV Live
2. Around The Association
| | | | | |
| --- | --- | --- | --- | --- |
| Oklahoma City Thunder | 115 | FINAL | 116 | Golden State Warriors |
---
MVP: Andre Iguodala. Spearheading Golden State's success on both ends all game long with innate playmaking and lock-down defense, Iguodala saved his best for last. With two seconds left and his team down a point, his winning jumper saved the Warriors from an epic late-game collapse.
X-factor: Golden State led by 14 points midway through the fourth quarter, but went ice cold offensively down the stretch. Force-feeding David Lee and Harrison Barnes in the post was a good idea considering Kevin Durant had five fouls, but their ineffectiveness and the resulting stagnancy nearly -- and should have -- cost the Warriors a win.
That was ... a classic: Oklahoma City and Golden State were tied at 62 after a brilliant first half from both sides. It appeared the Warriors would win going up early in the fourth quarter, but the Thunder's double-digit comeback was completed by Russell Westbrook's go-ahead, 28-foot 3-pointer with just two seconds left. Iguodala, though, had the final say.
| | | | | |
| --- | --- | --- | --- | --- |
| Houston Rockets | 109 | FINAL | 106 | New York Knicks |
---
MVP: He may have entered Thursday with a pair of gimpy dogs, but James Harden (35 points, 9 rebounds) proved fleet of foot all night for the Rockets. His 16-for-18 clip on free throws didn't hurt, either.
X-factor: Chandler Parsons. With Omer Asik's Houston future in doubt, the Rockets' jack-of-all-trades forward punished the Knicks with equal parts timely shooting and pinpoint passes. Parsons at the 4 could be imminent.
That was ... a roller coaster of weird: Jeremy Lin's return was almost lost in the blizzard of dumb mistakes and controversial calls (Carmelo Anthony's would-be tying 3-pointer being chief among them). Thanks to Melo's 45 points, the Knicks had a chance late but couldn't rally.
3. Thursday's Best
Iguodala
Andre Iguodala, Warriors:
This space was reserved for Russell Westbrook after his 3-pointer gave OKC a one-point edge with 2.7 seconds to play. But Iguodala put an end to that after his fadeaway jumper beat the buzzer -- and the Thunder -- in Oakland.
4. Thursday's Worst
Howard
Dwight Howard, Rockets: Despite Houston's win, Howard couldn't get his game going at the Garden. He finished with only seven points on 1-of-5 shooting. Howard did make five of his eight free throws.
6. Tweet Of The Night
No sport is more exiting to watch than basketball!

— Nicolas Batum (@nicolas88batum) November 15, 2013
7. Quote Of The Night
"You see the way some guys get their calls, me, I got to get cut, you've got to see blood for me to get a call down there."
-- Carmelo Anthony, expressing frustration with some of the calls during the Knicks' loss to the Rockets on Thursday.
8. Catching Fire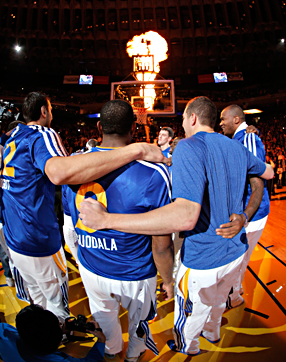 Rocky Widner/NBAE/Getty ImagesWith their thrilling win against the Thunder, the Warriors stayed hot at home, improving to 4-0 at Oracle Arena this season.
9. Stat Check
Lin
Jeremy Lin scored 21 points, to go along with five rebounds and three assists in the Rockets' win at Madison Square Garden.
Lin, since leaving the Knicks, is 3-0 against them, while averaging 18.7 points, 5.3 rebounds and 5.0 assists in those games. No other former Knicks player won his first three games against them while averaging 15/5/5 (points/rebounds/assists) in those victories.