1. Portland Looks To Keep Up Winning Ways
NEW YORK -- Referring to the coaches' handbook and praising the opponent, plus employing several NBA decades of perspective, Portland Trail Blazers coach Terry Stotts confidently predicted the significantly underachieving Brooklyn Nets would be just fine in the long run.
"They're extremely talented and they'll probably have home court in the first round [of the playoffs]," Stotts said.
When it comes to his team, though, Stotts is not so willing to make such pronouncements. Right now the Blazers are falling off the other end of the achievement scale, having been one of the league's most pleasant surprises. In fact, they might even be surprising themselves.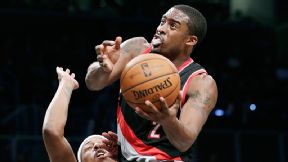 AP Photo/Kathy WillensWes Matthews did not like being left off the All-Star ballot, but enjoyed scoring 24 on the Nets.
"You want me to give my team a ceiling? Stotts said with a smile after the Blazers' 108-98 victory over the Nets Monday night, not wanting to say something that could be used against him later. "Im pleased with what were doing but we have to get better."
Truth is, it's pretty hard to see the extended future of either team.
The Nets are rather banged up; Brook Lopez and Deron Williams missed the game with ankle injuries and Paul Pierce and Kevin Garnett both played while hurting. How bad they were hurting Monday when they combined to shoot 10-of-31 will stay private for now, because neither chose to discuss their 3-7 record afterward.
All you need to know about how things are going for rookie coach Jason Kidd is that he's been forced to publicly evaluate how often he's supposed to stand and sit during the games. The YES Network, which broadcasts Nets games, and the in-house scoreboard operator do him no favors when they constantly show the team huddles and how assistants Lawrence Frank and John Welch are usually the ones in the middle drawing up plays.
Meanwhile, Stotts, who's in his sixth year as a head coach with his third franchise, is enjoying his first-ever seven-game winning streak. Now at 9-2, the Blazers are the league's hottest team and off to their best start since the 1999-2000 season.
It's hard to imagine the Nets continuing down this path, just as it's hard to justify how the Blazers are this good. These sorts of runs, positive and negative, are not uncommon in November and often are long forgotten by the All-Star break. Portland, which has set its sights on breaking its two-year playoff absence, obviously wants to believe its situation will continue.
The Blazers have some hallmarks of a team that's overachieving. They're shooting rather wild numbers from 3-point range so far -- fourth in the league in makes per game (10) and in percentage (.422). Wes Matthews, a career 40 percent 3-point shooter himself, is making a remarkable 53 percent of his 3-pointers so far. That included his first five attempts on Monday.
Portland came into the week ranked an unsavory 17th in defensive rating and so far has only beaten two teams with a winning record. Catching the Nets when so much of their team was beaten up could've been considered another positive turn of fortune.
This isn't lost on the Blazers, who are aware that some will dismiss their strong start as circumstantial.
"I'm sure there's people who are waiting for us to go on a five- or six-game losing skid and for us to go back to how we were," Matthews said. "They'll say we're taking too many shots, were taking too many 3s, we're too aggressive and all that other stuff. That's cool. But we're going to keep going at it."
To be fair, there's also a lot to like about what they've been doing. They have five players averaging double figures, with LaMarcus Aldridge and Damian Lillard putting up All-Star-style numbers in the early going, a quality mix of star power and depth.
After taxing their starters with huge minutes last season, Stotts is still relying heavily on his starting five but a bench revamped over the summer is more potent. The addition of veteran guard Mo Williams is making a difference in that regard, especially when he comes in the game and plays alongside Lillard as the Blazers essentially operate with two point guards who can also shoot.
"The NBA game is getting more and more about having playmakers on the court," Stotts said. "So when you have two guys who can make plays for other people and themselves it makes our offense more effective."
It's part of the reason they routinely generate excellent ball movement. That and their hot shooting have them averaging 108 points per 100 possessions, which is good for third in the league at this point. Last season, by comparison, they ranked 16th in scoring.
And while you can pick at their schedule, they are the only team to have beaten the San Antonio Spurs, and they're already 5-1 on the road. They didn't win their fifth road game last season until January and went 11-30 on the road all season.
More from ESPN.com
• Markazi: Blake Griffin's evolution
• Friedell: D-Rose insists he's OK
• MacMahon: Ellis money in bank
• Below the Rim: Mike Brown, Stein


• Wallace: Heat's Daily Temp Check

This early run of success also seems to have the Blazers building a little swagger. They were down 11 points in the first half against the Nets while playing on the second night of a back-to-back. Yet they flipped the scoreboard during the second half when they attacked the Nets' pick-and-rolls and disrupted their offense, allowing just 35 points. It was the type of execution a confident team plays with -- one that believes in itself.
Then there's a classic underdog role, which is currently being championed by Matthews. Left off the All-Star ballot, Matthews has responded by perhaps the greatest shooting stretch of his career. In the locker room they're playfully calling him Ballot these days.
"He's playing angry right now; he's upset about the ballot," Aldridge said. "He's next-level angry."
Most likely, the Blazers are going to find their level a little. They won't keep shooting so well and their opponents, who are currently dead last in 3-point shooting, figure on picking it up. Over the next two weeks they face the Chicago Bulls, Golden State Warriors, Indiana Pacers and Oklahoma City Thunder as the schedule turns on them a little.
But the Blazers' level still might put them as one of the Western Conference's better teams and that would be an achievement. Leaving Brooklyn with the second-best record in the league, they were feeling pretty good about themselves.
"You feed off that positive energy, when your hard work is rewarded with wins it kind of snowballs," Stotts said. "There's so much confidence involved and it's reassuring."
Dimes past: November 3 | 4 | 5 | 6 | 7 | 10 | 11 | 12 | 13 | 14 | 17
ESPN Senior Writer
ESPN.com NBA writer since 2010
Covered Cleveland Cavs for seven years
Author of two books
2. Around The Association
3. Monday's Best
Ellis
Monta Ellis, Mavs:
Others put up gaudier numbers, but when Ellis gets efficient, it's time to recognize. Shooting 50 percent or better from the field for the third time this season, he scored 24 points in a 97-94 win over the 76ers. He added 10 dimes.
4. Monday's Worst
Pierce
Paul Pierce, Nets: Playing through a sore left groin, there was very little truth emanating from Pierce's shot in the Nets' 108-98 loss to Portland. He had 11 points on 2-for-12 shooting and followed that with no public comments afterward.
7. Quote Of The Night
He's playing angry right now; he's upset about the ballot. He's next-level angry."
-- Blazers star LaMarcus Aldridge, on teammate Wesley Matthews, who has not taken too kindly to being left off the All-Star ballot.
8. Walking Off Winners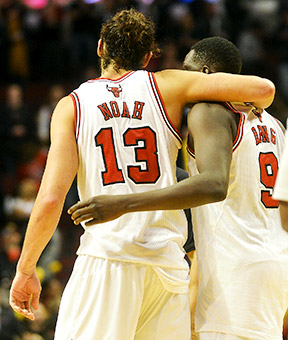 Matt Marton/USA TODAY SportsJoakim Noah and Luol Deng walk off the court after the Chicago Bulls earned their fifth win in a row, an 86-81 decision over the Bobcats.
9. Stat Check
Durant
In a 115-113 win over Denver, Oklahoma City's Kevin Durant (38) and Russell Westbrook (30) each scored 30 points in the same game for the 26th time as teammates, easily the most among active NBA teammates. Dwyane Wade and LeBron James are second with 14.
Around the Association
---
MVP With 24 points on 14 shots in addition to a season-high 10 assists, an efficient Monta Ellis kept Dallas alive in an ugly and disjointed basketball game. His 13 points in the third quarter put Dallas ahead for good.
Defining moment: With 3:15 in the fourth and Dallas ahead by three, Ellis blocked an Evan Turner jumper, leading to a transition three for Jose Calderon. Evan Turner picked up a tech protesting the block, and Dirk Nowitzki's free throw effectively sealed the game.
That was ... a block party. The 11 blocks for Dallas set a new season high. Prior to the game the Mavericks were tied with Washington for 26th in the league with 4.1 blocks per game.
-- Kirk Henderson, TrueHoop
---
MVP: Wesley Matthews shot the lights out at Barclays with a 24-point, 5-for-8 3-point shooting night, leading the way for Portland. He spread the floor with nearly automatic catch-and-shoots while providing strong defense throughout as well.
That was ... predictable. The Nets were without their best two players (Deron Williams and Brook Lopez) and needed a ridiculous hot streak to take the lead early on. The regression was inevitable and made way for a dominant second half for the Blazers.
Defining moment: Shaun Livingston's destructive lefty slam. The dunk encapsulated Livingston's night (23 points on 14 shots) and season in one defiant message: "What knee injury?"
-- David Vertsberger, TrueHoop