1. Star Power Not The Lone Source For Heat
MIAMI -- LeBron James insists there is no additional burden carrying this team under the circumstances.
Yet it's hard to fathom James or the Miami Heat sustaining this current level of production when they don't really know who's going to be available on a nightly basis.
A combination of injuries, illnesses, childbirth and a suspension forced the Heat to start their sixth different lineup in a season that's only 11 games old for Miami. Despite all of the moving parts, the two constants so far have been the ultra-efficient play of James and a productive bench that fills the ever-changing gaps in the rotation.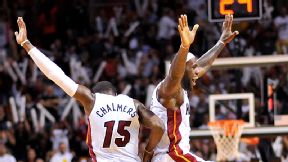 Steve Mitchell/USA TODAY SportsMario Chalmers and LeBron James celebrated taking charge against the Hawks.
On Tuesday night, that meant overcoming the unexpected absence of Dwyane Wade, who said he arrived at AmericanAirlines Arena intending to play but was instead held out to continue to rest his balky knees after meeting with coach Erik Spoelstra and the team's medical staff.
"We don't ever want it to seem usual," James said of the Heat, who piecemealed their way to a 104-88 victory against the Atlanta Hawks. "We want guys in the lineup. But health is No. 1 for our team, for sure. That comes before anything. When guys go down, we have enough to step in and play ... more than they've done in the past."
At some point, it's going to be vital for Miami's primary rotation players to reestablish the level of cohesion and chemistry they had on the way to back-to-back title runs the past two seasons. But for now, the all-hands-on-deck plan seems to work just fine for the Heat. All they needed Tuesday was plenty of cheerleading from Wade, a season-low 13 points from James and a boost from everyone else to win their fourth straight and seventh of their past eight.
"We're finding a way to have the same kind of continuity on offense and defense, no matter who we're putting out there," said Chris Bosh, who had a team-high 19 points on a night when Miami got points from 12 of the 13 players who saw action against Atlanta. "But it's still early in the season and there are things we still have to learn as we go along. But I think chemistry is always going to be good with this team. We're using this as a positive because we can figure out what works and what doesn't with groups."
Spoelstra referred to it as a luxury to be able to call on Michael Beasley and Rashard Lewis at a time when Ray Allen and Udonis Haslem needed a week off to recover from the flu and back spasms, respectively, before returning to the lineup against the Hawks. The Heat have also benefited from the luxury of catching opponents equally short-handed. That was the case Saturday, when the Bobcats were without Al Jefferson. The Hawks on Tuesday were missing Paul Millsap and Lou Williams.
Beneath the surface of their recent success, there's no denying the Heat are balancing two far different realities. James is ascending amid one of the most productive stretches of his career. Meanwhile, Wade is ailing to the point where he required a night off even after two days' rest.
Both the Heat and Wade have gone out of their way to avoid referring to his breakdown in Charlotte on Saturday as a setback. He left that game in the third quarter after reluctantly agreeing to play on consecutive nights coming off Friday's 36-minute performance in a win over Dallas.
Wade has been dealing with chronic soreness in his knees the past few days and wasn't certain he'd be available for Wednesday's game in Orlando, although he was scheduled to make the trip with the team. If Wade sits, he will have had a full week between games, with the Magic visiting Miami on Saturday to complete the home-and-home set.
Speaking to reporters before Tuesday's game, Wade suggested his sore left knee still needs more time to recover between games. He's dealing with the aftereffects of the shock-wave therapy treatment he received over the summer after both knees were problematic in last season's playoffs.
"It's still early. I'm going to try to do what's best for my body," Wade said Tuesday. "I'm not a percentage guy, but I'm around 70 [percent], some days 75, just trying to get consistent with it as much as possible. As time goes on, hopefully the treatment I got this summer will take over a little more and some of the discomfort I have will go away and I can be a little more consistent. It's a slow climb."
Meanwhile, James' game has been rising at a steady rate. Entering Tuesday, he had shot 70.2 percent and averaged 34 points in the Heat's previous games. But that kind of production wasn't necessary against the Hawks, yet the Heat still shot at least 50 percent from the field for the seventh time at home this season. They also forced 24 turnovers and scored 22 points off the Hawks' miscues.
"The depth is important," Spoelstra said of dealing with potential concerns about the constant lineup shuffling. "As long as it's the right fit out there and guys are committed to getting off to a good start -- our guys are comfortable out there. They're gaining confidence. We need it."
The Heat will also eventually need Wade to get healthy. That might take another month or two before he gets to the stage when he feels good enough to be a consistent threat.
"One thing you can't recreate is how you feel the next day," Wade said. "Your body has to get used to that pounding."
At the same time, James is growing used to having his legs back under him and feeling close to normal again.
"I've been fortunate enough to be in the lineup a lot," James said of his durability despite playing through recent back pain. "And I don't take that for granted. I'm able to do some things on the floor I couldn't do at the start of the season."
Plenty of things.
Including things such as sitting the fourth quarter and watching fill-ins find their way to victory after another lineup tweak.
Dimes past: November 3 | 4 | 5 | 6 | 7 | 10 | 11 | 12 | 13 | 14 | 17 | 18
ESPN Staff Writer
ESPN.com NBA reporter
Blogs regularly on the Miami Heat
14 years covering the ACC, SEC, NFL and NBA
2. Around The Association
| | | | | |
| --- | --- | --- | --- | --- |
| Phoenix Suns | 104 | FINAL | 107 | Sacramento Kings |
---
MVP: DeMarcus Cousins overcame a hard shot to his left shoulder in the first half to lead the Kings to victory. The Kings' starting center recorded a double-double -- 27 points and 12 rebounds on efficient 9-of-18 shooting from the field.
Defining moment: With 40 seconds remaining and trailing by two, Kings reserve Travis Outlaw channeled his days as a Portland Trail Blazer. The veteran small forward swished a 15-foot, turnaround jumper at the top of the key to tie the game at 104. The Kings would force a turnover on the following possession, leading to two free throws by Isaiah Thomas to take a 106-104 lead.
X factor: Rebounds were the difference in this game. The Kings gave themselves extra opportunities by beating the Suns on the glass. Sacramento outrebounded Phoenix 48 to 31 in the three-point victory.
| | | | | |
| --- | --- | --- | --- | --- |
| Minnesota Timberwolves | 100 | FINAL | 104 | Washington Wizards |
---
MVP: John Wall. Tying a career high in assists (16) is one thing. Doing so while only turning the ball over once is what max players are made of in the NBA. Walls shot, as it often is, was off (5-for-17, 14 points), but Minnesota's defense respected his speed enough to leave Washington's shooters wide open.
LVP: Ricky Rubio had more turnovers (3) than he had assists (2). Rick Adelman, who knows something that we dont, blessed Rubio with only 19 minutes. Rubio was mysteriously shelved in favor of J.J. Barea for large stretches, including almost the entirety of the fourth quarter in a close game.
X factor: Martell Webster got paid in the offseason, in no small part due to Wall's predilection for finding his wing players for corner 3-pointers. With Trevor Ariza out, Webster rose from the dismal Wizards bench like a properly compensated basketball phoenix, scoring 17 points and shooting 5-for-10 from deep.
| | | | | |
| --- | --- | --- | --- | --- |
| Boston Celtics | 85 | FINAL | 109 | Houston Rockets |
---
MVP: Terrence Jones. The second-year forward is taking full advantage of his insertion in the starting lineup. Jones posted a career-high 24 points on 10-of-12 shooting and tacked on nine rebounds to lead the rout.
LVP: Jeff Green. Boston's leading scorer delivered his second straight subpar effort, mustering just four points in 22 minutes. Over his past two games, Green has averaged three points per contest and has shot a paltry 2-of-13 from the field.
X factor: Houston's offense. The Rockets couldn't miss in the first half, beating the Celtics down the floor for countless easy baskets in transition. The constant fast breaks helped Houston shoot a scorching 72.2 percent from the field and tally 36 points in the paint in the first half, putting the game away early for the hosts.
3. Tuesday's Best
Jones
Terrence Jones, Rockets:
Making the most of his new starting role, Jones is earning his time. He scored a career-high 24 points and grabbed nine rebounds as the Rockets routed the Celtics 109-84. Jones was 10-of-12 from the field for the Rockets, who are off to an 8-4 start.
4. Tuesday's Worst
The Boston Celtics: The kind of Boston performance those who are partial to elite lottery picks would like. Starters Jeff Green, Avery Bradley and Jordan Crawford combined to shoot 7-for-37 (18.9 percent) in the 109-85 loss to Houston that was over quicker than you can say "Wiggins."
7. Quote Of The Night
"If you have limitations, you have to be honest with yourself and self-assess. If you have those limitations, you have to figure out a way to be effective around those. You can't be stubborn about it. There's certain things that I used to do that I can't do now. I won't try to do them. You've got to figure out other ways."
-- Kobe Bryant, on judging how he might adjust to a more limited physical state when he returns to game action.
8. Call To Arms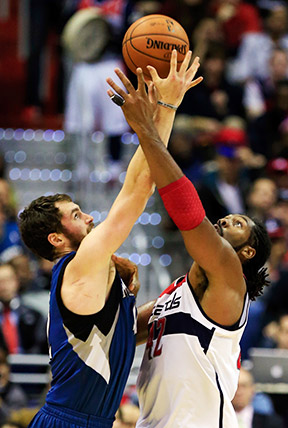 Rob Carr/Getty ImagesAfter Kevin Love and Nene Hilario did battle in the paint, the Wizards emerged with a 104-100 win over the Timberwolves.
9. Stat Check
By
ESPN Stats & Information
Wall
For the second time in his career, John Wall had 16 assists with just one turnover. He also did it on March 22, 2013. Since the start of last season, the only other player with 16 assists in a game in which he had one or fewer turnovers was Rajon Rondo on Nov. 25, 2012.
Around the Association
---
MVP: Rodney Stuckey was a spark plug off the bench for the Detroit Pistons, lighting up the Knicks for 21 points on 8-for-14 shooting. A slew of these looks came on the pick-and-roll, in which Stuckey also created buckets for his teammates, finishing with five assists.
LVP: Mike Woodson. Not a player, sure, but made head-scratching decision after head-scratching decision. No hack-a-Drummond? Playing J.R. Smith down the stretch? Playing zero point guards down the stretch? Poor choices all-around.
X factor: Josh Smith had a tough offensive outing, never finding his rhythm and ultimately forcing a ton of questionable shots. However, he deserves to be commended for his defense on Carmelo Anthony, who finished with seven turnovers and 8-for-20 shooting from the field.
-- David Vertsberger, TrueHoop
---
MVP: Chris Bosh dominated the Hawks, shooting 8-for-9 from the field for 19 points. He was all over the place and couldn't be stopped, getting five rebounds, a steal and a block in just 25 minutes.
Defining moment: Mario Chalmers scored nine points in a row for the Heat in the middle of the third quarter. It was at that moment the Hawks couldn't hold on to the ball and the Heat took control via Chalmers.
That was ... expected. Everybody expected the Heat to win and everybody expected the Hawks to keep it interesting. In the end, everything went to plan and the better team won.