1. Paul George Carries Franchise Forward, Fast
NEW YORK -- Nine years ago this week the Indiana Pacers were hit with what amounted to a basketball-version of an atomic bomb, a self-inflicted blow that leveled the franchise and left a years-long fallout.
The brawl in Detroit the week before Thanksgiving in 2004 was, of course, a low moment for the league that created a public relations and discipline disaster. For the Pacers it went deeper. Those reckless few minutes torpedoed a potential championship team.
Coming off a 61-win season where they lost in the conference finals, the Pacers had healthy and mid-prime stars Jermaine O'Neal, Ron Artest and Stephen Jackson plus a still productive Reggie Miller playing in his last season hoping to finally get his ring.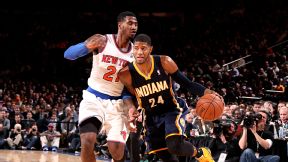 Nathaniel S. Butler/NBAE/Getty ImagesPaul George (35 points) got hot late and sank the reeling Knicks in overtime.
They'd beaten their rival Pistons that night, smothered them with their trademark defensive grit, on the road to go to 7-2. That team's future was intensely bright. But it all was tainted at the Palace of Auburn Hills and it quickly withered. They played .500 ball after the suspensions were lowered that season and then they finished the next six seasons a combined 56 games under .500.
It has taken them a decade, many humbling nights where they played in front of a largely empty house because their fan base had been so turned off, but the Pacers have taken themselves back to the same precipice.
This time, though, they have a different makeup. This time they have a different star.
Wednesday night the Pacers moved to 10-1 on the season with a 103-96 overtime win over the struggling New York Knicks. It was a reasonably interesting game that featured a late Pacers comeback, a controversial but ultimately correct whistle in the closing seconds of regulation, and a dominant closing effort by Paul George.
It was exactly the kind of game the Pacers have been assembled to win. They didn't do anything particularly well, especially shooting as they struggled to just 32 percent through three quarters and fell down by 13 points at one point.
But because of their makeup, which is to defend and rebound with relentlessness, they won on the road without their best stuff. And because they have George, who is turning out to be the personification of karma taking a major turn in this franchise's favor.
"That's one of the things [team president] Larry Bird sought out to build when he had to change the image of our franchise but when we were having problems and off-court issues and obviously the brawl," Pacers coach Frank Vogel said. "We changed our image based on high-character people but that didn't just stop with guys who weren't going to get in trouble off the basketball court. He wanted to build it around guys who cared about being team-first guys."
The Pacers never sunk to the bottom, never got lucky in the lottery and therefore never drafted higher than 10th in those lean years. That pick was George, who they had fallen so hard for in scouting that they were prepared to pass up hometown favorite Gordon Hayward in the 2010 draft. They got a raw and underdeveloped Hibbert with a 17th pick after a draft night trade in '08. They made another draft night trade for George Hill, gambling by giving up the pick that became Kawhi Leonard. They signed David West as a free agent when others were concerned about his knee. They took a risk on the checkered past of Lance Stephenson because Bird believed in him. All of those moves were aimed at Bird's mission for team building and all of them have worked out.
On Monday before the Pacers left for this road trip, ESPN's Stephen A. Smith went to Indianapolis to interview George for a segment on "SportsCenter." George, though, declined to be interviewed unless the rest of the team's starters were included, like a high-school star quarterback who insists giving credit to his offensive linemen.
No matter what you think of George's request that passively makes himself look like a good teammate, it very much fits into his nature and the identity of this Pacers team.
Being a good guy has limited value in the NBA. But George is also the type of player who can score 17 points in the fourth quarter and overtime, as he did Wednesday, and at the other end largely accept defending Carmelo Anthony by himself and hold Anthony to 1-of-10 shooting in the second half. It's hard to find that in the same package but the Pacers seem to have it with their prized 23-year-old.
"Whoever the best wing scorer on the court is, he's defending that guy for the entire time he's on the court," Vogel said. "So to be able to do that and the toll that takes on your legs and then to come down and carry the offensive load, very impressive."
Last year the role was thrust on George when teammate Danny Granger, the Pacers' resident No. 1 offensive option, went down with a major knee injury in the first week of the season. George wasn't totally ready to handle suddenly being the go-to guy. He was reluctant and the results, especially early in the season, showed.
If it was November 2012 and not November 2013, George wouldn't have carried the Pacers home with 35 points and Indiana would've lost Wednesday. They started last season 3-6 while they were in shellshock from losing Granger, not all that different from the Knicks' current nosedive after losing the valuable Tyson Chandler.
"Last year I would've deferred, I would've looked to have someone else take this role," George said of how the game's final minutes played out, with every single play being draw up for him. "This year, this time around, I'm going to be more aggressive. I'm more confident with myself. I had to learn myself."
By the end of last season George was already morphing. He went toe-to-toe with LeBron James in the Eastern Conference finals. James got the better of George, averaging 29 points, 7.3 rebounds and 5.3 assists on 51 percent shooting. Almost all of it came against George on defense. George averaged 19 points, six rebounds and five assists on 47 percent shooting.
In Game 1 of that series he drilled a 3-pointer to force overtime and then hit three clutch free throws to tie the game before James hit a game-winning layup just before the buzzer. He made three more huge free throws Wednesday to force overtime after drawing a foul on a 3-pointer with the Pacers down three in the final 10 seconds.
After the Heat took the Pacers out in Game 7 when George had one of his worst games of the season, scoring just seven points, he became obsessed with getting ready for the next chance. He'd been caught off guard by his role last season, this year was going to be different.
He spent the summer practicing shots that he might take at the end of close games, practicing creating space and making contested attempts. Much like his three jumpers in overtime that sunk the Knicks for a sixth straight home loss.
"He wasn't prepared to carry the load he ended up carrying last year because Danny's injury was unexpected," West said. "This year he understood what he was going to be asked to do and the weight that was going to be on his shoulders and it's showing right now."
Granger is still out, now felled by a calf injury that has been slow to heal. The Pacers, who have also dealt with an early-season injury to Hill, have still not been whole and still not totally hit their potential. But for the first time since Nov. 19, 2004, that ceiling realistically looks unlimited. The ultra-confident team knows it, as does their blossoming star.
"Most people are just born with it," George said. "I feel like I was born with it but I didn't know how to do it. I'm working on that, I'm learning how to do it."
Dimes past: November 3 | 4 | 5 | 6 | 7 | 10 | 11 | 12 | 13 | 14 | 17 | 18 | 19
ESPN Senior Writer
ESPN.com NBA writer since 2010
Covered Cleveland Cavs for seven years
Author of two books
3. Wednesday's Best
Ellis
Monta Ellis, Mavs:
Monta Ellis had a season-high 37 points and assisted on the go-ahead basket as the Dallas Mavericks rallied to beat the Houston Rockets 123-120. Maybe missing out on Dwight Howard and Deron Williams will be a blessing in disguise for Dallas.
4. Wednesday's Worst
The Cleveland Cavaliers: The Cavs are not hot. Starters not named Kyrie Irving combined to shoot 2-for-15 from the field in a 98-91 loss to the Wizards. When No. 1 pick Anthony Bennett entered the game in the fourth, he shot an air ball on a 3-point attempt. Sigh.
6. Tweet Of The Night
Mike Brown played 13 guys in tonight's Cavs loss. Andrew Bynum was -21 in 13 mins. Anthony Bennett now 5 for 37 on the season. CAVS FEVER!!!

— Bill Simmons (@BillSimmons) November 21, 2013
7. Quote Of The Night
"It's too early to panic. But me, personally, I'm panicking. I don't like this."
-- Knicks swingman J.R. Smith, after his team fell to 3-8 on the season.
8. Driving In Dallas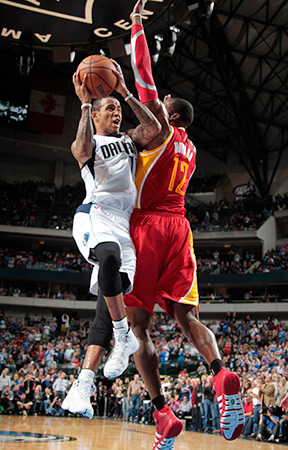 Danny Bollinger/NBAE/Getty ImagesMonta Ellis took it to Dwight Howard and the Rockets sinking 13 of 18 shots en route to 37 points. The Dallas newcomer also had eight assists for the 8-4 Mavericks.
9. Stat Check
By
ESPN Stats & Information
Some might say that the Brooklyn Nets are inventing new ways to lose: Case in point: They made 14-of-26 3-pointers, yet lost to the Detroit Pistons at home by 12 points. Teams that make at least 14 3-pointers and shoot 50 percent or better on those shots at home are now 76-7 over the last five seasons (including this game). They are one of only two teams to lose such a game by double figures in that span (Magic lost by 28 to the Heat earlier this season).