1. No Two-Party System In Oklahoma City's Win
OKLAHOMA CITY -- After losing their third-leading scorer for a second straight season, the generally accepted outlook on the Thunder often included something along the lines of, "Yeah, Russell Westbrook and Kevin Durant are good, but what about the other guys?"
There isn't a Kevin Martin on the roster anymore, much less a James Harden. While the Thunder still remain as front-loaded with talent as any team in the league, their depth has become the question mark surrounding their championship aspirations.
It's a hard question to answer in November, but in Thursday night's 105-91 win against the Los Angeles Clippers on Thursday, the Thunder's much-criticized second unit certainly said something.
"They don't got to prove themselves to us, they just got to play," Westbrook said of the young bench unit. "I think they've just got to do a good job of going out and competing. They're going to make mistakes like myself and other guys did when they were younger, as well, so they've just got to go out every night and compete."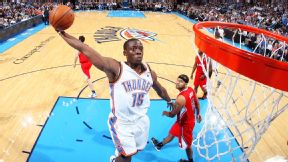 Layne Murdoch/NBAE/Getty ImagesReggie Jackson led the Thunder's second unit against the Clippers.
Everyone saw the struggles the Thunder had without Westbrook, both in the seven games they didn't have him last postseason and the two in the regular season this year. A lot of that was of the way teams stacked themselves against Durant, essentially using two and three defenders at times to guard him. It was obvious why: Opposing teams didn't fear anyone else on the roster the way they feared Westbrook.
But in the Thunder's win, OKC's second unit was the one doing the damage and extending leads. The Thunder led the game wire-to-wire, but the Clippers made a few pushes, threatening to make it close. Reggie Jackson answered those pushes with a couple of finishes in the paint and Jeremy Lamb splashed pretty jumpers off of pindowns. In total, OKC's bench accounted for 35 points, which is good, but the real impact can be found in these numbers: plus-9, plus-10, plus-11 and plus-14, the plus/minus for the Thunder's four key bench contributors -- Lamb, Steven Adams, Derek Fisher and Jackson, respectively.
"I thought our starters did a good job of setting the tone," Scott Brooks said. "Our second unit did a great job of coming in, and I think they increased the lead by five or six points. I have confidence in our guys, no matter who we throw out there, they've just got to play hard, play for the team, and we'll live with the results."
Four years ago, with four key players all under the age of 22, Durant nicknamed OKC's young bunch "Thunder U." Two of those guys -- Harden and Jeff Green -- are now playing for other teams, and the two remaining -- Durant and Westbrook -- are about as veteran as two 25-years-olds can be, having postseason scars and an NBA Finals appearance to their names. But now, the new Thunder U is OKC's bench mob, a group made up of mostly guys under the age of 23, with two veterans mixed in.
Adams -- a player Doc Rivers called "a hell of a draft pick" before the game -- was effective and active. Jackson, who has a little of the same look Harden had when he captained the Thunder's second unit, played steady and picked his spots to attack. Lamb made shots. Nick Collison, um, Nick Collisoned. Even Fisher made vital contributions, playing bulldog defense on Chris Paul and Jamal Crawford in the fourth quarter. It's not the same conventional, sixth-man system they've had the past few season, but instead OKC has more of a sixth-man-by-committee approach.
And look at it this way: Durant was his usual splendid self, scoring 28 on 10-of-19 shooting with eight assists. But Westbrook didn't overwhelm offensively, scoring just 12 points on a 5-of-13 night. Westbrook's presence obviously created a lot of opportunity in other areas, but there wasn't a reliance on OKC's two stars to get the job done.
It's a bit dicey to rely on so much youth, particularly in the postseason, but this has always been the Thunder model. The team that went to the Finals two seasons ago was led by 22- and 23-year-olds. If anyone understands that youth can prosper, it should be Brooks and the Thunder. This was general manager Sam Presti's gamble in the offseason when he elected to spend only on Fisher and Ryan Gomes, who has spent most of the season wearing dapper suits on the bench. Presti was counting on the team's philosophy to prevail, with internal development producing the depth they so desperately needed.
And though the calendar hasn't turned over to December yet, there are signs that maybe Presti knew what he was doing after all.
Dimes past: November 3 | 4 | 5 | 6 | 7 | 10 | 11 | 12 | 13 | 14 | 17 | 18 | 19 | 20
ESPN Staff Writer
Covers the Oklahoma City Thunder for ESPN.com
2. Around The Association
| | | | | |
| --- | --- | --- | --- | --- |
| Los Angeles Clippers | 91 | FINAL | 105 | Oklahoma City Thunder |
---
MVP: The Clippers had no answer for Kevin Durant (28 points, 8 assists), who was able to effortlessly break into the seams of their defense and find open cutters and 3-point shooters.
X factor: Points in the paint. The Thunder routinely got into the lane and won the paint war convincingly, 58-32. The Clippers, meanwhile, were stymied by OKCs length and athleticism and were often forced to settle for contested midrange jumpers.
That was ... anti-climactic: For a matchup that was billed as a potential preview of the Western Conference finals, this game was seemingly decided moments after the opening tip. The Thunder led from start to finish -- often by double-digits -- and exposed the Clippers defensive shortcomings.
| | | | | |
| --- | --- | --- | --- | --- |
| Chicago Bulls | 87 | FINAL | 97 | Denver Nuggets |
---
MVP: Jordan Hamilton. A group effort pushed the Nuggets over the Bulls, but Hamilton was key. He led Denver with 17 points off the bench and nailed two late 3-pointers to push Chicago off the edge.
X factor: The 3-point line. Nate Robinson and Hamilton opened the fourth quarter with four consecutive 3s, increasing Denver's lead to 21. Chicago never recovered.
LVP: Luol Deng. With Jimmy Butler injured, the Bulls were in dire need of wing production, but Deng was nowhere to be found. He shot an abysmal 3-of-18 from the floor and stymied Chicago's transition offense with his tunnel vision.
3. TrueHoop TV: Bradley Beal
4. Thursday's Best
Durant
Kevin Durant, Thunder:
KD had another efficient night in OKC's win over the Clippers, pouring in 28 points on 10-of-19 shooting to go along with 8 assists and 6 boards.
5. Thursday's Worst
Chicago Bulls: Maybe it was the altitude, but the Bulls looked out of gas in Denver. Chicago managed just 87 points on 39 percent shooting to snap a five-game win streak in the opener of a six-game road trip. Derrick Rose, who scored 15 points in the first half, scored just four the rest of the way.
8. Quote Of The Night
"The way we've played the last couple of games, with the ball movement and all that -- that was all gone tonight."
-- Clippers coach Doc Rivers, on his team's 105-91 loss to the Thunder on Thursday night.
9. Tall And Short Of It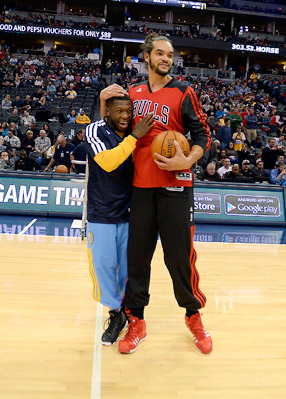 John Leyba/The Denver PostFormer teammates Nate Robinson and Joakim Noah reunited before the Nuggets and Bulls met up in Denver.
10. Stat Check
Griffin
Blake Griffin had 27 points and 10 rebounds in the Clippers' 105-91 loss Thursday to the Thunder in Oklahoma City.
It was Griffin's sixth straight 20-10 game, the longest active streak in the NBA.