1. Bulls Left To Renew Case For Strong Defense
LOS ANGELES -- The NBA by its nature is a league populated by stoics, a place where "No Excuses" can be found painted on the walls of practice facilities. So it wasn't a surprise to hear the Chicago Bulls reject any notion that the 121-82 thrashing at the hands of the Los Angeles Clippers on Sunday afternoon had anything to do with Derrick Rose's torn meniscus.
"Injuries are going to happen in this league," Bulls big man Taj Gibson said. "We have to push forward. He's going to do his job and get back healthy. We have to do our job, continue to try to play well and scratch out wins. Right now, there's no feeling sorry for ourselves."
The Bulls' steely head coach Tom Thibodeau isn't prone to expressions of vulnerability and he too deflected the suggestion that the 39-point loss was a team-wide wake for the loss of Rose.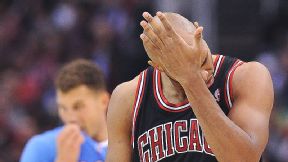 Kamin-Oncea/USA TODAY SportsTaj Gibson and the Bulls had their hands full in their first game without Derrick Rose.
"That's there," Thibodeau said. "We can use that if we choose, but nobody's going to feel sorry for us. We've got enough in that room to get it done. We have to turn it around tomorrow. We have to get ready to play and we have to come out with an edge."
Player after player in the Bulls' locker room sounded the same talking points: Rose was hurt. We all feel sick about it, especially given the year of work Rose put in to recover from his ACL tear, but none of that exonerates us from a performance like this. We've dealt with this before and we're a pretty good team in his absence.
Bulls center Joakim Noah shared some of this sentiment, but, as is often the case, the expressive big man revealed a more truthful glimpse into the psyche of a team that was clearly dejected by Rose's absence.
"We're human," Noah said. "We lost our best player to injury. You say, 'No excuses' and things like that, but this is a tough blow."
The Bulls hung with the Clippers for nearly two quarters, but with a little more than three minutes remaining before halftime, Clippers small forward Jared Dudley found space at the top of the floor beyond the arc and drained one of his four 3-pointers of the game.
"Jared [Dudley] came out on fire and I feel like that set the tone," Clippers coach Doc Rivers said. "He has really been wrestling with that knee and it's on his mind, so it was good to see him get off to a good start."
The Bulls were so disoriented defensively on the play that Blake Griffin found himself setting a flare screen on exactly nobody to free Dudley -- he didn't need to. Dudley finished with a team-high 21 points.
On the ensuing possession, an advance pass in transition found Griffin in the open court. Griffin drove to the basket and finished at the rim practically carrying Kirk Hinrich on his right shoulder. The and-1 amped up Griffin, the crowd at Staples Center and prompted a Bulls' timeout. From there, the Clippers' 12-point lead ballooned, and the 39-point margin at the final buzzer entered the Clippers' record book as the most lopsided win in franchise history.
Every Clippers starter shot better than 60 percent from the field and each was able to watch the final 14 minutes from the bench, a first this season for a 9-5 team that hasn't enjoyed many blowouts.
The Bulls aren't accustomed to being at the receiving end of such a beating, particularly on the defensive end. They came into Sunday's game as the NBA's third-ranked defense, and Rose's absence shouldn't adversely affect them on that account. It didn't last season when they finished No. 5 in points allowed per possession.
While there's little question that Rose's absence drops the Bulls from potential contender to a team looking up -- probably way up -- at Miami and Indiana in the Eastern Conference, it's reasonable to believe that the Bulls, even without Rose, are still the East's third-best squad. For a team back East, a top-5 defense will likely translate into May basketball.
"We've done it before," Thibodeau said. "This is year No. 3, so we've got experience doing it. We've got to get the fight. That's the first part of it -- the determination, the fight and the will -- which we can. The core of the team in [the locker room] is the same core we had last year."
"This team has already shown it has the capability to be a great defensive team, so I expect that. That wasn't reliant on one person. That's reliant on everybody doing their job."
So long as Thibodeau is presiding over the Bulls' defense, they're unlikely to be a lottery team in the Eastern Conference. The Bulls are a supremely professional outfit that places a premium on preparation and mastery of their defensive systems.
That's why calls to push the detonator on the Bulls' roster seem futile. That's not to say the front office in Chicago shouldn't look for opportunities to get out from under outsized contracts or procure draft picks -- propositions they entertained before Rose went down -- but the defensive system in Chicago probably makes the Bulls tank-proof.
Is biding another season waiting for Rose to recover from knee surgery an attractive option for Chicago? No, but that's what there is. Sometimes in the NBA you have to turn purgatory into a temporary residence.
Dimes past: November 3 | 4 | 5 | 6 | 7 | 10 | 11 | 12 | 13 | 14 | 17 | 18 | 19 | 20 | 21
ESPN Staff Writer
NBA writer for ESPN.com since 2008
Former contributor and editor at NPR
3. Sunday's Best
Los Angeles Clippers:
The record-setting 121-82 rout of the Bulls occasioned the return of Antawn Jamison, who made his 16th NBA season debut 11 points. The Clippers surpassed their 33-point victory over the Bulls on Feb. 17, 1981, back when the club played in San Diego.
4. Sunday's Worst
The Brooklyn Nets: It was just a matter of time before this seasoned crew gained sole possession of … last place in the Atlantic? Yep, the Detroit Pistons' 109-97 victory sent the Nets to a fifth straight loss in a division led by the 6-7 Toronto Raptors.
7. Quote Of The Night
"I think everybody in here is embarrassed."
-- Kevin Garnett, after his Nets team sunk to 3-10 with a home loss to the Pistons.
8. Stepping In For Slam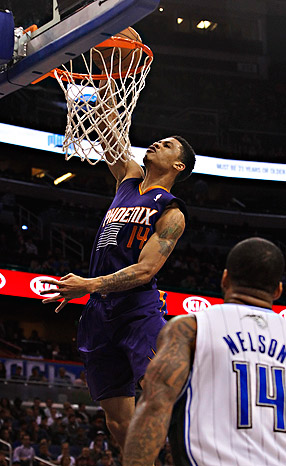 Kim Klement/USA TODAY SportsGerald Green slammed home two of his 20 points in the Suns' 104-96 win over the Magic. Green also had eight rebounds in filling in for Eric Bledsoe, out with a bruised shin.
9. Stat Check
By
ESPN Stats & Information
Some might say that the Brooklyn Nets are inventing new ways to lose: Case in point: They made 14-of-26 3-pointers, yet lost to the Detroit Pistons at home by 12 points. Teams that make at least 14 3-pointers and shoot 50 percent or better on those shots at home are now 76-7 over the last five seasons (including this game). They are one of only two teams to lose such a game by double figures in that span (Magic lost by 28 to the Heat earlier this season).