1. Trail Blazers Learning To Play With A Lead
By
Danny Nowell
| TrueHoop Network
PORTLAND, Ore. -- Throughout the Portland Trail Blazers' 11-game win streak, there has been drama. There have been double-digit deficits, and after their hard-fought comeback against Golden State, shoving matches, ejections and suspensions. But Monday night's visit from the ailing and unstable New York Knicks was mostly absent of that drama, even if it was yet another reflection of how successful the Blazers' rapid rebuild has been since the start of last season.
Not two full seasons have passed since the Blazers were the team buckling under their own dysfunction; as most Portland fans have committed to memory, the 2011-2012 squad started 7-2 before the team succumbed to injuries, rumors of locker-room insurrection and general despair. That Portland has wiped that season from recent memory would be feat enough; that they are holding steady with the league's third-best record makes it doubly impressive.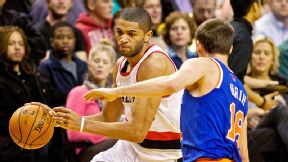 Craig Mitchelldyer/USA TODAY SportsNicolas Batum had 23 points, seven rebounds and six assists for the Blazers, who are riding their longest winning streak since they won 13 straight in December 2007.
Against New York, Portland got off to a fast start that never quite slowed. The Blazers feasted on the Knicks' lackadaisical defense in the early going, as the typically fluid Nicolas Batum bullied defenders for postups and Damian Lillard at one point waltzed down the wide-open lane for a rare dunk. The Knicks briefly closed the gap to nine points in the fourth quarter as Portland eased off the gas, but that was as much comeback as they could muster.
The engine of the Portland attack has been, and remains, its torrid 3-point shooting. The Blazers are shooting a head-turning 41.8 percent from deep on the season, and cooled down only slightly to 36 percent on Monday night. The Blazers' offense right now is a hydra: shooting guard Wesley Matthews entered Monday night's game leading NBA guards in effective field goal percentage, Western Conference Player of the Week LaMarcus Aldridge followed a 30-point, 20-rebound effort in Golden State with 18 and 14 against the Knicks, Batum is third among forwards with five assists a game, and Lillard averages just a shade more than 20 points a game.
Portland combines that offensive production with a defense that currently ranks 12th in the league in terms of defensive rating, thanks in large part to the stellar play of new starting center Robin Lopez. The pairing of elite offense with rapidly improving defense means that the Blazers may be primed to exceed expectations of merely snaring a playoff seed.
Meanwhile, the Knicks are doing their part to keep New York City's spirits dismal. Both the Knicks and Nets now sit at 3-10, and while the Nets can hope that their (slightly) longer list of injuries improves, their Manhattan counterparts seem relatively trapped.
Carmelo Anthony led all scorers with an engaged and exceedingly professional 34 points and 15 rebounds, but even his efforts seem mostly wasted. Each time he spun into the help to finish another tough and-1 or pivoted a fourth time on a post-up, Anthony seemed the very embodiment of frustration for a team so laden with salaries and aging veterans that they have little recourse but to double down on their present direction.
The Blazers have, over the past season and change, cultivated a reputation for comebacks and close games. Even last year, as the team won a paltry 33 games, the Blazers often seemed to find themselves storming back from big leads; in their two wins preceding Monday night, the Trail Blazers racked up deficits of 21 and 14 points. But with new success comes new challenges, and the Blazers are now trying to exchange a bit of the excitement for more balanced efforts.
"One of the things that we've been concerned about was how we started games. … I was really pleased with the way we set the tone in the first quarter," Blazers coach Terry Stotts said. "We're a little disappointed we let them get back in it. … It's learning to play with a lead. It's difficult in this league. You see teams give up leads a lot, and they made their runs but were never really in a position of striking distance."
It was a sentiment that echoed throughout the locker room, as almost every Blazer offered some variation on the theme. Said Wesley Matthews: "We've already proven we can play when we're down, that we can play in close games, now we got to get better playing when we're up. That's what San Antonio does, that's what the Heat do, that's what OKC does. Those are the upper echelon teams. … If we want to be in that group, when we get you down, we've got to keep you down."
This current Blazers squad may be in the early stages of coalescing, but they're showing that the ceiling may be higher than most would have projected. And as the Knicks demonstrated, having to adapt to playing from ahead is an enviable position to be in. As Aldridge summed up the Blazers' learning efforts: "It's definitely a real good problem to have right now."
Danny Nowell writes for the TrueHoop Network. Follow him on Twitter dmnowell
Dimes past: November 3 | 4 | 5 | 6 | 7 | 10 | 11 | 12 | 13 | 14 | 17 | 18 | 19 | 20 | 21 | 24
3. Monday's Best
James
LeBron James, Heat:
James scored 35 points on only 14 shots as the Heat won their seventh straight game, beating the Phoenix Suns 107-92 on Monday night. He made 11 of 14 shots from the field, shot 11 for 11 from the foul line for the second time in a week.
4. Monday's Worst
The Chicago Bulls: What other indignities must the Bulls endure? First, they lose Derrick Rose for the season -- again. Then, playing their fourth game in five nights, the Bulls lost to the one-win Jazz in overtime 89-83. Making 1 of 14 3-point attempts did not help matters.
7. Quote Of The Night
"I think this team is jelling together better than any other team I've been on."
-- LaMarcus Aldridge, whose Portland team earned its 11th straight win on Monday.
8. Exchange Of Views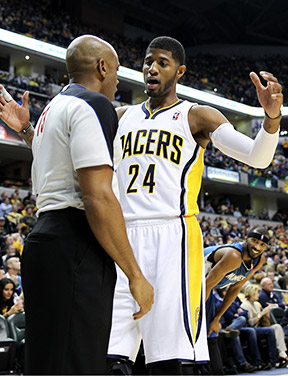 Pat Lovell/USA TODAY SportsPaul George, who had some views to share with referee Tre Maddox early on, scored 11 of his 26 points during a decisive second-half stretch that allowed Indiana to pull away from Minnesota 98-84. Indy is 13-1.
9. Stat Check
Seven San Antonio Spurs scored in double-figures, led by Manu Ginobilis 16 points, in a victory over the New Orleans Pelicans. San Antonio is now 131, having won each of its last 11 games. This is the Spurs' fifth single-season streak of at least 11 consecutive wins since the start of the 2010-11 campaign -- San Antonio had a 12-win streak in 2010-11, two 11-win streaks in 2011-12, and an 11-win streak last season. The Spurs are the only team in NBA history with a winning streak of more than 10 games in four straight seasons.
Around the Association
---
MVP: Ty Lawson had a shockingly quiet 19 points and 11 assists. In an 11-man rotation, Lawson is the stabilizing force. Dallas could not contain his penetration or contest his shooting, and it opened the floor for his teammates.
X factor: Undersized center J.J. Hickson punished Dallas' defense to the tune of 22 points and eight rebounds. Hickson made a living getting into the teeth of the Mavs' defense, hitting seven of his eight shots in the paint.
Defining moment: With nine minues left in the fourth quarter, Denver called a timeout, having seen a 15-point lead slowly shrink to four. Nate Robinson responded with an 11-2 run to effectively put the game out of reach.
-- Kirk Henderson, TrueHoop Network
---
MVP: Gordon Hayward had a forgettable shooting night but compiled 15 points, six rebounds and 12 of Utah's 22 assists while leading the game floor time with a stifling 47 minutes.
LVP: Chicago's point guard rotation. The Kirk Hinrich-Marquis Teague-Mike James trio scored a collective three points to their four turnovers, gutting the Bulls' offense before it could get started.
X factor: The Jazz are the NBA's least accurate squad from beyond the arc with a 29.3 percent conversion rate. Monday night, they shot 41.2 percent from 3-point territory while the Bulls missed on 12 of their 13 attempts.