1. Nene, Wall Soaring For Revived Wizards
By
Kyle Weidie
| TrueHoop Network
WASHINGTON, D.C. -- Two weeks ago, Nene Hilario said that his young Washington Wizards teammates needed to "take their heads out their butts and play the right way." He later apologized for saying such publicly, but the message seemingly did the trick -- for the unnamed targets of his words to some extent, but especially for Nene. Since then, the 12-year veteran has been on a tear, tallying three 20-point games and, on Tuesday night, a career-high 30 points in Washington's 116-111 win over the visiting Los Angeles Lakers.
You could speculate that John Wall was one recipient of Nene's words. It wouldn't be the first time a veteran Wizards big man stepped up to say something to him; Emeka Okafor did so last season. After Nene aired his frustrations to the media, Wall has won the Eastern Conference player of the week award, scored 99 points over the past three games, and most notably, the Wizards have won four out of five.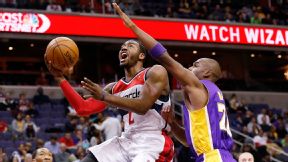 Geoff Burke/USA TODAY SportsJohn Wall and the Wizards could be emerging from a rough run of futility.
"Ever since that altercation -- everybody thought it was big when he called out the young guys -- Nene's been playing great basketball for our team. And that's something we need," Wall said after Nene's big night against Los Angeles. "We like the effort he's giving us on defense and offense, and you just gotta keep it going for the rest of the season."
Coming into D.C. in an arena half-full with their own fans and riding a three-game winning streak, Lakers guards Steve Blake and Jordan Farmar did their best to admirably get the Mike D'Antoni offense moving, as did Pau Gasol with eight assists. But Nene and Wall, along with Marcin Gortat and Martell Webster, were too much. The Wizards made a concerted effort to run offense through Nene in the post from the tip, and when not practicing more patience in the half court, Wall turned on his boosters and led his team to outpace L.A. 21-7 in fastbreak points.
"We know our team is deadly in transition," said Wall, whose team ranks second in the league in fast-break points per game. "But whenever we're not in transition, we definitely want to get the ball inside-outside in a half-court situation, because we know we have two great low-post presences [Nene and Gortat] that can score the ball and are willing passers."
It was Wall's efforts in the half court which came through late, 11 of his 31 points came in the final 4:40 of action in a five-point victory.
Nene was equally complimentary of his young teammate. "I'm more happy for John. Because, man, that kid's been balling in the last weeks. To have this conversation, he understands his position. And he puts everybody on the spot [on offense]. He reads [the defense] right."
After ever-looming injury question marks last season, Wall and Nene are finally on a healthy streak. On nights like Tuesday against the road-tripping Lakers, they are enough to make Washington competitive. But the duo often combining for 61 points isn't sustainable. Despite improving chemistry among teammates, the Wizards have major issues in the personnel department and a coach, Randy Wittman, with nary an option past logging heavy minutes to a tight rotation of players just 14 games into the season.
Wittman's Wizards woke up to bad news on Tuesday morning. Stud sophomore guard Bradley Beal was declared out at least two weeks due to a stress injury in his right fibula. A similar injury to the same fibula caused Beal to miss the end of his rookie season and much of this past summer. Beal was leading the Wizards in scoring and was responsible for 30 percent of the made 3-pointers on a top-10 NBA 3-point shooting team. Beal was also leading the NBA in average minutes and distance traveled per game (that last stat thanks to the NBA's player-tracking camera technology).
A maldeveloped roster and injuries otherwise were already forcing Wittman to turn to unheard of bench units. The last couple of games have prominently featured just Eric Maynor, Garrett Temple and Jan Vesely off the pine. Yes, those three. In the past five games, Washington's bench has managed only 46 total points. But they've managed to win four of those games.
Logging heavy time likely contributed to Beal's injury, just as prematurely playing on a sprained ankle last season led to his original stress injury. Wall missed the first 33 games of last season due to a stress injury to his left patella. Welcome to Washington, where basketballs are always dribbled on eggshells and coaching for one's life literally stresses players out to the bone.
More from ESPN.com
• McMenamin: Lakers' seesaw
• Lowe: Kobe's crippling deal
• Goodman: Marcus Smart No. 1?
• Below the Rim: Jason Whitlock

"This was just another gut, you know, pull out a game. Tight game, it's anybody's game coming down the stretch," Wittman said from a position of postgame relief. He'll have at least 60 more games this season, and they won't all be relieving.
A win was much more important to the now 6-8 Wizards than the loss was detrimental to the now 7-8 Lakers. For a change, the pressure is greater in Washington. "Playoffs or bust" has been bandied about so much that Wizards team owner, Ted Leonsis, recently philosophized: "Playoffs or bust, what does that mean? Shut the team down if we don't make the playoffs for the Wizards?"
For the coach of his basketball team, it means everything. Wittman, and more prominently, Ernie Grunfeld, who has run Washington's basketball operations since 2003, are both in the last seasons of their current contracts.
The Wizards finally have the right talent under a much-improved culture with heads in the right place, leaving those in the organization top-down praying for health since the preseason. Unfortunately, what it takes for Washington to stay afloat now might cause the ship to sink later. Until then, at least the John Wall and Nene Show (and Bradley Beal, whenever he returns) provides the nation's capital with its best pro basketball product in years.
Kyle Weidie writes for Truth About It, part of the TrueHoop Network.
Dimes past: November 5 | 6 | 7 | 10 | 11 | 12 | 13 | 14 | 17 | 18 | 19 | 20 | 21 | 24 | 25
Around The Association
| | | | | |
| --- | --- | --- | --- | --- |
| Golden State Warriors | 102 | FINAL | 101 | New Orleans Pelicans |
---
MVP: Every time the Pelicans made a run to get them back in the game or take a lead, Klay Thompson hit a big shot to quiet the crowd. Thompson finished the game with a team-high 22 points, dished out eight assists and played fantastic defense throughout.
X factor: With Andrew Bogut serving a one-game suspension, Jermaine O'Neal was thrust into the starting lineup and played like it was 2002. He hit his first six shots and finished the game with 18 points on just 12 shots while ripping down a team-high eight rebounds.
That was ... heartbreaking: Pelicans fans were on their feet as Jrue Holiday found a wide-open Eric Gordon in the corner with time winding down and New Orleans trailing by one. The shot seemed to hang in the air for an eternity, but it wasn't to be.
| | | | | |
| --- | --- | --- | --- | --- |
| Orlando Magic | 109 | FINAL | 92 | Atlanta Hawks |
---
MVP: He only had eight points and 10 assists, but Jameer Nelson was the catalyst behind the Magic's blowout victory over the Hawks. He picked apart Atlanta's defense in the third quarter and changed the complexion of the game.
X factor: Andrew Nicholson (18 points on 8-for-11 shooting) and E'Twaun Moore (12 points on 5-for-8 shooting) each gave Orlando a nice boost coming off the bench. Not just by scoring, but doing it efficiently.
That was ... a long time coming: With the win, the Magic snapped an 11-game regular-season losing streak against Atlanta. And the last time Orlando beat the Hawks on the road in a regular-season game? Four years to this day.
| | | | | |
| --- | --- | --- | --- | --- |
| Brooklyn Nets | 102 | FINAL | 100 | Toronto Raptors |
---
MVP: Can we say nobody? The Nets won but nearly choked it away late as everyone went cold. Andray Blatche, with 24 points on 10-of-16 shooting, gets it by default.
Defining moment: Following a terrible game, Rudy Gay hit a huge 3-pointer with 23.7 seconds left, because of course he did. He then passed on the final possession … for an Amir Johnson corner 3-pointer. Can't predict ball.
LVP: It's unfortunate to have to pile on Rudy Gay right now but Tuesday was one of his worst games of the season. He finished with nine points on 3-of-12 shooting with seven turnovers.
3. Tuesday's Best
Wall
John Wall, Wizards:
If the season ended today, the Wizards would be back in the playoffs, thanks to Wall. He had 31 points and nine assists in the 116-111 victory over the Lakers. Wall was on target, going 10-for-18 from the field and making 11 of 12 free throws.
4. Tuesday's Worst
Gay
Rudy Gay, Raptors: If these Raptors are serious about winning this Atlantic Division with the best losing record of 'em all, Gay better do better than the seven turnovers and 3-for-12 shooting he had in the 102-100 loss to the Nets.
7. Quote Of The Night
"They're fans and they have good intentions and kind of a good spirit about it, but I don't think they understand the cap or what strategically they're trying to do better than the Lakers do. So, I think we'll be all right."
-- Kobe Bryant, addressing fans' concerns that his $48.5 million contract will prevent the Lakers from signing any other significant talent under the salary cap.
8. To The Brow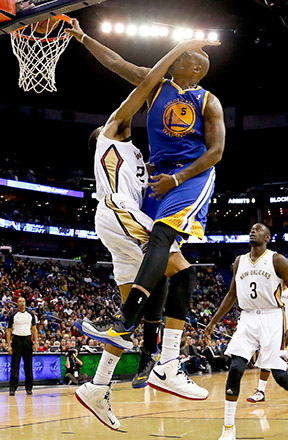 Derick E. Hingle/USA TODAY SportsWarriors forward Marreese Speights dunks over Anthony Davis during the second half of the Warriors' 102-101 win in New Orleans.
9. Stat Check
O'Neal
Jermaine O'Neal made each of his first seven field-goal attempts and finished with 18 points in the Golden State Warriors' win over the New Orleans Pelicans. It was only the second time in O'Neal's 977-game NBA career that he converted each of his first seven shots from the field. He also started 7-for-7 on Nov. 6, 2009 when he was playing for the Heat; in that game four years ago versus the Nuggets, just like on Tuesday night, he missed his eighth shot and ended the night with 18 points.