1. LeBron Returns To Find Heir Struggling
CLEVELAND -- The Cleveland crowd that three years ago scarred the Heat with the mother lode of rancor -- "That wasn't a basketball game, that was a movie," Wade said -- mostly lost its teeth. The game was listed as a sellout, but there were rows of empty seats in the rafters. James was periodically booed, but cheers rang through at times, and it was hard to miss the enlarged number of fans in Heat jerseys milling about freely.
Kyrie Irving meandered through a 6-of-19 shooting night and did nothing remarkable, generally the exact opposite of the standard he set during his meteoric rise following his selection as the No. 1 pick in the 2011 draft.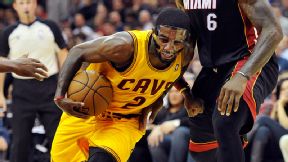 David Richard/USA TODAY SportsKyrie Irving has found the going tough lately as the new Cleveland savoir.
The Cavs are now 4-11 to start a season they believed would be their turnaround and they've got plenty of problems. Their latest No. 1 pick, Anthony Bennett, is currently not playing while he's nurtured following a disastrous beginning. Their options at small forward, James' most natural position, are severely lacking. Their offense has wheezed along because new coach Mike Brown has focused so much on defense, which is improved, but that is to say it's gone to middle of the pack from dead last.
But the heart of the issue and the reason the Heat don't seem to fear the Cavs' possible poaching of James, is that Irving is suffering from an unexpected lack of moxie. This can't-miss kid is in the midst of a malaise that seems to be as puzzling as it is far-reaching.
"They're all struggling, and it's trickled down to him as well," James said of Irving. "They're trying to find their identity."
Since Irving's fantastic performance in his first All-Star Game -- he scored 15 points and put on a display of dribbling and passing skills as a 20-year-old first-timer -- he's not exactly been the same player. Since that weekend last season in Houston when he seemed to verify his status as an elite player, his game has taken an unmistakable slide.
His first season and a half in the league, Irving shot 47 percent, a number that was impressive for a young point guard who is the center of the offense. He's shot just 41 percent since. He was averaging nearly 24 points a game before the All-Star break last season. He's dipped to 20 per since.
"It's always frustrating when you're not making shots," Irving said. "I haven't been shooting well, it's part of the game, it's the law of averages."
Deeper than the numbers, Irving looked to be primed to take the leap that so many players do in their third seasons in the league. James made first team All-NBA in his third year. Wade won a championship. Rose won the MVP. Most recently, Paul George announced his arrival as a star. There are many more examples. Irving is totally off that sort of pace.
He often plays frustrated. He's been forcing shots when he's covered and he missed shots when he's open. He's developed a habit of dominating the ball, not because he's selfish, but because he's doesn't seem to trust his teammates at times.
He is expected to be the leader of the team, but he's already gotten into an exchange with his coach on the bench and gotten into it with teammate Dion Waiters at a players-only meeting (that Irving called). As it is, Irving and Waiters show very little chemistry, and the reports of the Cavs being involved in trade talks with Waiters did not come as a surprise to those who have been watching the two interact.
Irving is playing with a coach who makes demands he's not familiar with, and, for the first time in his life he says, he is playing with a true post-up center in Andrew Bynum. The Cavs' Bynum experiment is slowly showing fruit -- he had 16 points over the weekend in San Antonio while playing on the second night of a back-to-back -- but he and Irving have no chemistry.
Waiters, knowing he was playing on national television while at the center of trade speculation, at least played with the vigor against the Heat and scored a season-high 24 points as he attacked the Heat's defense.
Even though the Cavs had an obvious advantage with the undersized Chris Bosh on Bynum on Wednesday, Irving didn't look to have much feel for getting him the ball where he could be effective. In the point guard's defense, neither did the rest of the team.
"I've been getting in early and I've been staying late," Irving said. "I guarantee you once I get over this hump, there will be no looking back."
There's no question he's got the talent to do it. It isn't just the Cavs who are high on his future or the top men in the profession. It's James himself. But none of them are seeing what they expect from Irving in what is a crucial spot in his career so far.
"They have some pieces here, I know Mike [Brown] is pushing him to be better," James said. "We'll see what happens."
Needless to say, that is not the type of endorsement the Cavs were hoping for.
Dimes past: November 6 | 7 | 10 | 11 | 12 | 13 | 14 | 17 | 18 | 19 | 20 | 21 | 24 | 25 | 26
ESPN Senior Writer
ESPN.com NBA writer since 2010
Covered Cleveland Cavs for seven years
Author of two books
3. Wednesday's Best
Dragic
Goran Dragic, Suns:
Dragic pushed the pace, and pushed the Blazers off their 11-game win streak en route to a 120-106 win. Dragic scored 31 points and had 10 assists, fueling a 40-point second quarter with the kind of skills that mesmerized onlookers in Game 3 of the 2010 West semifinals.
4. Wednesday's Worst
Brooklyn Nets: If the Nets can't mop the floor with the opposition, at least they can cause the floor to be mopped. Aside from the spillage shenanigans, Boston refugees Kevin Garnett and Paul Pierce combined to shoot 6-for-22 from the field in a 99-94 loss to the Los Angeles Lakers.
6. Tweet Of The Night
If I ever become a coach, I'm using that drink spill trick...

— Andre Iguodala (@andre) November 28, 2013
7. Quote Of The Night
"Cup slipped out of my hand while I was getting Ty. Sweaty palms. I was never good with the ball."
-- Nets coach Jason Kidd, his team out of timeouts late in the game, appeared to say "hit me" to point guard Tyshawn Taylor in order to stop the game so the team could draw up a last-second offensive play. His team lost to the Lakers anyway.
8. Snappy Approach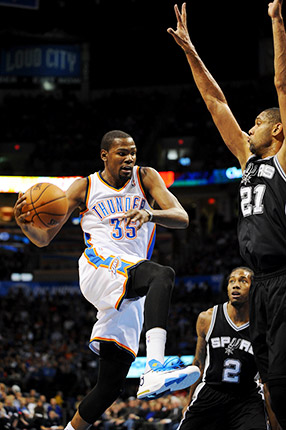 Mark D. Smith/USA TODAY SportsKevin Durant and the Thunder managed to get by Tim Duncan to earn a 94-88 win over San Antonio that snapped the Spurs' 11-game winning streak.
9. Stat Check
The Phoenix Suns snapped Portland's 11-game winning streak after the San Antonio Spurs saw their 11-game winning streak fall at Oklahoma City earlier on Wednesday. It was the first time in NBA history that two teams had winning streaks of 11 or more games end on the same day.