1. Pacers Win Behind Their Firm Convictions
LOS ANGELES -- Three times on Sunday afternoon, Los Angeles Clippers center DeAndre Jordan went airborne to catch a floating lob from Chris Paul, then ravaged the rim to consummate the alley-oop.
The Indiana Pacers never called timeout to quell the momentum or the invigorated Staples Center crowd. They price plays like these into the game, so they shrugged it off and moved on.
"We're not going to be able to take that lob away," Pacers small forward Paul George said. "It's part of their team's whole motto. It's something we have to give up. We're not going to give up 3s. We're not going to let their shooters get hot. We're going to do a good job of staying home and protecting the paint."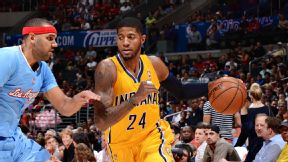 Noah Graham/Getty ImagesPaul George's 27 points helped improved Indy's best start in franchise history to 16-1.
The way the Pacers see it, these moments are emotional boosts for your opponent only if you let them be. Indiana happily yielded a few style points to the Clippers in exchange for a 105-100 win, its 16th victory in 17 outings out of the gate.
The starting unit was typically stingy, giving up only 45 points on 50 possessions. George, Roy Hibbert, David West, Lance Stephenson and George Hill are the league's best defensive high-usage lineup -- and over the past two seasons have established the most dominant defense since the halcyon days of the Celtics' new Big Three.
That's why Pacers coach Frank Vogel never considered implementing Hack-a-DeAndre when the Clippers staged a comeback in the fourth quarter.
"We're the best defense in the world," Vogel said. "We trust our ability to get stops."
When a defense has convictions, it doesn't need gimmicks. When guarding the half court, the Pacers are essentially error-free. Snipers like Clippers' supersub Jamal Crawford are rarely left unaccounted for in transition. On the off chance the opponent finds a good shot against the Pacers, it's usually an unforced error. Indiana leverages Hibbert's presence inside by smothering the perimeter. For some teams, playing up and closing hard on shooters presents the risk of a blow-by, but Hibbert is the league's best insurance policy.
"I tell the guys, if they get beat, I'll be there to clean it up," Hibbert said.
It's a style more in line with vintage Spurs' defenses and Stan Van Gundy's Magic teams built around Dwight Howard. The Pacers avoid rotations at all costs -- alley-oops be damned -- and deploy their length to patrol the gaps and to close mercilessly, a strategy made easier when a 7-foot-2 rim protector with razor-sharp instincts lies in wait.
Prior to the game, Clippers coach Doc Rivers characterized the Pacers as a team that's "over themselves." Egos have been sublimated for a larger good, and the result has been the kind of tranquility that generally surrounds only the best, most self-possessed teams. The offense still needs to prove it can run efficiently for long stretches, but the Pacers have the texture of a contender.
The Pacers are still fundamentally a deliberate, work-for-a-shot squad that ranks just about league average in offensive efficiency. Given where the league's strategic leanings are right now -- stretchier personnel with offenses more inclined to find shots on the perimeter rather than touches inside -- the Pacers' brand of paintball is unique. They like to pair a post feed into West with a perimeter action like a flare screen or a pindown on the weak side.
Meanwhile, George is now an electric current that can grab hold of a game. He has grown infinitely more comfortable working with screens both on and off the ball to hunt a shot at spots he likes. He led all scorers with 27 points (10-for-13 from the floor, 3-for-3 from the line), and staged a fun mano-a-mano sequence with Paul at the conclusion of the first half. George hit a jumper while falling to his left for an and-1, so Paul answered with a twisting layup after beating Hill off the dribble. Paul delivered one of the aforementioned alley-oops to Jordan, so George pulled up for a 3-pointer off a high screen.
The Clippers now head east for a seven-game, 11-day slog without J.J. Redick, who will be sidelined for six to eight weeks with a tear of his right ulnar collateral ligament after taking a spill at Sacramento on Friday. It's an enormous blow for a team that's designed an offense predicated on Redick's motion in the half court.
"Almost every action we run had something to do with him moving," Rivers said prior to the game.
In his first season in the NBA as a full-time starter, Redick leads the Clippers' regulars in plus-minus, and his 18.46 Player Efficiency Rating (PER) shatters his previous best two seasons ago. He's one of the league's most effective decongestants, and that constant motion helped elevate the Clippers' offense over the first 17 games of the season to one of the league's most attractive.
Willie Green will start in Redick's absence. Professional is the most common attribute assigned to Green by his teammates and the Clippers' staff. But no matter how buttoned-up his manner, the Clippers can't throttle the offense and run the defense ragged with Green, who demands only a fraction of the attention Redick does in the half court. Stephenson was the weakside rover all afternoon against a Clippers' starting unit that couldn't find a lot of quality looks in their possession offense. Very little of that can be laid at Green's heavier feet, but the Clippers' most efficient output came from their reserves.
The Clippers roared back from a 14-point deficit on Sunday and didn't play poorly under the circumstances. Unfortunately, the Western Conference isn't forgiving of circumstance. A lengthy stretch of .500 ball could drop a team to the No. 5 or 6 seed -- far below what the Clippers expected of themselves.
Dimes past: November 11 | 12 | 13 | 14 | 17 | 18 | 19 | 20 | 21 | 24 | 25 | 26 | 27 | 28
ESPN Staff Writer
NBA writer for ESPN.com since 2008
Former contributor and editor at NPR
2. Around The Association
3. Sunday's Best
Durant
Kevin Durant, Thunder:
Ball, and some stats, don't lie. Durant exploded for 32 points (14-for-21 FG, 1-for-2 FT), 12 assists, and 10 boards to notch his first triple-double of the season in a 113-103 win over the Wolves. He almost recorded a 5x5, also recording four blocks and four steals.
4. Sunday's Worst
Gasol
Pau Gasol, Lakers: Battling some nagging injury issues, Gasol missed nine of his 10 shots in the first half before finishing with six points on 3-of-15 shooting in the 114-108 loss to the Trail Blazers. His ankle is slated for an MRI. Will Kobe ride to the rescue on Friday?
7. Quote Of The Night
"We're the best defense in the world."
-- Pacers coach Frank Vogel, after his team moved to 16-1 on the season.
8. Disrupt-A-Dre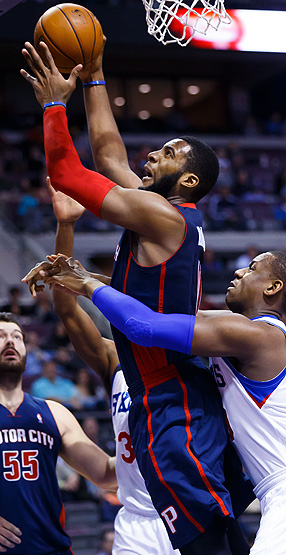 Rick Osentoski/USA TODAY SportsPistons center Andre Drummond became the first player to have 31 points, 19 rebounds and six steals in a game since Hakeem Olajuwon in 1990. His Pistons beat the Sixers, but missed 7 of 18 free throws facing intentional fouls.
9. Stat Check
Kevin Durant became the first player with at least 30 points, 10 rebounds, 10 assists, 4 steals and 4 blocked shots in a regular-season game since Michael Jordan against the Pistons on January 16, 1988. Durant and Jordan are the only players to hit all those benchmarks in the same game since blocks and steals became an official stat in the 1973-1974 season.
Around the Association
---
MVP: Timofey Mozgov. No, really. The much-maligned big man had 16 points and 15 rebounds, and his interior defense helped slow down Jonas Valanciunas after a hot start as well as deter the Raptors' athletic slashers from getting inside.
X factor: Nate Robinson, the smallest man on the court, came up big in the fourth quarter, when he scored 18 of his 23 points. Robinson's fearless shooting cut off any Raptors' comeback before it could begin.
Defining moment: Less a moment than it was a seemingly endless stretch, but after jumping out to a 15-point lead, the Raptors scored just four points over a six-minute span in the second quarter, and the Nuggets took control before the halftime break.
-- Adam Reisinger, ESPN.com
---
MVP: Besides snaring a huge offensive rebound late (keeping the Clippers at arm's length), Paul George had a typically excellent night, posting a solid 27-6-5 line. In a game with several great players, George reigned.
X factor: David West had a quietly excellent game (24 points, 12 boards) filled with crafty post moves, smart defense on Blake Griffin and solid containment against the offense of former teammate Chris Paul.
Defining moment: In an exceedingly close contest, the defining moment was equally close. With the Clippers down 102-100 with 31 seconds left, Chris Paul attempted a bank shot that just rimmed out. The Clippers didn't score again.
---
MVP: Andre Drummond. The Sixers had no answer for the 6-foot-10 behemoth. Well, other than fouling. The second-year center had a Shaq-esque performance, dropping a career-high 31 points on 12-of-15 shooting, to go along with 19 rebounds, six steals, two blocks and 11 missed free throws.
That was ... hack-tastic: Sixers coach Brett Brown went with the hack-a-Drummond strategy late in the third quarter, and it worked. After missing a few foul shots, Drummond was subbed out, allowing Philadelphia to cut Detroit's lead to 12 heading into the final period. He finished 7-of-18 from the line.
Defining moment: Rookie Kentavious Caldwell-Pope nailed a 3-pointer to give Detroit a 5-0 lead, and the Pistons -- who shoot a league-worst 29 percent from downtown -- went on to hit all six of their 3-pointers in a 40-point first quarter.