1. Why This Latest Heat Streak Won't Go To 11
MIAMI -- The last time the Miami Heat had a double-figure win streak, the Heat got just as swept up in it as basketball fans did.
That perfect 27-game run meant playing through pain, it meant intense comebacks, it meant win at all costs.
This time the streak started in November, not February. This time Dwyane Wade's sore knee was far more critical than any single game. This time, it ended at 10, with the Detroit Pistons taking down Miami with a 107-97 win, as seven Pistons scored in double figures.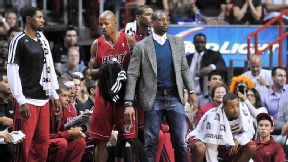 Steve Mitchell/USA TODAY SportsWhile Dwyane Wade rested in natty fashion, the Pistons took control early for a 107-97 win.
The Heat attempted to go with their usual formula sans Wade: Fill in with James Jones as a starter, look for someone to complement LeBron James offensively and grit their way to a victory.
But on this night, Jones was a non-factor in 11 scoreless minutes (contrary to his 17-point night in Orlando on Nov. 20). This night, the Heat got a timely 23 points from Michael Beasley. But it couldn't offset a game in which Miami shot a season-low 43.9 percent, allowed 29 points off 19 turnovers, gave up a season-high 60 points in the paint and were outrebounded 46-34.
"It was some uncharacteristic mistakes out there," said Heat guard Norris Cole, who kick-started a near comeback that saw the Heat close to within three points of Detroit midway through the fourth quarter. "That's on us. You can't even explain some of them. We own up to our mistakes.
"But you understand against good teams, you can't put yourself in a deficit and come back every time."
You sort of expect it, though. When Chris Andersen sent home a putback dunk with the Heat down 17, followed by a pair of Cole layins, you could practically picture the comeback getting completed. Heck, it just happened one game earlier against the Bobcats, with Chris Bosh nailing three 3-pointers to give the comeback tale an interesting twist.
This one, though, essentially ended when three consecutive Heat shots didn't fall: First an open 3-pointer from LeBron, then a pull-up from Beasley and finally a missed corner 3-pointer from Bosh.
Brandon Jennings followed with a deep, contested 3-pointer that extended the Pistons' lead to six points and deflated Miami.
"It's a miss-or-make league sometimes," James said.
If you want to be overly critical of a game in early December, you could argue LeBron should've played more than 37 minutes with Wade out (he asked out of the game with about four minutes remaining in the first quarter, worn out from the pace of the game). You could even argue that with Andre Drummond playing 11 minutes in the fourth quarter, Heat coach Erik Spoelstra could've turned to fouling the 32 percent free-throw shooter.
But in December, even with a double-digit streak on the line, the Heat understands its priorities.
"It's too early to worry about winning streaks or anything like that," Cole said. "Because if you win a lot of games and you aren't getting better, and you peak too soon, it's not going to help us."
What could've helped against the Pistons duo of Drummond (18 rebounds in 22 minutes) and Greg Monroe (16 points on 8 of 10 shooting) was more size on the interior. Yet Spoelstra still turned to Shane Battier as his starter and never asked Udonis Haslem to enter the game.
Of course, Greg Oden would've been ideal against a team with this kind of size, but the Heat remain cautious and on a specific schedule with their biggest reclamation project.
Instead, it was hope for more of the comeback magic and assess themselves afterward.
About the only positive assessment for Miami was Beasley, who continues to prove he can be relied upon, even when his offense is not just a luxury but a necessity.
"That is what I continue to tell him, stop trying to fit in as much as be himself," James said.
As they've done in seasons past, the Heat will try to find themselves on an extended road trip -- this one beginning Thursday in Chicago, where the Heat's last double-figure win streak ended, and goes through Minnesota, Detroit and Indiana.
Those four games will be more telling than any home comeback win against the Pistons would've anyway.
"It was a good run," Chris Bosh said. "And maybe this is what this team needs right now going on this road trip."
Dimes past: November 17 | 18 | 19 | 20 | 21 | 24 | 25 | 26 | 27 | 28 | December 1 | 2
ESPN Staff Writer
Israel Gutierrez is an NBA writer for ESPN.com.
2. Around The Association
3. Tuesday's Best
Carter Williams
Michael Carter-Williams, 76ers:
The Sixers' rookie had 27 points, 12 rebounds and 10 assists for Philadelphia, edging fellow rookie triple-double standout Victor Oladipo in a 126-125 2OT win over the Magic.
4. Tuesday's Worst
The Brooklyn Nets: Well, as if the Fighting Prokhorovs couldn't sink lower, they just got Mozgov'd. The former Knicks center Timofey Mozgov pulled in 20 rebounds for Denver in a 111-87 rout of the 5-13 Nets.
6. Tweet Of The Night
I think Billy King should be the NBA's Exec of the Year. He helped build a contender in Portland, and it looks like he saved the Celtics.

— Bill Simmons (@BillSimmons) December 4, 2013
7. Quote Of The Night
"Today was a good day."
-- Lakers coach Mike D'Antoni, after Kobe Bryant dunked in practice and do everything he normally does during a 45-minute scrimmage.
8. Rookie Triple-Double, Times 2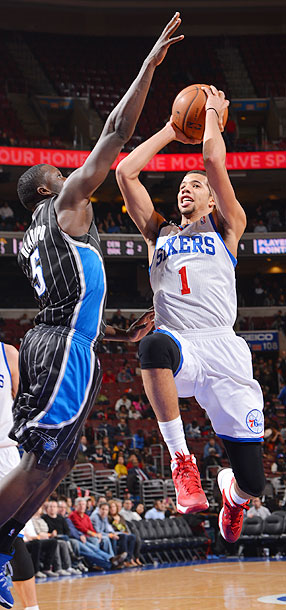 Jesse D. Garrabrant/NBAE/Getty ImagesMichael Carter-Williams had 27 points, 12 rebounds and 10 assists for Philadelphia, and Victor Oladipo had 26 points, 10 rebounds and 10 assists for Orlando in the Sixers' win.
9. Stat Check
The Warriors beat the Raptors despite being down by 18 points entering the fourth quarter. This is only the second time in franchise history that the Warriors won a game in which they trailed by 18 or more points at the end of the third quarter. Their record in those games is now 2-451! The only other time the Warriors overcame such a deficit was on Feb. 9, 1962 at the Boston Garden. The Philadelphia Warriors trailed the Celtics, 103-84, entering the fourth quarter but outscored them, 42-21, in the final session to win the game. Wilt Chamberlain scored 48 points and hauled in 29 rebounds for the Warriors in that game. This game, by the way, was the first in NBA history in which a team overcame a deficit of 18 or more points at the end of the third quarter to win.
The Warriors' nine-point victory is the largest in regulation in NBA history for a team that trailed by at least 18 points entering the fourth quarter. The previous such record was an eight-point win for the Hawks over the Nets on April 15, 1997. The Hawks trailed 80-61 at the end of the third quarter but went on to win, 109-101.
Around the Association
---
MVP: Isaiah Thomas had himself a game: 8-for-13 shooting, 21 points, two assists, three steals. Actually, that was just his fourth quarter. The diminutive dynamo took over in all facets of the game, even outscoring OKC for the quarter.
X factor: Kevin Durant. Despite Thomas' late-game heroics, OKC netted the win thanks to some thankless foul-drawing and clever rim finishes from the perennial scoring champ. Durant finished with 27 understated points.
That was ... unspeakably cool: Thomas missed the game-tying shot, but the waterbug guard's speed, tenacity, awareness and finishing ability -- as well as a heavy dose of the unpredictable -- turned the game into a sight to behold.
---
MVP: Steph Curry. The world's best shooter lived up to that billing in the fourth quarter, scoring 14 points with three 3-pointers to lead his team to victory. Just as important were his five assists in the same period. Curry was simply sensational down the stretch.
X factor: Jermaine O'Neal. The 35-year old was credited by teammates after the game for a fiery halftime tirade, but his presence on the court proved just as influential. O'Neal played the entire fourth quarter, grabbing six rebounds, scoring four points, and generally owning the paint on both ends of the floor.
Defining moment: Led by the shot-making of DeMar DeRozan and team-wide domination on the glass, Toronto led 83-58 with 5:28 left in the third quarter. The Raptors were outscored 54-20 from that point forward, allowing Golden State to complete the seventh-largest comeback in NBA history.