1. Aldridge Keeps Portland Red-Hot, Rolling
By
Danny Nowell
| TrueHoop Network
PORTLAND, Ore. -- This week was supposed to be a reality check for the Portland Trail Blazers. Having feasted, mostly, on the league's bottom (read: Eastern) half during their 11-game win streak, the Trail Blazers faced consecutive elite opponents for the first time since Games 2 and 3 of the season, when the Houston Rockets and San Antonio Spurs both visited. After dispatching the Oklahoma City Thunder 111-104 on Wednesday night, however, the Blazers appear to have made kindling out of the stretch that was supposed to cool them off.
For one half, this game looked like the upstart Blazers were set to receive a lesson from the more accomplished visitors. Though Portland hung tough through two quarters, an OKC surge at the end of the second half punctuated by a Terry Stotts technical pushed the Thunder lead to 11 at halftime; it seemed the team with Finals experience was grinding out a road victory on the second night of a back-to-back, riding their superstar scorer and finding ways to manufacture garbage buckets. In the second half, LaMarcus Aldridge changed that.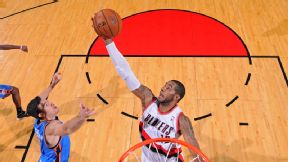 Sam Forencich/NBAE/Getty ImagesWhen LaMarcus Aldridge stepped out of the paint, he was deadly with his smooth jumper.
If the Blazers have been the West's biggest surprise, they are nonetheless powered by Aldridge, their longest-tenured player and lone All-Star. Aldridge is eight years into what has been a difficult and often fraught career with Portland, having endured the collapse of the Nate McMillan era, franchise-altering injuries to teammates and an awkward relationship with the local media. But with all of the new faces brought in the past two seasons, Aldridge remains the focal point of the team, and his scorching second half proved that his relationship with the franchise is still plenty fruitful.
In the third frame, Aldridge was sensational, shooting 8-of-9 from the field -- all on jump shots -- while posting 16 points as the Blazers turned their 11-point deficit into a three-point lead. In the fourth, he bedeviled Serge Ibaka and the rest of the Thunder with an array of pump fakes, turnarounds and putbacks that kept the Blazers afloat while Kevin Durant did his best to render it moot. Aldridge finished with 38 points and 13 rebounds, outshining even his stellar 25-and-10 performance against Indiana. His teammates, and the Moda Center crowd, noticed.
With Aldridge at the line to ice the game in the fourth quarter, he received what might have been the first "M-V-P" chants of his career, and when reporters asked teammate Nic Batum postgame what he thought of the cheers, his response was simple: "Finally." There is obviously little significance to be found in fans' cheers, but to a man, the Blazers are going out of their way to praise their power forward and make sure his performances receive the praise they're due. Wes Matthews summed up what several Trail Blazers attested: "I've been saying it from the start -- he's the best power forward in the game. ... He's awesome right now."
For his own part, Aldridge is more comfortable than he's ever been. "Our team chemistry is unreal right now," he said after the game. Asked whether he's having the most fun of his career, he responded, "Yeah, this is a fun team. I keep saying it because guys are so unselfish, and we play together -- it's fun."
Now that the Blazers have legitimized their early win streak with wins against back-to-back top-flight opponents, it's fair to say that the fun is making its way to the court. Portland's franchise player has been on 50-win teams and lottery teams alike, but his comfort level seems to be at an all-time high, and the Blazers are reaping the rewards.
Danny Nowell writes for the TrueHoop network. Follow him on Twitter @dmnowell
Dimes past: November 17 | 18 | 19 | 20 | 21 | 24 | 25 | 26 | 27 | 28 | December 1 | 2 | 3
2. Around The Association
3. Wednesday's Best
Aldridge
LaMarcus Aldridge, Blazers:
Portland's mainstay showed his shooting range, posting a season-high 38 points as the Portland Trail Blazers snapped Oklahoma City's eight-game winning streak with a 111-104 victory. Aldridge also pulled down 13 rebounds.
4. Wednesday's Worst
Harden
James Harden, Rockets: There was little magic flowing from The Beard in this one. Harden finished with 14 points, hitting 3 of 17 from the field and going 0-for-10 from behind the arc in a 97-88 loss to the visiting Suns.
6. Tweet Of The Night
Is it too late to join the Eastern Conference? Asking for a friend.

— Trail Blazers (@trailblazers) December 4, 2013
7. Quote Of The Night
"I've done it in practice, but to do it [in] public would just confirm [ESPN's] 25th ranking of me, so I just refuse to jump off of my left leg in front of any media right now."
-- Kobe Bryant, on his seeming reluctance to jump off his left leg since suffering his Achilles injury. He ruled out a Friday return.
8. Rising Suns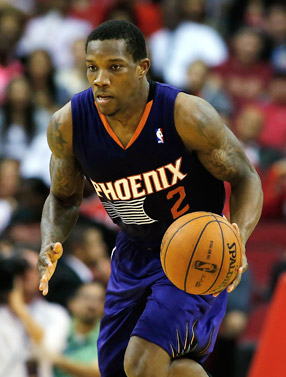 Scott Halleran/Getty ImagesIn his second game back, Suns guard Eric Bledsoe had 20 points and seven assists to lead a balanced Phoenix attack that posted a 97-88 win over Houston.
9. Stat Check
Korver
After missing the Hawks' previous four games, Kyle Korver returned to action and made six 3-pointers in Atlanta's win against the Clippers. In the process, Korver tied Dana Barros' NBA record of 89 consecutive games with one or more 3-point field goals. No other player has done that in as many as 80 straight games. Korver has made 233 of his 497 3-point attempts during his streak (46.9 percent). Over the course of Barros' 89-game streak, which spanned his tenures with the 76ers and Celtics (December 1994 to January 1996), he made fewer 3-pointers (217-for-491) and shot for a lower percentage from that range (44.2 percent) than Korver has over his past 89 games (since Nov. 4, 2012).
Around the Association
---
MVP: Paul Millsap was dominating Blake Griffin in the post for much of the game, and finished with an overall stat line of 25 points, 9 rebounds, 6 assists and 3 blocks.
X factor: Kyle Korver. Not only did he extend his 3-point streak to 89 games, tying an NBA record, but he hit six 3-pointers on the night and had 23 points and five assists in his first game back from a rib injury.
That was ... complete: Atlanta coach Mike Budenholzer had been searching for a "complete" game from his team, and he got it. The Hawks picked up their 10th win on the season and did so by holding a double-digit lead over L.A. for much of the game.
---
MVP: Tristan Thompson did everything for Cleveland tonight, and he did it all well. His 17 points on 13 shots, 21 boards (including nine in the first quarter) and three blocks led the way to a Cavaliers victory.
X factor: Anderson Varejao. The Cavs fought the Nuggets to a draw on the interior, and Varejao was a huge part of that battle. He added 13 rebounds of his own and played solid interior defense against a Denver team that had been feasting inside lately.
LVP: Denver's point guards. I'm a fan of Ty Lawson and Andre Miller, but they did little to help the Nuggets against Cleveland. They were a combined 1-for-15 from the floor, and Miller added an unnecessary technical for good measure.