1. Rose's Words, Heat Tilt Bring Out Bulls' Best
CHICAGO -- With his body battered and in need of crutches to help him get to the front of a room filled with cameras and questions, Derrick Rose sat for nearly 12 seconds in silence Thursday morning as he pondered the right way to answer the piercing inquiry.
What would the former league MVP say to those who doubt his ability to be an impact, marquee player after suffering his second season-ending knee injury in a two-year span? How would he respond to critics who suggest the Bulls should move on without him?
Rose took the question personally as he addressed the media for the first time since last month's surgery to repair his torn meniscus, but delivered an answer that resonated throughout the team.
"You can be a fool if you want to," Rose said. "I know I'm going to be alright."
Eight hours later, the battered and beleaguered Chicago Bulls used Rose's message of resilience and a coming resurgence as motivation in handing the two-time defending champion Miami Heat their worst loss of the season. The 107-87 victory at the United Center on Thursday night revealed plenty about the current condition of both the Bulls and the Heat.
The Bulls have been riddled with injuries beyond Rose, but center Joakim Noah talked at length after the game about how the team fed off Rose's spirit and inspiration after seeing him Thursday. Rose had barely been able to leave his home in the weeks since his Nov. 25 surgery.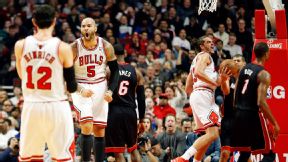 AP Photo/Kamil KrzaczynskiThe Bulls handed the Heat their second straight loss.
Chicago had lost six of their last seven games, including four of five since Rose sustained the knee injury in a Nov. 22 loss to Portland. But what the win over the Heat represented to the Bulls was a both a reprieve and a reminder to the Bulls that they responded to tough times before.
"We've been going through a lot of adversity, losing the little homie Derrick," said Noah, who suggested the Bulls are still sorting through the shock of the latest Rose setback.
"It's been really hard on us. We've been through a lot the last couple of weeks. (Rose) going down, it's just really hard for him, hard for us. But we have to move on and it's not easy."
Hearing from Rose helped. Facing the nemesis Heat helped even more.
Those factors set the stage for an emotionally charged performance from the Bulls, who seem to have a knack for pulling off miraculous performances against the Heat. Chicago was also without Rose when they ended Miami's 27-game winning streak at the United Center in March.
This time, they did it by pounding the Heat on the boards and in the paint. The Bulls further exposed Miami's interior issues by outrebounding the Heat 49-27. While Chicago has grown accustomed to playing without Rose over the past two seasons, the Heat have struggled to adjust to the absence of Dwyane Wade, who sat out with flu-like symptoms and missed his second consecutive game. Miami was also without reserve center Chris Andersen, so the loss of two key players certainly played a factor in their lack of energy and toughness Thursday.
But roster cohesion and poor rebounding have become consistent challenges facing the Heat, who have lost consecutive games for the second time this season. Thursday's setback came two days after the Detroit Pistons also dominated from start to finish by bullying the Heat inside.
Noah had 17 points and 15 rebounds, essentially finishing off the leftovers after Detroit's Andre Drummond set the table with 10 points and 18 rebounds in the Pistons' 107-97 victory in Miami. Rebounding has long been a weakness for the Heat, who ranked at or near the bottom of the league in that department each of the past two seasons on the way to winning championships.
But adding to the problem this season has been the frequent lineup adjustments coach Erik Spoelstra has made on a weekly basis because of injuries and absences. Every Heat starter aside from LeBron James has missed at least one game this season, including five by Wade.
And for the first time this season, the combination of issues seemed to aggravate James, who has played through a sore back all season and is also dealing with a bum ankle and jammed fingers.
"We need to have everyone in our lineup," said James, who scored 21 points but missed 10 of his 17 shots from the field and barely played in the fourth after Chicago built a 25-point lead. "You know guys are going to be out by getting sick or hurt. It's just part of the game. That's been a challenge for us. We've been here before. We just need to get healthy."
James then went to his routine line when asked about the team's rebounding troubles. He quickly points out how the Heat don't have the luxury of a Noah, Dwight Howard or Kevin Love on their roster who can grab 15 or so boards a game.
Instead, they have to make do with the versatility of Chris Bosh, who never found his shooting stroke Thursday and finished with just two rebounds. When Bosh isn't dynamic and Wade isn't in uniform, there's virtually no margin for error with the Heat - regardless of James' greatness.
Spoelstra said the Heat simply need to be tougher like the Bulls.
"The answer to the problem lies only in that locker room," Spoelstra said. "We have to be more like them and attack the glass and control the paint. It is not a prime concern right now. We just need to address it and take care of it. We can't just brush this loss aside."
The Heat talked about getting back to rebounding basics.
The Bulls are just trying to rebound again amid life without Rose.
To that end, both Miami and Rose's message arrived just in time.
"There's something about when Miami comes to town, Noah said. "You know you wake up in the morning and you feel it. People in this city don't like the Miami Heat, we don't like the Miami Heat. A lot of battles, a lot of scars, a lot of tough losses, a lot of seasons ending because of them. I think our team needed it. It's always good to beat the Miami Heat."
Dimes past: November 18 | 19 | 20 | 21 | 24 | 25 | 26 | 27 | 28 | December 1 | 2 | 3 4
ESPN Staff Writer
ESPN.com NBA reporter
Blogs regularly on the Miami Heat
14 years covering the ACC, SEC, NFL and NBA
2. Around The Association
| | | | | |
| --- | --- | --- | --- | --- |
| Miami Heat | 87 | FINAL | 107 | Chicago Bulls |
---
MVP: Joakim Noah. Other Bulls scored more, but Noah was the one always hitting them with the extra pass to put them in position. He also added 15 rebounds and played his usual brand of stellar defense.
That was ... lopsided: The Heat are typically a poor rebounding team, and with Chris Andersen missing, things were even worse. Chicago grabbed 64.5 percent of available boards (49 total rebounds to Miami's 27).
X-Factor: Three-point shooting. Rebounding is the big story, but the Bulls made the Heat pay from outside as well. They were 10-for-19 (52.6 percent) from deep, while the Heat were just 6-for-22 (27.3 percent). Luol Deng in particular was hot -- 4-for-7 on 3-pointers.
| | | | | |
| --- | --- | --- | --- | --- |
| New York Knicks | 113 | FINAL | 83 | Brooklyn Nets |
---
MVP: Carmelo Anthony. Melo's measured, masterful outing (19 points, 10 boards, six assists) set the tone for a balanced Knick attack that saw six players score in double figures. If they can get that consistently, that four seed is well within reach.
X-Factor: The Knicks looked like spitting images of last seasons squad on the perimeter, as the 'Bockers connected on 16 of 27 from deep. The ball was moving, the looks were clean and a long-lost chemistry looked at least temporarily resurrected.
That was ... hideous Brooklyn is bound to be the subject of much hand-wringing in the days to come. Still, they clearly can't afford to bide time for injuries to heal. Could a major shakeup be on the horizon?
| | | | | |
| --- | --- | --- | --- | --- |
| Los Angeles Clippers | 101 | FINAL | 81 | Memphis Grizzlies |
---
MVP: Chris Paul. Paul had a first half that didn't live up to his standards and finished with only 15 points and eight assists in 27 minutes. But his third-quarter defense on Mike Conley, coupled with his offense in that frame -- helped the Clippers pull away.
Defining moment: The entire third quarter. The Clippers trailed 42-40 at the half, but came out with a burst to start the third period, outscoring the Grizzlies 24-11 behind five points and three assists from Paul.
That was ... ugly: There wasn't very much offense in the first half, and then it got even worse in the second half for Memphis, which shot only 37.7 percent from the field and 23.1 percent from long range on the night.
3. Thursday's Best
Chicago's frontcourt:
The Bulls' duo of Carlos Boozer (27 points and 9 rebounds) and Joakim Noah (17 and 15) were too much for the Heat to handle in Chicago as the champs dropped their second straight game.
4. Thursday's Worst
Bosh
Chris Bosh, Heat: With Dwyane Wade and Chris Andersen out of the lineup, it was up to Bosh to shoulder the load in Chicago. He managed to contribute 10 points and two rebounds, consistently being overmatched by the Bulls' size in the paint.
7. Quote Of The Night
"I think everybody looked like they had that feeling that we were tired of losing. It showed from the tipoff."
-- Carmelo Anthony, on the Knicks snapping a nine-game losing streak with a 113-83 win over the Nets.
8. Battle For New York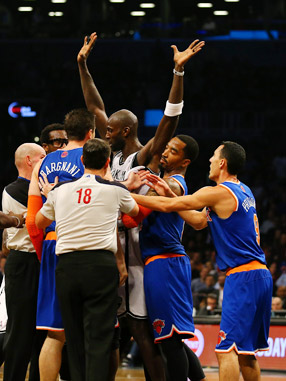 Al Bello/Getty ImagesTempers were flaring in Brooklyn as the Nets and Knicks met at Barclays.
9. Stat Check
The Clippers defeated the Grizzlies, 101-81, in Memphis, with their bench contributing eight 3-point field goals on 12 attempts. It was the fourth time this season that an NBA team's substitutes made at least two-thirds of their 3-point attempts in one game (with a minimum of 10 attempts), and the Clippers have one of those other games as well. Their bench went 7-for-10 from beyond the arc in a victory over the Timberwolves on November 20.