1. Kobe's Return: Rust And Hope In Abundance
LOS ANGELES -- For most of the day, Kobe Bryant was quiet. The magnitude of what he was about to do, after everything hed been through these past eight months, was too big to be thinking about in the hours before the game.
He just needed to stay centered. Focus on the Toronto Raptors or on finding his shot and feelings his legs beneath him again. Just put the jersey on again like he has for every other game in his 18 NBA seasons. Play the game, table the emotion.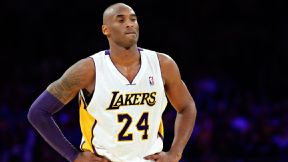 Richard Mackson/USA TODAY SportsKobe Bryant spent 28 minutes on the court, showing rust and some of his old flashes.
But in the final few moments before tipoff, as Bryant stood near midcourt and awaited his first game action since rupturing his Achilles tendon on April 12, it all caught up to him. The emotion, the fear, the hard work, the gratitude, the appreciation for the game that many thought he might never be able to play again.
His lip quivered. He had to steel his jaw to trap the emotion from spilling out.
"You try to control it as much as you can," Bryant said. "But you can't help but think of all the support and the hard work. I really, really worked my butt off this entire summer to try to get to this place.
And then the game started and he did what he could.
It wasn't a vintage Bryant performance. It wasn't even a particularly good one. He finished with nine points on 2-for-9 shooting, eight rebounds, four assists, two steals and eight turnovers in 28 minutes as the Lakers lost to the Toronto Raptors 106-94.
He was decidedly rusty. He was noticeably nervous in the beginning. His passes were sloppy, his timing was off. His shot was tentative. His chemistry with his teammates was shaky.
But there was enough good stuff, enough glimpses of what might be, enough moments where he looked like he could still do the things hes always done that you came away from the night open-minded.
"I don't feel normal at all," Bryant said afterward. "I couldn't wait to start watching film and criticizing every little thing. I'll go home tonight and watch the game. But thats the exciting part. You've got a challenge, you've got some improvements to make.
"I felt good that I was able to get into the lane ... then once I got into the lane, I didn't make the proper reads most of the time. But was the fact that I was able to get in there.
For the Lakers it was a win in every place but the standings. Because for the first time in eight months, it felt like a Lakers game inside Staples Center again. No disrespect to the plucky performances this seasons team had churned out to keep the team hovering around .500 as they awaited Bryant's return, but the Lakers are about sizzle, not steak.
The noble underdog narrative is fun for a while, but it doesn't exactly pack the house. The locals here need a little snap, crackle, pop. And Bryant's comeback was some of the best theater the place has seen in a while.
The Lakers and Nike produced three videos to mark the occasion. The rapper Ice Cube narrated the first one:
"If he never got up, he'd still be called a hero," Ice Cube says. "And if he hadn't stepped back on to the court, he'd still be a Hall of Famer. And if he didn't hit those free throws, he would still go down in basketball history. And if he never came back to the game, he'd be a living legend.
"But he wouldn't be Kobe Bryant.
The Lakers followed that up with an Iron Man-themed video, then cued up Darth Vader music to accompany Bryant's pregame introduction.
Longtime PA announcer Lawrence Tanter capped it with a perfect call, "And the other guard wears No. 24."
You didn't even have to be in the building to feel the excitement. "The anticipation is ridiculous right now... #TheMamba," Portland's Damian Lillard tweeted just before tipoff.
How would he do? Would he look like the old Kobe? How could he after eight months off and no training camp? Then again, its Kobe, so ... "The expectations are probably too high," Lakers coach Mike D'Antoni said before the game. "But he'll probably meet them anyway.
It was great theater, as only the Lakers can deliver. Vintage Showtime. And for the moment you forgot the Lakers are really just a .500 team hoping Bryant can give them a punchers chance to do something unexpected with this season. That he came out and looked a little rusty only dulled the narrative a bit. Yes, it would've been nice if hed dropped 30 and delivered a game-winning dagger. I'm sure there were people who expected him to leap a tall building on the way in, too.
But the fact he made it back at all, as quickly as he did, and showed enough in those 28 uneven minutes to leave everyone with some hope for the future is enough for one night.
The show came back to Staples Center on Sunday night, and it'll be worth watching.
Dimes past: November 20 | 21 | 24 | 25 | 26 | 27 | 28 | December 1 | 2 | 3 | 4 | 5
ESPN Senior Writer
Senior writer for ESPN.com
Spent seven years at the Los Angeles Daily News
2. Around The Association
3. Sunday's Best
Durant
Kevin Durant, Thunder: In a clash of NBA Finals hopefuls, Durant scored 36 points and grabbed 10 rebounds as the Thunder routed the Pacers 118-94. Durant and Russell Westbrook even earned an early rest against the league leaders.
4. Sunday's Worst
New York Knicks:
There's so much about the 41-point loss to Boston to dwell on. But forget personnel, X's and O's or anything reasonable like that. It's gotta be those orange unis, which they have gone 0-6 in. Their three worst losses of the season have come in pumpkin garb. Orange isn't the new black.
6. Tweet Of The Night
Good to see my big bro back in the line up. Thanks for helping get my ring. Do your thing. #24mamba

— Metta World Peace (@MettaWorldPeace) December 9, 2013
7. Quote Of The Night
"My rhythm is completely out of sync. But this is a start, and I guess a start is good."
-- Kobe Bryant, after his first game back from an Achilles injury.
8. Rising In West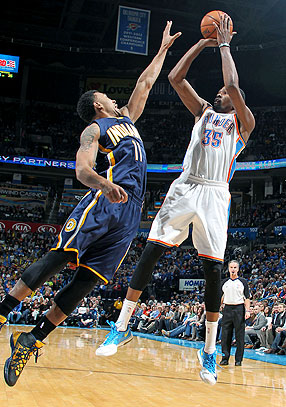 Layne Murdoch Jr./NBAE via Getty ImagesKevin Durant and the Thunder routed the Pacers, putting them one game behind Portland for the West lead.
9. Stat Check

The Los Angeles Lakers didn't have a starter score in double figures and the bench outscored the starters 71-23 in the loss to the Toronto Raptors. Since starts were first recorded in the 1970-71 season, it's the first time the Lakers didn't have a starter score in double digits and it's the first time the Lakers' bench outscored their starters by this much (48).