1. Remodel Franchises Embrace The Overhaul
By
Andrew Han columnist profile
| TrueHoop Network
How do you renovate a franchise?
When rehabilitating a house, the dressings aren't as crucial as the bones; window treatment and wallpaper are merely eyesores, knob-and-tube wiring and dry rot give pause to consider a complete teardown.
It's not quite as easy as throwing a sledgehammer through drywall for an NBA team, though. Philadelphia 76ers general manager Sam Hinkie is in mid-teardown, eliminating excess and exchanging the existing foundation and studs for materials that suit his aesthetic. But where the real transition occurs isn't on the roster or salary-cap sheet. The Sixers are looking to build a knowledge base from scratch; "corporate knowledge," as the San Antonio Spurs would call it.
For the Spurs, corporate knowledge is the institutional memory that resides in their core players and coach, Gregg Popovich. It's the accumulation and access of information that has developed over the comfort of a decade's worth of continuity. In the case of the Sixers, competing consistently is the first step. When asked about winning versus tanking, Clippers coach Doc Rivers offered some insight prior to the Monday-night meeting with the 76ers: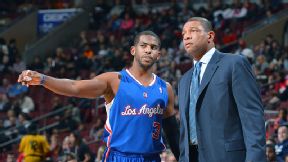 Jesse D. Garrabrant/NBAE/Getty ImagesChris Paul and Doc Rivers are two cornerstones of a once-derelict Clippers franchise.
"Upstairs is worried about pingpong balls. Downstairs is worried about basketballs. That's what you see when you see [Philadelphia] play. Those kids are playing hard. Coach [Brett] Brown is coaching hard. They don't care about anything else but that game."
Developing young players, teaching them how to compete and how to win is the seed the entire organization has planted. And it lays the groundwork for next season and the expectation for players entering that structure, with the long view of sustained corporate knowledge being the focus.
The Clippers leave Monday night's 94-83 victory with a different track in mind. After two seasons of newfound regular-season success curtailed by playoff disappointment, the question residing for Los Angeles is: Can corporate knowledge be imported? A championship pedigree arrived with Rivers just as much as his strongside pressure defensive scheme.
The early results looked promising. The ball movement thrived in associate head coach Alvin Gentry's motion offense. And while the bench has struggled with the tenets of Doc's defense, the starters have acquitted themselves quite nicely, functioning at what would be at worst a league-average defense by efficiency.
Yet the plethora of injuries to the Clippers' wings has disrupted their already accelerated gestation. Indefinite return timetables for injured players J.J. Redick, Matt Barnes and Reggie Bullock have left Los Angeles with just three wing players. And despite the persistent need for a backup big man, circumstances have forced them to look to Stephen Jackson to salve the wound; an aged veteran who is capable of contributing but chafed in his role last season before being released by the Spurs.
With so much uncertainty surrounding them, do Chris Paul, Blake Griffin, DeAndre Jordan and Rivers forge the innate understanding and trust that typically requires pressure and time? There is no smugness in the Clippers' demeanor; they'll take every win they can get. But for them, the regular season is about developing that telepathy, acquiring that corporate knowledge that will withstand the rigors of the postseason.
In that regard, the Clippers have largely prefabbed their renovations, slotting optimal players into a roster to create a harmonious and logical lineup. And while the Sixers are learning how to compete, Los Angeles is more intent on building its knowledge portfolio on the fly: learning how to win, learning how to win through injuries, and on a night when the Clippers shot 5-for-27 from 3-point range, learning how to win through a poor performance.
Andrew Han's work appears on ClipperBlog, part of the TrueHoop Network. Follow him @andrewthehan
Dimes past: November 20 | 21 | 24 | 25 | 26 | 27 | 28 | December 1 | 2 | 3 | 4 | 5 | 8
2. Around The Association
3. Monday's Best
The Sacramento Kings: As if to welcome Rudy Gay to town, DeMarcus Cousins (32 points, 19 rebounds) and newcomer Derrick Williams (season-high 31 points) helped lead a 112-97 rout of the Dallas Mavericks.
4. Monday's Worst
Hawes
Spencer Hawes, 76ers:
Averaging 15.7 points and 10 rebounds per game, Hawes had a season-low 2 points in the 94-83 loss to the Clippers. Hawes sank only 1 of 6 shots and collected 4 rebounds in 23 minutes.
7. Quote Of The Night
"I'm the coach of this [13-letter word] team."
-- Brooklyn Nets coach Jason Kidd, who, according to NBA.com, allegedly used "a 13-letter word" against assistant Lawrence Frank during a blow-up at some point following the team's loss in Orlando on Nov. 3.
8. Disbelieving Mavericks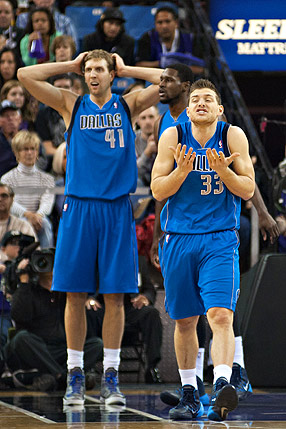 Ed Szczepanski/USA TODAY SportsDirk Nowitzki and Gal Mekel of the Dallas Mavericks begged to differ with a call during their team's rout in Sacramento.
9. Stat Check
Paul
Chris Paul recorded 13 assists in the Clippers' win in Philadelphia on Monday, leaving him with 252 assists in 21 games this season. Paul has reached 250 assists in so few games in only one other season: 2008-09, when he also got to that number in his 21st game.