1. Promising Start For A Season Of Heated Rivals
INDIANAPOLIS -- Regardless of how they may try to insulate themselves from letdown or criticism by debating the terms of the word "rivalry," there's only one thing you need to know about how the Miami Heat and Indiana Pacers view each other.
In the waning seconds of the Pacers' 90-84 win Tuesday night, as the players waited for the clock to run out they used the time to start barking at each other. The basic message, cleaned up, was this: " We'll see you next week."
If there's a way to determine what games matter to players, it's when they know the date of the next game without having to look at their pocket schedule.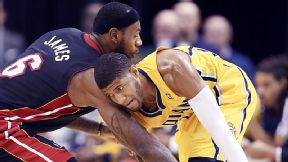 Brian Spurlock/USA TODAY Sport
"Everybody was talking," Pacers forward David West said. "We circle them on our calendar and they circle us. We'll see them in Miami next week."
This was a quality win for the Pacers, who have focused their entire regular season on finishing ahead of the Heat to assure home-court advantage for the playoffs. But there was no yellow rope rolled out to remind the Heat of their season's mortality. Or, as Chris Bosh said before the game: "It's hard to play like there's no tomorrow when, you know, there is."
Instead, it was a mostly entertaining stage-setter. As the rest of the East embarrassingly languishes below .500, the Pacers and Heat just had the first round of what could be an 11-game bout between now and June. It took until the 10th meeting between the two teams last season to settle matters.
The challenge has only intensified, and the failure of many of their peers has made this a premier matchup in the league. Tuesday showed just how much promise it has for drama and how much uncertainty there is in the outcome.
Both teams are just so different in their identities. The Pacers are traditional with their anchor defensive center with focuses on rebounding, dumping the ball to the big man and letting the star wing player create his own shot. They talk loudly and strongly about their goals and sometimes come off as brash in their expectations.
The Heat are so modern with their multi-position, centerless attack that values creating turnovers more than rebounds and efficient shots more than even wide-open inefficient ones. They seem to ignore all their opponents, even when they're successful. They stick to the boring script when it comes to their true motivations, wanting their actions to settle things.
The Heat's style has beaten the Pacers twice in contested playoff series and it seemed destined for a third. Yet neither, as we see often in rivalries, has yet budged on its philosophy to better deal with its top competition. They've both just tried to get better at playing and winning at their games.
That tug-of-war is what will probably eventually decide who wins their battle this season. Or as Heat coach Erik Spoelstra put it simply: "Who can get to whom."
Tuesday the Heat were so interested in setting a tone and perhaps answering the Pacers targeting them so publicly recently that they exploded with energy in the early going. They were nearly as aggressive defensively on Paul George as they were two years ago when Linsanity rolled into Miami and they went so ferociously at Jeremy Lin that it might've done psychological damage in the first quarter of that blowout. Lin, frankly, has never looked the same.
On the game's first possession, George came off a screen and saw LeBron James guarding him chest-to-chest, hardly the type of ease-into-the-game style that is commonplace even in big regular-season games. George was stunned and he was also scoreless in the first quarter.
At first it looked like James was trying to send the younger George, who edged him out for Player of the Month in November and looks like his first serious Most Valuable Player challenger in the East in the past few years, a message. But it did not last.
"I knew it was the kind of night it was going to be then," George said. "At that point I knew I just had to run him. I couldn't allow him to load up on me."
George did run him and James didn't give in, but he did get tired. Spoelstra had to call timeout to get James off the floor with a minute left in the first quarter he was so gassed. In the second half, when the Heat were relying on James to carry them offensively, they couldn't afford to have him on George. So Dwyane Wade and Ray Allen were getting the assignment and George reeled off 15 points as the Pacers took over the game.
"It's rare to see LeBron tired," George said. "It was a challenge to me to rise to that level. I had to be a mature player."
James, who seemed to have zapped himself with that first-half burst, was a rare non-factor in that second half as he was largely outplayed and out-defended by George. James had just seven points in the second half plus several crucial turnovers.
Consider that one of the points of emphasis when the teams play the Pacers again next week. You can count on James not wasting his reserves by trying to smother George in the first quarter. There will be lessons the Heat take and apply, the next phase of what promises to be an enjoyable back-and-forth all season.
Roy Hibbert got the Heat out of their preferred game as they mostly ditched their spread offense and eventually moved Bosh to power forward and put Chris Andersen at center to try to handle the Pacers center. His 24 points and defensive aggression ended up defining this matchup.
Bending to deal with Hibbert caused the Heat to be slower and play fewer shooters, which explains why they scored just 37 points in the second half, shot just 4-of-21 from 3-point range and weren't able to punish the Pacers for turning the ball over 21 times. Normally you turn the ball over 21 times against Miami and it's a Wade-James dunk show and a loss.
Instead the Heat were complaining about officials letting Hibbert get away with his defensive collisions in the lane. Hibbert may not have won Defensive Player of the Year last season, but he's started regularly getting star calls at that end from officials. He has established himself as a rock and when he goes up the whistles often get swallowed. He didn't even get a foul until midway through the fourth quarter.
If James getting whistled for an offensive foul and then a technical for complaining after a midair meeting with Hibbert in a vital moment in the conference finals last season wasn't a message of how it is going to be, this night was a refresher.
The idea is the Heat's shooters will punish Hibbert for staying home, but Shane Battier has struggled so much as a shooter recently that he's been losing minutes. The Heat have stopped playing Udonis Haslem, who had several big games against Hibbert in the playoffs last season. And Allen seems to hate Bankers Life Fieldhouse. He didn't even score in two regular-season games there last season and Tuesday he was 1-of-5 shooting.
"When they go big-big instead of small-big with Bosh and the Duke guy -- what's his name? oh, Shane Battier -- it allowed me to roam free a little bit," Hibbert said. "We always stay big and we make teams adjust to us."
When they're not even remembering your name, it sort of sums it up.
This script will be flipped and flipped again before this is over. The Heat will surely have their moments when their strategies make the Pacers look foolish. There will be countermeasures aplenty, the Heat having Greg Oden somewhere in their future to deal with Hibbert in some fashion and the Pacers waiting to roll out Danny Granger.
The only thing that seems assured is that nothing is assured. The Heat's ultimate success against the Pacers the last two seasons has only emboldened them and made them a huge threat to a fourth consecutive Finals.
"The respect runs deep between these teams," Spoelstra said. "There are going to be some ups and downs."
Dimes past: November 20 | 21 | 24 | 25 | 26 | 27 | 28 | December 1 | 2 | 3 | 4 | 5 | 8 | 9
ESPN Senior Writer
ESPN.com NBA writer since 2010
Covered Cleveland Cavs for seven years
Author of two books
2. Around The Association
3. Tuesday's Best
Irving
Kyrie Irving, Cavs: It was a dazzling night in Cleveland, as Irving posted 37 points (14-for-23 shooting) and 11 assists in a rout of the hapless Knicks. With the East so hideous, the Cavs are now knocking on the door of that No. 8 playoff spot.
4. Tuesday's Worst
New York Knicks:
At least they only lost by 15 points this time. New York's 109-94 loss to Cleveland dropped New York to 5-15 on the season. Will Tyson Chandler return in time to save Mike Woodson's job?
7. Quote Of The Night
"When we win, the heat is off. When we lose, the heat is on. That's just our business, that's our society, that's New York."
-- Carmelo Anthony, after his Knicks team beat the Bulls, cooling the hot seat Knicks coach Mike Woodson sits on -- for a day at least.
8. Getting Better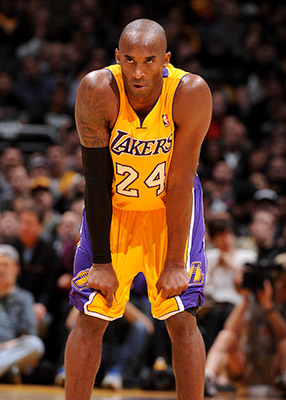 Andrew D. Bernstein/NBAE/Getty ImagesKobe Bryant led the Lakers with 20 points while playing 29 mostly sharp minutes in his second game back from a nearly eight-month absence with a torn Achilles tendon, but his team lost to the Suns 114-108.
9. Stat Check
Pierce
Paul Pierce made his first appearance against Boston in the Nets' 104-96 win over the Celtics. It wasn't pretty; Pierce shot 0-for-3 from the field, scoring just four points in 22 minutes. Then again, this was a game he did not want to miss despite suffering a broken bone in his right hand just 11 days earlier. Pierce played 1,177 games for Boston before joining Brooklyn this season. Only four other NBA players faced their former team after playing at least 1,000 games for that club: Patrick Ewing (vs. Knicks), Hakeem Olajuwon (vs. Rockets), Karl Malone (vs. Jazz) and Robert Parish (vs. Celtics).
Around the Association
---
MVP: Get up to deny his shot and he slashes to the rim, finishes with acrobatic aplomb or finds wide-open shooters. Lay back, and he nails a silky smooth jumper. When Kyrie Irving's on, he's nigh unguardable.
LVP: Speaking of defense (or the lack thereof), there were multiple candidates for this dubious honor, but tonight's award goes to all the Knicks for their inability to react to a simple screen or half-decent pass.
Defining moment: In the first quarter, a 14-0 Cavs run pushed the lead to 27-9. Even though the gap was later whittled to as little as one, given Kyrie's brilliance, it just felt like delaying the inevitable. The Knicks are ... not good.
---
MVP: Kevin Love was a monster in his return with 26 points, 16 boards and 7 assists. And he did all that damage without playing one second of the fourth quarter.
LVP: You expect Love to score no matter who is on him, but Greg Monroe needs to take some of those boards away. Getting beat 16-2 on the glass is unacceptable.
That was ... decided at the line: Minnesota beat Detroit at its own game -- going aggressively to the rim. The Wolves were rewarded with 33 free throws to Detroit's 16. The Pistons exacerbated the deficit by missing half of their freebies.
---
MVP: In addition to 25 points, 14 rebounds, 6 blocks, 3 steals and lots of lefty hooks, John Henson stripped Carlos Boozer and forced a turnover to preserve a four-point lead in the game's final minute.
LVP: (tie) By about halfway through the third quarter, Marquis Teague (1-for-7 FG) and Kirk Hinrich (0-for-10 FG) were actively searching for any options that would keep them from having to take shots.
That was ... a unique performance: Point guard Brandon Knight crashed the glass to help the rebound-poor Bucks, but he paired his 19-point, 10-rebound double-double with 2 assists and 6 turnovers.