1. Doc Rivers Embraced After Departure Grates
By
Brian Robb
| TrueHoop Network
BOSTON -- For the opening 10 seconds of his first postgame news conference back at Boston's TD Garden, Doc Rivers sat in silence. His new team, the Los Angeles Clippers, had just defeated the Boston Celtics, 96-88. However, as Rivers fought back tears when asked about his standing ovation from the Garden faithful, that result was the last thing on his mind.
Finally, he was able to compose himself and answer the question.
"It was just a really nice day."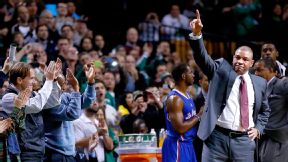 Jared Wickerham/Getty Images
The joyous reunion felt between Rivers and the Celtics on Wednesday night seemed to be a long shot merely six months ago. Rivers left Boston on less-than-cordial terms, departing an aging roster that was on the verge of a rebuild for the greener pastures of a contender and a greater degree of front-office control in Los Angeles.
Boston received a 2015 first-round pick as compensation for allowing Rivers out of the remaining three years of his contract, but the ordeal took its toll on both sides.
Boston's president of basketball operations, Danny Ainge, placed Doc's exit on his former head coach, declaring it was ultimately Rivers' decision to leave. Doc disagreed with that version of events, stating publicly he felt Boston had been on board with the move. As both sides played the blame game for the majority of the summer, an awkward cloud hung over the entire situation.
Rivers changed his tune this week. In a refreshing change of pace, he finally took responsibility for his departure.
"I didn't do anything wrong. I decided to leave at some point. It should be all good. I had a good, wonderful time here. I have nothing but good things to say," Rivers said before Wednesday's game.
It took six months, but time and perspective allowed Rivers to say the words most Boston fans, and Ainge, wanted to hear. He owned up to leaving. And that acknowledgment did wonders for the healing process between Rivers and the Celtics' fan base, as Boston's former head coach was greeted with a tribute and standing ovation by the TD Garden crowd.
"[The ovation] didn't surprise me because that's just the way -- you've got to live here to understand it -- that's just the way they are," Rivers said. "It's an amazing fan base. It really is. And I just want everything to go well for them."
As both sides have moved on, it's become clear that Rivers and the Celtics have both received what they wanted all along.
With Rajon Rondo sidelined with an ACL tear, Rivers knew that Ainge was looking to hit the reset button, and that was not a challenge he wanted to tackle again. When an opportunity to coach a contender arose, Rivers took advantage of the opportunity.
"I like our team. I'm enjoying it. I think doing the other stuff, besides just basketball, has been fun, probably a little more work than I anticipated. But it's been good," Rivers said.
The extra responsibility Rivers has been given is the title of vice president of basketball operations with the Clippers. The new role has enabled him to bring in his preferred choice of veterans to the roster, like newly signed veteran Stephen Jackson.
"It's nice," Rivers admitted. "It's not like I didn't have [a voice] here [in Boston]. I just wasn't the voice. I couldn't do what I wanted to do anytime I wanted to do it."
Meanwhile, based on the start of the 2013-14 season, there's little reason for Boston fans to harbor any ill will toward the coach who walked out on them.
Beyond receiving ample compensation for Doc's rights, a feat rarely completed in the NBA, the future couldn't look much brighter in Beantown.
To replace Rivers, Ainge landed Brad Stevens, a promising head coach who is elevating the play of Boston's young roster. That reality isn't loss on Rivers.
"I think Brad is doing a terrific job," Rivers said. "They started off slow. They've been playing good basketball. I think what he's done a great job of is letting people know that this is not a rebuild year. There may be rebuilding going on, but he has his team competing every night. I think they're one of the teams that, they compete every night and they can beat everybody."
By moving on from Rivers over the summer, Ainge was able to put in place one of the most important building blocks in the future of the franchise: a smart, capable head coach who NBA players will play hard for.
With Stevens at the helm and an assortment of future draft picks from the Clippers and Brooklyn Nets, Ainge is well-positioned to turn around this Celtics team in a hurry.
With any kind of bitterness set aside by both sides, only appreciation remains for what once was.
"The best decision I ever made was 10 years ago," Rivers explained, "When I decided to come [coach Boston]. That was the best decision I ever made."
Brian Robb's work appears regularly on Celtics Hub, part of the TrueHoop Network.
Dimes past: November 24 | 25 | 26 | 27 | 28 | December 1 | 2 | 3 | 4 | 5 | 8 | 9 | 10
3. Wednesday's Best
Curry
Stephen Curry, Warriors: Curry strikes again. His jumper with 3 seconds lifted the Warriors from 18 points down to beat the Mavs 95-93. Curry scored 16 of his 33 points in the final period. He finished with 10 assists and four rebounds.
4. Wednesday's Worst
Ilyasova
Ersan Ilyasova, Bucks:
The East cellar-dwellars facing the Spurs? This 109-77 rout was made possible by some terrible Milwaukee play, including Ilyasova's serial masonry. He sank just 3 of 16 shots in the loss.
6. Instagram Of The Night
7. Quote Of The Night
"When we win, the heat is off. When we lose, the heat is on. That's just our business, that's our society, that's New York."
-- Carmelo Anthony, whose Knicks team won, taking a little pressure off coach Mike Woodson, a resident of the hot seat.
8. Green Day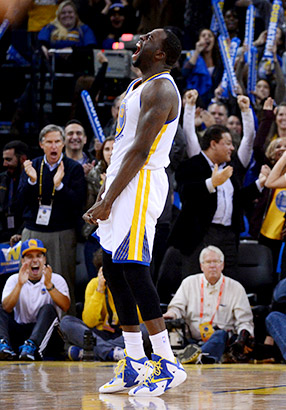 Kyle Terada/USA TODAY SportsWhile Stephen Curry took over, Warriors small forward Draymond Green also stood out, celebrating a fourth-quarter hoop en route to the Warriors ' win over the Mavericks 95-93.
9. Stat Check
Paul
Chris Paul made Doc Rivers's return to Boston a successful one by posting team-high totals of 22 points, nine assists and seven rebounds as the Clippers topped the Celtics. It was the 12th game of Paul's NBA career in which he led his team, either outright or tied, in each of those three categories, but it was his first such game during his two seasons with the Clippers.
Rivers became the 16th man to coach against a team that he previously coached to an NBA championship, including Alex Hannum, who's the only man to coach against two NBA teams after leading them to titles (St. Louis Hawks and Philadelphia 76ers). That list includes Bill Russell, Bill Fitch and K.C. Jones, all of whom did so after coaching Boston to championships.
Around the Association
---
MVP: Utah put on a fantastic team effort led by Gordon Hayward. Though his stat line wasn't incredibly impressive, his penetration led to ball movement early, which got the Jazz on a roll that never stopped.
X factor: Richard Jefferson still has it. The 33-year-old forward helped put away Sacramento by taking the younger Kings to school, using numerous post-up situations and the 3-ball to score 20 points on just nine shots.
That was ... helpful. The Jazz boasted excellent ball movement from the opening tip using pick-and-rolls, drive-and-kicks and simple ball reversal to get good looks for teammates. Utah finished with 35 assists and only eight turnovers.
-- Kirk Henderson, TrueHoop Network
---
MVP: Steph Curry. Off to another slow start marked by missed jumpers and sloppy turnovers, Curry erupted in the second half to score 24 of his game-high 33 points. A four-point play late in the fourth quarter set the stage for his game-winning jumper with just 3 seconds remaining.
X factor: Draymond Green. Dirk Nowitzki and Monta Ellis gave Golden State fits in the first half, but Green's defensive versatility helped keep both players in check when it mattered most. Just as influential to the Warriors' winning outcome were two huge plays on the other end: a bullet pass to Curry for a 3-pointer and a splash from deep of his own late in the game.
Defining moment: Ellis missed a tiebreaking jumper over Green with 23 seconds left, and Mark Jackson opted against calling timeout as Golden State corralled the rebound. Then Curry brought the ball up the floor, milked the clock, got Shawn Marion off his feet, and calmly hit the game-winning shot.