1. Blazers Continue To Follow Aldridge's Lead
By
Danny Nowell
| TrueHoop Network
PORTLAND, Ore. -- One of the NBA's best-worn truisms is that it's a star-driven league. Whenever some member of the NBA's middle class -- the Nuggets, say, or the Pacers before the ascension of Paul George -- gets hot and picks up a couple of wins, fans and analysts rush to point out that it will be temporary.
The shots will stop falling, the schedule will get tougher; in the past few years, "regression to the mean" has come into vogue for the skeptics.
But what it boils down to, NBA watchers are trained to think, is that there are a handful of players in the league who can win a championship, an even smaller handful of teams that employ those players, and that no matter how many charming and plucky wins a team racks up, the title will be decided by the chosen few.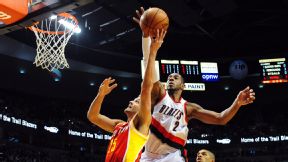 Steve Dykes/USA TODAY Sports
As the Portland Trail Blazers became one of those upstarts, opening this season 19-4 to match their second-best franchise start through 23 games, that superstar criticism seemed an oppressive ceiling. The Blazers are deeper than last year, and boast a wealth of talent in their starting lineup, but their balance was also their curse.
Like so many before them, the Blazers were an OK team that lacked a single stud, the top-end firepower that could stand up to a playoff battery. After his 31-point, 25-rebound effort against Houston in a 111-104 victory Thursday night -- the first such game in Trail Blazers history -- LaMarcus Aldridge is making that analysis seem weaker by the day.
Last week, when the Blazers hosted the Pacers and Thunder in a litmus-test pair of games, Aldridge was magnificent, keeping pace with George and outdueling Kevin Durant while garnering "MVP" chants from the Portland fans. Against the Rockets, the chants got louder and more unified as Aldridge took control of the second half from the right block. The Rockets, unlike most of the Blazers' opponents, guarded Aldridge one-on-one, determined to snuff out the open perimeter shots Portland has feasted upon and force Aldridge to beat them.
He was happy to oblige.
The quintessential Aldridge possession comes on the right block. Most often, Nicolas Batum sends the ball in to him from near the corner, and Aldridge backs his man down before spinning baseline, shooting back over his right shoulder, against his momentum. It's one of the league's more distinctive go-to moves, and the Rockets found themselves unable to slow it down with just a single defender. Mixing in his midrange game with brawny post-ups, Aldridge is able to counter most any defensive tactic, stressing even a Dwight Howard-anchored post defense to the breaking point.
Of course, Aldridge is not exactly an unknown. Now in his eighth year, Aldridge seemed entrenched as a good-but-not-great player, a finesse scorer suffering from a certain lack of variety. But he seems to have found an extra gear, putting to bed the predictions that he'd stagnated.
His teammates are not surprised.
"He's just growing. He's just getting better," said Blazers guard Wesley Matthews. "Everybody wants to put ceilings on players because of age, and this is your 'X' amount of years in the league, you're supposed to plateau. ... I don't believe that, and he's not a guy who believes in it. He just continues to get better."
All-Star fan ballot results were released Monday, and Aldridge, somewhat predictably, placed eighth among Western Conference frontcourt players. Bigger, more highlight-friendly names like Blake Griffin, Kevin Love and others continue to garner more attention than Aldridge, which doesn't surprise him.
"I'm never gonna get votes like that. That's just the reality of being up here and being in one of the smaller markets," Aldridge said. "People probably don't know who I am or what I do up here. ... I'm not flashy, I don't dunk, I don't do anything really exciting."
Still, however the votes are cast, Aldridge's recent play against elite competition suggests that he's more than hot -- he's taken a huge step forward. And if that's the case, then Portland has unearthed the rarest of NBA commodities: a bona fide go-to superstar.
And with a roster full of players that seem to complement one another perfectly, the Blazers may suddenly find that going as far as Aldridge can take them is further than anybody predicted.
Dimes past: November 24 | 25 | 26 | 27 | 28 | December 1 | 2 | 3 | 4 | 5 | 8 | 9 | 10 | 11
2. Around The Association
| | | | | |
| --- | --- | --- | --- | --- |
| Houston Rockets | 104 | FINAL | 111 | Portland Trail Blazers |
---
MVP: LaMarcus Aldridge. Portland's MVP posted a 31-25 line. Starting just 1-for-8 (and just 3-for-10 in the first half), Aldridge finished by shooting 11-of-14. Deadly from midrange and on the boards, Aldridge's presence was decisive.
Defining moment: With 2 minutes, 30 seconds left, Houston trailed by six. Aldridge caught Dwight Howard in the air for an and-1 that was assisted by a goaltend. Seconds later, Houston lost the ball and Wesley Matthews finished the ensuing break with a game-sealing layup.
That was ... chaotic: Two dynamic teams showed both amazing athleticism and wild, mistake-prone execution, often within the same second. I lost count of the stream-of-consciousness sequences of turnovers, blocks, errant passes, rushed transitions and missed alley-oops.
| | | | | |
| --- | --- | --- | --- | --- |
| Los Angeles Clippers | 93 | FINAL | 102 | Brooklyn Nets |
---
MVP: Brook Lopez. The Clippers didn't know what to do with Lopez. DeAndre Jordan couldn't man him. Guarding him with Blake Griffin didn't work. Double-teams didn't work. And the NBAs most skilled post scorer made the Clippers pay.
Defining moment: With Andray Blatche at the line for the Nets in the fourth quarter, a few Brooklyn fans started the M-V-P chant. Even Blatche was worthy on a night when everything went the Nets' way.
That was ... uncharacteristic: The story of the game might have come in the third quarter when the Nets, who struggle in the third as much as any other team in the league, outscored the Clippers, one of the NBAs best third-quarter teams, 27-18 to put the game away.
3. Thursday's Best
Aldridge
LaMarcus Aldridge, Blazers: Dwight Howard picked the wrong night. His mere 32-point, 17-rebound effort was outdone by Aldridge's 31-25 stat line -- with a Portland win to pull it all together.
4. Thursday's Worst
Clippers in Brooklyn:
Lob City got off to an impressive start against the Nets but lost steam quickly thereafter and was outscored 63-37 in the second and third quarters combined, which sealed L.A.'s fate.
6. Tweet Of The Night
Clippers' official presentation tonight for induction into the Eastern Conference has been accepted.

— Kevin Arnovitz (@kevinarnovitz) December 13, 2013
7. Quote Of The Night
"I grew under him. I was a young player, played nine years with him, just continued to mature and become an all-around player under him. Before, I was really known as a scorer, and he took over and taught me the other parts of the game: the defense, the rebounding, the passing. He just helped my game grow and mature."
-- Paul Pierce, on playing against former head coach Doc Rivers.
8. Reunion Tour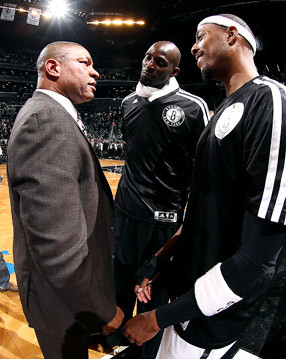 Nathaniel S. Butler/NBAE/Getty ImagesA night after facing his former team in Boston, Clippers coach Doc Rivers caught up with Kevin Garnett and Paul Pierce in Brooklyn.
9. Stat Check
Blatche
Andray Blatche recorded 21 points and nine rebounds off the bench for the Nets in their 102-93 victory over the Clippers. It was the third time in Blatche's career that he registered at least 20 points and nine rebounds off the bench in one game (The two other games came in 2008 when he played for the Wizards).