1. OKC Grasping The Minute Details Of Winning
OKLAHOMA CITY -- On the Oklahoma City Thunder's whiteboard in the locker room before the game read a simple, succinct message.
Focus for all 48!
Mission pretty well accomplished for the first 47 minutes. The last one, though, not so much.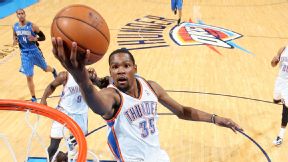 Layne Murdoch/NBAE/Getty ImagesKevin Durant had 28 points and nine rebounds in a win that pushed the Thunder to 12-0 at home.
The Thunder saw a double-digit lead in the fourth quarter dwindle to three with 13.1 seconds left and the Orlando Magic in possession. An air-balled 3-point attempt by Glen Davis essentially ended things and the Thunder improved to 19-4 and 12-0 at home with a 101-98 win, but they definitely weren't feeling great about it.
"I think focus was definitely lost, but that's something we have to continue to remind ourselves," Thunder coach Scott Brooks said. "There's 48 minutes of basketball. You have to play every possession. In the NBA, you have to take a shot every 24 seconds. The lead can go down fast if you don't get good shots and we didn't do a good job of executing. We turned it over, didn't get good shots, didn't defend and didn't get back on defense. And they were playing aggressive. Momentum shifted right then and they weren't giving up."
Coming in to Sunday's game, an obvious mismatch, the Thunder's most difficult opponent was likely to be themselves, battling against boredom, focus and complacency. Which in reality, is often going to be their biggest challenge throughout the season. When you're a team playing for April, May and June, getting through the middle months is part of the process. As the Thunder can attest, you want to be healthy, but you also want to be working to establish a consistent standard of performance.
And sometimes, you need little wake-up calls to remind you that you're not there yet.
"That team over there plays hard, I mean you've got to give them some credit," Kevin Durant said. "We respected them, we didn't come out thinking we were better than them and not playing hard. You've got give them credit."
It's easy to get a little washed away by the slog of the season, especially when you're in the Thunder's situation. They're back to their rolling ways, piling up eye-popping margins with explosive offense and suffocating defense. They've won six straight, with their previous five being by an average of 17.1 points, and 13 of 14 which included games against the Nuggets, Clippers, Spurs, Warriors, Pacers and Hawks. The lone loss came on the second night of a back-to-back in Portland.
So when it's coming so easy, maintaining your focus can be a challenge. You have to be picky. You have to single out the small stuff. Brooks had a more negative than positive tone postgame, keying on inconsistent defense and inattentive transition defense.
"We're happy with the win, don't get me wrong, we're happy with the win," Brooks said. "But we always strive to be more complete."
The postseason is still well past the horizon, but for the Thunder, they're firmly back in the best-team-in-the-league conversation. Durant, Westbrook and Ibaka are three players that have yet to reach their peak, potential or prime. They've got a blossoming bench led by Reggie Jackson and Jeremy Lamb, a duo that's averaging 25.3 points combined on better than 50 percent shooting in December. Not sure we go quite as far yet to say anything about this being the "best" yet, because that standard has been set by the 2012 team with James Harden that appeared in the NBA Finals. But deepest? Most talented? We can go there.
The Thunder appear to have Spurs-like depth, plus Durant, Westbrook and Ibaka. A player like Perry Jones III, who has enormous amounts of talent and athleticism, and is averaging 14.9 points per 36 minutes on almost 60 percent shooting, can't find consistent playing time. Jackson could be starting and excelling for half the teams in the league. Same could be said for Lamb. Some remain focused on who the Thunder don't have anymore, instead of taking notice that this group has more weapons than ever surrounding Westbrook and Durant. Some have found it difficult to move on from the Harden trade. But it's pretty clear that the Thunder very much have.
Royce Young's work appears regularly on Daily Thunder, part of the TrueHoop Network.
Dimes past: November 26 | 27 | 28 | December 1 | 2 | 3 | 4 | 5 | 8 | 9 | 10 | 11 | 12
ESPN Staff Writer
Covers the Oklahoma City Thunder for ESPN.com
2. Around The Association
3. Sunday's Best
Smith
Josh Smith, Pistons: Even though Smoove didn't deliver a win against the Blazers, missing only four shots en route to 31 points was efficiency in the extreme in the 111-109 overtime loss by Detroit.
4. Sunday's Worst
Martin
Kevin Martin, Wolves:
K-Mart went 0-for-3 in a scoreless night against the Grizzlies. He has been shooting cold from the floor of late, going 21-of-65 (32 percent) over the past five games. He's the Wolves' second-leading scorer.
7. Quote Of The Night
"If this doesn't stink, I don't know what does."
-- Josh Smith, after his Pistons were overtaken late by the Trail Blazers.
8. Stepping Into A New Home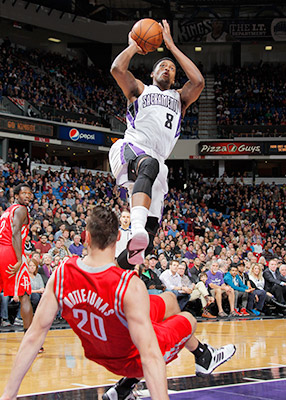 Rocky Widner/NBAE/Getty ImagesPlaying his first home game as a member of the Kings, Rudy Gay dropped in 26 points, leading Sacramento past Houston 106-91.
9. Stat Check
The Portland Trail Blazers' overtime victory over the Detroit Pistons improved their record to 21-4. That ties Portland's second-best win-loss mark through 25 games in franchise history. The club's only better start came in the 1990-91 season, when Clyde Drexler, Buck Williams & Co. won 22 of their first 25 contests.