1. Lillard's Big Shots Outdo Impressive Irving
Though this is of course arguable, many NBA scouts believe Kyrie Irving and Damian Lillard are the two best guards to arrive in the league from the past five drafts.
In an era that is being dominated by playmaking point guards, Lillard and Irving are prototypes because of their indomitable shooting abilities and nimble dribbling skills. Irving, the 2012 rookie of the year, quickly made a name for himself as a closer by hitting four game winners in his first two seasons (he now has five). Lillard, the 2013 rookie of the year, has four of his own now early in his second season. Three in the past month. Two in the past three days.
The Portland Trail Blazers and Cleveland Cavaliers staged one of the best games of the season Tuesday night, and the two young franchise centerpieces were at the sensational heart of it. Irving scored nine points in the last two minutes and dropped off a deft assist in traffic with seven seconds left to Anderson Varejao for a game-tying basket.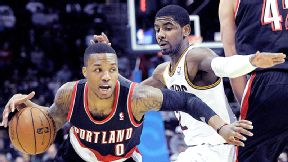 David Richard/USA TODAY SportsDamian Lillard kept finding a way to keep his team a step ahead of Kyrie Irving's heroics.
Lillard, though, had one of the best games of his career with a collection of numbers the league hasn't seen in 18 seasons. He capped it with a game-winning 3-pointer that he drilled from the edge of the center court logo with less than a second left. It gave the NBA-best Blazers a 119-116 win to improve to 22-4 on the season.
It was the last of Lillard's 36 points to go with 10 assists and 8 rebounds. The 3-pointer was his eighth of the night in 12 attempts, a new career best for him. Put all those numbers together -- a player who hits eight 3s in a game isn't going to have 10 assists too often, as you might guess -- and it was a performance that had not been seen since Jason Kidd in a game in April 1995.
"When you're playing against a top point guard, you don't really have a choice but to bring it," Lillard told reporters after the game. "Especially with a guy like [Irving] that's in attack mode on the offensive end. If I don't put my best foot forward, he could go out there and beat my team by himself on a good night."
There were some that dared to question Cavs forward Alonzo Gee, who was assigned to guard Lillard for the final shot because of his 6-foot-6 frame, for not getting up on Lillard after he'd already made seven 3s on the night. But those short-sighted commenters must not have seen Lillard hit a game winner Sunday night in Detroit, when he drove and hit a hanging pull-up over the top of a stunned Rodney Stuckey.
Those shots were extremely different in their nature but had the exact same effect: a chilled crowd that was hoping to taste a rare Eastern Conference win over the West's best; a rush of teammates to Lillard's side for congratulations; and a completely expressionless face above No. 0.
Irving had 25 points on the night, of which 17 came in the second half, and had his own 10 assists to combine with Dion Waiters' 25 points for a 1-2 punch that suddenly rang hollow.
It was the best moment of Lillard's night but hardly his greatest contribution. When the Cavs built an eight-point lead in the third quarter, Lillard nailed three consecutive 3-pointers to reverse the game. When the Cavs built a five-point lead in the fourth with Lillard on the bench, he came in and scored six straight points to once again give the Blazers the lead. Those runs, in a road game, were more impressive in their tenacity if not with the style of a dagger shot.
You could construct a case that the Blazers are a classic December bubble team, one that has gotten off to a great start because of circumstances. It is true that their 12-2 road record can be taken apart a little because only four of those games were against winning teams (they're 2-2 in them, both losses at Phoenix). You can point out that all of their statement wins over the likes of the San Antonio Spurs, Indiana Pacers and Oklahoma City Thunder have come at home. They're 7-4 against teams with winning records -- 5-2 at home -- and 15-0 against teams under .500.
These past two road steals -- neither Lillard game winner was a high percentage shot, though execution is all that matters -- leave the hint of an aftertaste that the Blazers are simply living a charmed life at the moment. Defensively, they continue to be a question mark -- they are the only team in the bottom 10 in defense in the league that has a winning record. They rely heavily on the jumper, taking nearly 70 percent of their shots from outside eight feet, which is often a dangerous proposition in the league.
But it's hard to accept that theory when watching the Blazers actually play. They perform with extreme confidence, and they've just been an offensive juggernaut. Watching the ball whip around the floor to find shooters who bomb away with accuracy and confidence is inspiring.
Two of their veterans, Wesley Matthews and LaMarcus Aldridge, are in the midst of the best seasons of their careers. Aldridge had another huge game Tuesday with 26 points and 15 rebounds. Lillard's numbers have improved, too, though where his ceiling might be is unknown.
If the decision were made today, all three should be on the All-Star team, and that right there says enough about how this team is performing.
This start has led to some giant stats, like 13 straight games with 100 points -- the longest Blazers streak since 1994 and the best in the league this season -- and like Aldridge now already with 21 games with 20 or more points, best in the league. He also has five straight games with 10 or more field goals, something no one had done yet this season.
More from ESPN.com
• Shelburne: Kobe getting closer
• Mazzeo: Kidd on simplified D
• Forsberg: Celtics guards on board
• Windhorst: Podcast w/Klosterman

Overall, the Blazers are second in 3-point shooting, second in free throw shooting and ninth in overall shooting. Tuesday, they beat the Cavs with 18 offensive rebounds that led to a stunning 35 second-chance points.
This is all winning stuff.
The Cavs have now had fourth-quarter leads on both the Blazers and Miami Heat over the past few days but just weren't able to close them out. Before that, they had won five of six games, as they've turned their season around a bit over the past three weeks.
Irving and Waiters, who have been separated in the lineup, are playing much better now that they both get their own portions of games to control the ball. Once they figure out how to get the ball regularly to an improving Andrew Bynum -- he had 13 points in the first half and none in the second despite Blazers center Robin Lopez's major foul trouble -- they'll improve even more.
But, for now, the Cavs had to just get in line and take their loss from the Blazers, and Irving had to tip his cap to Lillard.
"That's what all great players want, that last shot," Irving said. "It was a great one."
Dimes past: December 1 | 2 | 3 | 4 | 5 | 8 | 9 | 10 | 11 | 12 | 15 | 16
ESPN Senior Writer
ESPN.com NBA writer since 2010
Covered Cleveland Cavs for seven years
Author of two books
2. Around The Association
| | | | | |
| --- | --- | --- | --- | --- |
| Los Angeles Lakers | 96 | FINAL | 92 | Memphis Grizzlies |
---
MVP: Pau Gasol. Gasol, Kobe Bryant and Nick Young paced the Lakers, but it was Gasol's work in the post that really made the difference. He scored 21 points to go along with 9 boards and 3 blocks.
LVP: Tayshaun Prince. Prince got the start -- as he usually does -- but after his first stint on the court, he sat the remainder of the game. He had 1 shot (which he missed), 1 turnover, 1 rebound and 1 foul in nine minutes.
That was … scary. After getting tangled with Tony Allen, Bryant went down holding his left knee, though he stayed in the game. Later, Mike Miller rolled his left ankle and missed the remainder of the contest. Both moments left fans holding their breath.
| | | | | |
| --- | --- | --- | --- | --- |
| Portland Trail Blazers | 119 | FINAL | 116 | Cleveland Cavaliers |
---
MVP: Damian Lillard. How many game winners will he hit this season? This one was as impressive as any, as the reigning rookie of the year hit his career-high eighth 3-pointer of the game to knock off the Cavaliers. If that wasn't enough, he added 10 assists and eight rebounds.
X factor: Kyrie Irving. The Trail Blazers wouldn't have needed Lillard's heroics if it wasn't for the preceding exploits of the point guard he went toe to toe with all night. Irving knocked down two big 3-pointers late, hit a layup plus the foul and found Anderson Varejao for a layup right before Lillard ended it.
That was … basketball at its best. Two teams. Two floor generals. Two All-Stars. Neither guard was about to let his team lose, but, unfortunately for Irving and the Cavaliers, the clock had to hit zero eventually. The Blazers and their fans must be thrilled with the outcome, but it would have been nice to get another five minutes of action.
| | | | | |
| --- | --- | --- | --- | --- |
| Sacramento Kings | 87 | FINAL | 95 | Charlotte Bobcats |
---
MVP: DeMarcus Cousins. He faded down the stretch amidst fatigue, but Boogie was in the groove for most of the game with an impressive 30 points, 17 rebounds and 6 assists.
X factor: Kemba Walker. His barrage in the first half of the third quarter saved the Bobcats from potential collapse. He scored the club's first 10 points in the period on 4-for-5 shooting.
Turning point: The Kings again fought back, putting a dent in the Bobcats' lead in the fourth quarter. However, over a five-minute span midway through the quarter, the Bobcats put together an 11-1 run that finally sealed the game in their favor.
3. Tuesday's Best
Lillard
Damian Lillard, Blazers: Hit a tiebreaking 3-pointer with 0.4 seconds remaining to lift the Portland Trail Blazers to a 119-116 win over the Cleveland Cavaliers. Lillard had a career-high eight 3-pointers among 36 points to go along with 10 assists and 8 rebounds while facing Kyrie Irving.
4. Tuesday's Worst
Gordon
Eric Gordon, Pelicans:
Gordon shot 1-for-9 from the field en route to five points, 11 below his average, in a 104-93 loss to Golden State. At least he's still banging 'em home from 3-point range at a 39 percent clip this season.
6. Tweet Of The Night
One of the best games this year so far if not the best. Cavs vs Blazers

— LeBron James (@KingJames) December 18, 2013
7. Quote Of The Night
"He was definitely long-winded when it came to teaching."
-- Nets guard Deron Williams, on assistant coach Lawrence Frank's teaching style. Williams praised Jason Kidd's more succinct direction.
8. Hanging Tough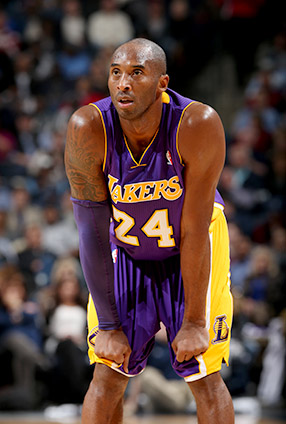 Joe Murphy/NBAE/Getty ImagesKobe Bryant scored 21 points in his sixth game of the season, and the Lakers closed out a four-game road trip with a 96-92 victory over the Grizzlies. Bryant played a season-high 33 minutes, overcoming a twist to his knee in the third quarter.
9. Stat Check
Kevin Durant scored 30 points in the Thunder's 105-93 win over the Nuggets, which preserved his career average of precisely 30 points per game versus Denver (720 points in 24 games). Durant also maintained his position as the NBA's all-time leading scorer against the Nuggets in terms of points scored per game, just ahead of runner-up Michael Jordan (29.4).
Around the Association
---
MVP: Kevin Durant started off slow, and as such, so did the Thunder. However, a 12-point outburst from Durant in the third quarter put some distance between his Thunder and the Nuggets. KD finished with 30 points on 11-for-23 shooting.
X factor: Russell Westbrook was his usual do-everything self tonight, notching 21 points, 13 rebounds and and eight assists. The eight turnovers weren't pretty, but that was just about the only blemish on his otherwise efficient night.
That was ... flagrant: In one of the odder in-game feuds of this young season, Jordan Hamilton, frustrated with Steven Adams, threw a punch at the Kiwi while running back on defense. Hamilton was awarded a flagrant-2 foul for his efforts, and was ejected from the game.
---
MVP: Stephen Curry. Put simply, when Curry was on the court, good things happened for the Warriors. Curry created for himself (28 points) and others (12 assists) and had a team-high plus-22. He got wherever he wanted on the court and made the game easy for everyone, including the newly reactivated Andre Iguodala.
LVP: Eric Gordon. The Pelicans were missing Anthony Davis and Tyreke Evans, so they needed Gordon's offense in this game. He responded by going 1 for 9, scoring 5 points in 24 minutes. And if Gordon is not scoring, he is not making an impact on the game anywhere else, as evidenced by his two rebounds and one assist.
That was ... Almost Amazing. Iguodala went between his legs in traffic and exploded to the rim. He then rose up for a dunk that would have landed him on "SportsCenter." But then Jason Smith had to go and ruin everything by blocking the shot.
-- Michael McNamara, Bourbon Street Shots