1. For Heat-Pacers, Stakes Keep Getting Higher
MIAMI -- Paul George looked straight at veteran official Joey Crawford and screamed "that's bulls---" as Indiana Pacers teammate David West stomped past him in a rage, shaking his head as he headed to the locker room.
Meanwhile, the Miami Heat strutted off the floor as their crowd yelled in full throat, that energy having fed them on a 12-2 run for a rather emotional charge to win from behind.
The Heat's 97-94 victory Wednesday was a classic home win that's seen regularly in the NBA. The home team gets a late run as the visitors freeze up a little under the noise and the pressure. The visitor's margin for error shrinks and they start to rely on getting whistles as a semi-crutch. But momentum and human nature work against them. It's right there in the script.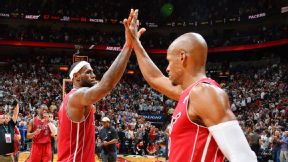 Jesse D. Garrabrant/NBAE/Getty ImagesAfter falling behind by 15 points, LeBron James and Ray Allen celebrate a comeback win for Miami.
It was the exact reminder of why these Heat-Pacers games are so important in the regular season, because whoever gets home court in a potential playoff series between these teams might end up as the winner of the whole thing.
Yes, there's a long way between now and then, and once you get in a playoff series there's an untold number of variables. But, whoa, is the edge of starting and finishing on your home floor awfully important when it's close. And the Heat and Pacers are close, last season's seven-game series and the two tight meetings in the past eight days proving that.
George was furious LeBron James wasn't called for a foul as James moved into him on a potential tying 3-pointer in the final seconds.
"I thought it was a foul," George said. "Nothing was called. We lost the game."
George probably did expect the call, because in Game 1 of the conference finals last season he got a foul called on Dwyane Wade in the last seconds of overtime on a 3-point attempt. He made all three to give the Pacers the lead. But James ended up winning it with a buzzer-beater.
Last month, George drew a foul on a 3-pointer from Iman Shumpert that forced overtime at a game in New York that Indiana eventually won.
Both those games were on the road. By the law of averages, George might go another five years before he gets another call like that on a game-deciding 3-point attempt. Bottom line, though: Never count on getting a foul on the road. And while the Pacers were huffing and puffing about it, it was their mistakes and how the Heat exploited them in that run to close that game -- not a call or two -- that doomed Indiana.
The Pacers have been so vocal about the need to finish ahead of the Heat in the standings -- "We look at it as if we're playing the Heat every night because we expect them to win every night and we've got to win to keep ahead of them," Pacers center Roy Hibbert said -- they've done what seemed impossible.
They actually have drawn the Heat into the fray at a time when they usually are still in their version of an extended training camp. Last year, it basically took an act of Congress, or at least a presidential visit, for the Heat to get very excited about anything before mid-January.
Yet all of the Pacers' talk about their obsession with the top seed had James going through 48 hours of constant treatment on his mildly sprained ankle because, he said, "I would hate to sit this one out."
There is no opponent in the league other than the Pacers that James would've been so determined to play a regular-season game against in mid-December. It would've been a no-brainer game off for James against any other team in the league right now.
After James had 24 points, 9 rebounds and 7 assists on that ankle, he declared this about a game before Christmas Day had even arrived: "It's the type of win that we needed and we wanted."
Wade, meanwhile, called in his personal trainer Tim Grover from Chicago following the Heat's loss in Indiana last week so he could do extra workouts. He has responded with his best three-game run of the season, culminating in a 32-point showing Wednesday that featured him looking as healthy as he has since the Heat's 27-game win streak last season.
These are acts of a team that cares about playoff seeding from a team that typically doesn't reveal that it really cares about anything months before the payoff is even due.
It even brought out some classic Heat bench drama, as James leapt out of his seat to scream at Mario Chalmers during a huddle in the third quarter. The Pacers had a double-digit lead at the time and a defensive miscommunication had given George a free 3-point look that he buried.
The video was striking, as Chalmers stood over James, responding to the blame James had clearly assigned him just as he fired up out of a chair with the apparent intention of going at Chalmers' chest. Udonis Haslem grabbed James' arm and pulled him back, which was only the second most impressive reaction in the moment. The other was that Chalmers seemed not to flinch when one of the most intimidating frames in the world charged at him.
"In the heat of the moment, you don't want to be caught sitting down," is how Chalmers described the scene after the game while wearing a T-shirt that read "Brotherhood."
James, who famously yells at Chalmers on a regular basis, tried to defuse the matter by apologizing to Chalmers on the court a few minutes later. Then he did so formally afterward, saying, "I was wrong, I told him that and we moved forward."
Heat coach Erik Spoelstra spun it positively, saying he liked the communication and the fire and such. It was pretty typical for Spoelstra in these situations, which seem to happen to the Heat now and again.
"I'm just glad it wasn't me and Spo this time, you guys would've blown it up even more," Wade said.
What he was referring to, a Wade-Spoelstra tiff, took place in Indiana during a timeout two seasons ago, but it was during the playoffs. It seems the Pacers' challenge even has the Heat's bench confrontations on a postseason scale for these high-value games.
The Pacers had a 15-point lead in the second half despite Hibbert being in foul trouble all night and their struggles to deal with Wade and James. George had another fantastic effort with 25 points, 8 rebounds and 6 assists as he again played James to a relative draw and did so while not coming out of the game for a break in the second half.
But the Heat made a key lineup change, playing without a point guard for the stretch run and playing with a bigger lineup that they hadn't used much this season. Ray Allen got four rebounds in the fourth quarter and hit a 3-pointer that essentially acted as the game-winning shot.
The Pacers didn't help themselves with late-game execution, regardless of how they felt about not getting a needed call.
"They stole the game from us," said West, who had 23 points. "We're not in the business of moral victories. They just got us in the end."
The Heat and Pacers are way, way past the moral stage. James and Lance Stephenson and West and Shane Battier all renewed their own personal rivalries that were born in the past two playoff series with a series of technical fouls and quasi-cheap shots.
The season series is now even at 1-1 and the next meeting isn't until late March. The Pacers' lead in the standings, which was four games recently, is now down to one. And if you think that all seems a little trivial so early in the season, well, just ask James about the matter.
"It's kind of sad we don't play them for three months; this [rivalry is] a really, really good thing," James said. "They bring out the best in us and we try to bring out the best in them. It was fun for the last eight days and now we get on with the rest of our season."
Dimes past: December 1 | 2 | 3 | 4 | 5 | 8 | 9 | 10 | 11 | 12 | 15 | 16 | 17
ESPN Senior Writer
ESPN.com NBA writer since 2010
Covered Cleveland Cavs for seven years
Author of two books
2. Around The Association
3. Wednesday's Best
love
Kevin Love, Wolves: Another game that shows you should never give up on Love. Love had a double-double before the game was 13 minutes old and went into halftime with 17 points, 11 boards and 8 assists. Love finished 29 points, 15 rebounds and 9 assists in the Wolves' 120-109 victory over Portland.
4. Wednesday's Worst
hibbert
Roy Hibbert, Pacers:
The one Pacer the Heat never have a real answer for took himself out of the game by being too aggressive. Pacers coach Frank Vogel gambled and lost when Hibbert picked up his fifth foul with 8:34 remaining in the third quarter of a 97-94 loss.
6. Tweet Of The Night
I love @mchalmers15 like a blood brother! I was wrong and apologized to him! We good and will always be good. I ride wit him any & every day

— LeBron James (@KingJames) December 19, 2013
7. Quote Of The Night
"I apologized to him -- but hell, I needed him."
-- Knicks coach Mike Woodson, on Tyson Chandler playing 36 minutes in his first game back from injury in a double-OT win over the Bucks.
8. Not A Moment Too Soon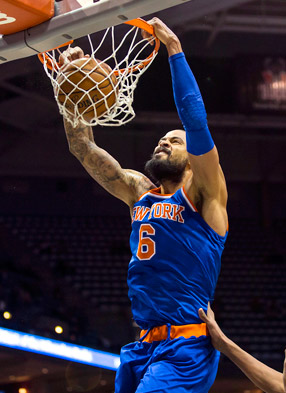 Jeff Hanisch/USA TODAY SportsKnicks defensive anchor Tyson Chandler returned from injury with nine points and nine rebounds as the struggling Knicks beat the Milwaukee Bucks 107-101 in double overtime.
9. Stat Check
Chris Bosh hit a game-tying 3-pointer with 1:30 remaining in the fourth quarter and Ray Allen's 3-pointer with less than one minute remaining gave the Heat the lead for good in their victory against the Pacers in Miami. It was the first loss of the year for Indiana in a game that it led at any point during the fourth quarter, leaving the Trail Blazers as the NBA's only undefeated team under those circumstances. Following their defeat on Monday, the Pacers have lost two straight games for the first time this season, leaving Portland and San Antonio as the only NBA teams that haven't suffered back-to-back losses.