1. The Great Fake-Out: Spurs Subs Stun Dubs
OAKLAND, Calif. -- There's no official term for what happens when the San Antonio Spurs rest their Big Three of Tim Duncan, Manu Ginobili and Tony Parker.
When asked about what his team calls these games, Gregg Popovich replied with, "You can make up a good one. Just say I said it. I don't give a (expletive). I'm too old to care."
So, with Popovich's blessing, the Spurs' 104-102 bench-fueled ambush of the Warriors can be called a "fake forfeit."
It appears as though San Antonio's ceding a game for the sake of rest, folding so it can better play another hand. That meek appearance doubles as a trap, as these starless games can be surprisingly competitive. Most notably, the Spurs came within five points of beating the Heat in a nationally televised game last season, one that cost them a fine for the surprise resting of Duncan, Ginobili, Parker and Danny Green.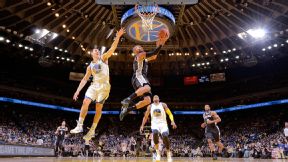 Rocky Widner/NBAE/Getty ImagesPatty Mills and the rest of the Spurs' second unit weren't scared of the Warriors.
Despite the risk of a fine, this fake-forfeit approach provides several advantages. The primary one is rest for your older players. Another is that your opponent can only be so happy with a victory.
There's one advantage in particular, though, that the Spurs love and laud: Role players gain experience on the bigger stage.
Popovich explained, "Well, with all young players, experience is important and being in situations that are pressure-packed where people depend on you are important. Each one is helpful."
While many of these "young" players aren't basketball neophytes, they have less experience and responsibility than the Big Three. This is an opportunity for these understudies to gain greater facility with a system that's resulted in five Finals trips and four NBA titles.
The Spurs played nothing like flustered youngsters as they continually sliced the Warriors in pick-and-roll. Their bigs set solid screens, and open shooters were found from a myriad of angles. Without Duncan, Ginobili or Parker, San Antonio proved it could sink 11 mostly open 3-pointers.
Role players with ties to the Bay Area shined especially bright. Patty Mills scored 20 points and former Warriors draft pick Marco Belinelli had an incandescent performance, claiming 28 points in 29 minutes.
"This is close to my school so it's almost like a home-court advantage for me," said Mills, former St. Mary's (Calif.) star. When asked if he played at Oracle Arena before turning pro, Mills laughed and recalled, "I was the guy who parked deep in the parking lot and walked all the way to sit up in the nosebleeds. That was about it."
Mills was involved on perhaps the biggest play of the game, when he saved a stunning blocked shot from squirting out of bounds. With under two minutes left, and the Spurs up by 1, Stephen Curry nabbed a steal and charged on a fast break. Suddenly, the normally ground-bound Boris Diaw became a blur, erasing Curry's layup attempt with an emphatic chase-down swat.
More from ESPN.com
• Friedell: Injuries change Bulls' view
• Adande: Clock ticking for Kobe Bryant
• Haberstroh: Questions facing L.A.


• 5-on-5: Next step for Kobe, Lakers

"I like to do that because it's harder to catch a little guy," Diaw recalled of the block. When asked if he was a LeBron stopper -- he did well guarding James in the Finals -- or a Curry stopper, Diaw responded with a confident "None. I am not a stopper."
The play that more obviously swung a frenetic fourth quarter was Tiago Splitter's game-winning tip. Amid a scrum of players desperately seeking control of the ball, Splitter rose above all and softly tapped it in.
Splitter wasn't exactly bragging about his big shot.
"I was lucky to be there in the perfect moment," he said.
Lucky or not, few moments are as perfect for a Spurs team that prides itself on incorporating an entire team effort.
"Tonight was definitely a sweet win," Mills said.
Perhaps few victories are sweeter than the fake forfeit.
Dimes past: December 1 | 2 | 3 | 4 | 5 | 8 | 9 | 10 | 11 | 12 | 15 | 16 | 17 | 18
2. Around The Association
| | | | | |
| --- | --- | --- | --- | --- |
| San Antonio Spurs | 104 | FINAL | 102 | Golden State Warriors |
---
MVP: Marco Belinelli. Patty Mills and Kawhi Leonard took turns leading the offense, but Belinelli was the one San Antonio leaned on for scoring in the second half, finishing the win with 28 points on 10-for-16 shooting. Marco made just enough plays on defense, as well, to help the Spurs preserve the lead.
X factor: Turnovers. This was a skeleton crew for San Antonio on Thursday night, so it's inexcusable for Golden State to cough up possession 24 times. Those giveaways led to an offensively starved Spurs rotation getting 31 points off of turnovers.
Defining moment: With the Spurs nursing a one-point lead with under two minutes left, Stephen Curry drove for a layup after a Belinelli turnover. But Boris Diaw -- of all people --got the chase-down block. Two plays later, Diaw got a big dunk to put San Antonio up three with 47 seconds left.
| | | | | |
| --- | --- | --- | --- | --- |
| Chicago Bulls | 95 | FINAL | 107 | Oklahoma City Thunder |
---
MVP: Kevin Durant was menacing -- unguardable against a team that has nothing left to hang its hat on except defense. Every shot -- including four from beyond the arc -- felt like a statement as the former scoring champion finished with 32 points, nine rebounds and six assists.
Defining moment: With Chicago trailing by just three at the half, offensive miscues to open the third quarter would spell the Bulls' demise. Oklahoma City's 13-4 run extended its lead to 12, and the Bulls were never able to recover.
LVP: Carlos Boozer. The perpetual amnesty candidate was a paltry 2-for-7 from the field, and his shoddy rotations were a boon for the Thunder's offense. Oklahoma City scored 44 points in the restricted area.
3. Thursday's Best
Durant
Kevin Durant, Thunder: In a matchup with the short-handed Bulls, Durant made it look easy yet again. He finished with 32 points, nine rebounds and six assists in 33 minutes as OKC improved to 13-0 at home this season.
4. Thursday's Worst
Thompson
Klay Thompson, Warriors:
On a night when fellow Splash Brother Stephen Curry poured in 30 points, Thompson couldn't carry his end of the bargain, adding only 13 points with a 1-for-7 performance from long range -- in a game-high 41 minutes.
7. Quote Of The Night
"All I can do is do the work. And do everything I can to be back at the highest level."
-- Kobe Bryant, on the left knee injury that is expected to sideline him for six weeks.
8. Adding Injury To Injury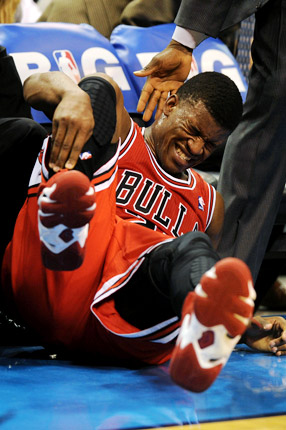 Mark D. Smith/USA TODAY SportsAlready hampered by injuries, the Bulls lost Jimmy Butler to a right ankle injury in their loss to the Thunder.
9. Stat Check
Kevin Durant scored 32 points, while Russell Westbrook handed out 10 assists in the Thunder's 107-95 win over the Bulls. It was the 55th time Durant scored at least 30 points while Westbrook recorded a double-digit assist total. The only other duo in franchise history to combine for even half as many such games was Dale Ellis (30-plus points) and Nate McMillan (10-plus assists), who did it 49 times for Seattle from 1987 to 1990.